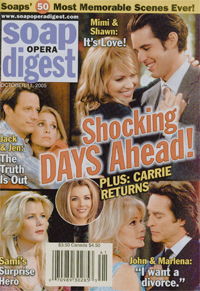 MM is a devoted Soap Opera Viewer and Days of Our Lives is his drug of choice. That Marlena as the Salem Stalker story was AMAZING!!!! So now there are all these allegedly 'shocking Days ahead' and MM has one thing to say: YAAAAAAAAWN. Who cares if Jack is dying? Who cares if Marlena wants a divorce from John? Who cares about Shawn and Mimi. MM is bored with this shit! And most of all who cares if Chelsea is a little slut like her mother and grandmother? Her shitty behavior is totally uninteresting to MM. On the bright side MM loves Billie and Patrick, when they're not dealing with Chelsea and Abby could be cute with her little geeky skater coffee boy love interest. Also Doug and Julie are always fun.
Now MM knows that you kids don't care at all about Soap Operas but MMBlogs cannot live by Royals, hustlers and Fabian Basabe alone.

In other news, Guiding Light is super fun these days!!!!