Miranda Kerr in Labor + Emmanuelle Alt at French Vogue in Today's Style Scraps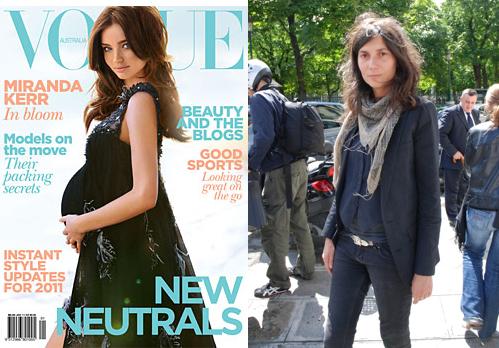 As was predicted,
Emmanuelle Alt
has been named the new editor of
French Vogue
, replacing the recently departed
Carine Roitfeld
. [
Vogue
]
IMG
has sold its kicky fashion mag
The Daily
to its founder and editor-in-chief
Brandusa Niro
. [
Forbes
]
M.A.C. Cosmetics
quietly opened up a new shop on Bleecker Street. [
Racked
]
Good news Spence girls!
Marc Jacobs
is opening a Madison Ave. outpost uptown. [
WWD
]
Orange you glad the color
orange
is in style? [
StyleFile
]
Apparently, model
Miranda Kerr
went into labor this morning. Good luck! [
CocoPerez
]
R.J. Cutler
, he of
September Issue
fame, is working on a TV show that will document "the ins-and-outs of the fashion world." [
Styleite
]