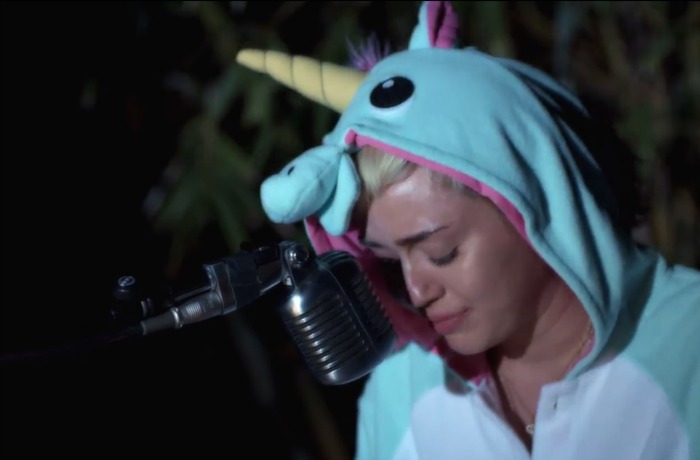 The latest
Happy Hippie Foundation
jam ain't so joyous, seeing as how it's dedicated to the late Pablow, Miley Cyrus's sensibly-named pet blowfish.
Far different from Cyrus' homeless youth charity's previous performances, Cyrus took to Facebook to share a touching commemerative tune she recently wrote for her dearly-departed friend.
Surprisingly poignant for an underwater-themed eulogy, Cyrus sniffles toward the end, dropping cute sushi references amongst more striking lines "why does everything I love have to die." Even though the whimsy vibes were in full force with Cyrus in a unicorn onesie making references to frisky fugu (and a seahorse named Sadie, no less), it's still equal parts silly and sweet. Especially when she starts getting a little more reflective, perhaps hinting at her own journey to fame, singing "they wanted to see you be as big as you could be, but I couldn't let that be...thought keeping you small meant keeping you safe." 
R.I.P. Pablow. May you be swimming in fishy heaven's filtered tank.



Some of you may remember a few months ago my dear blow fish Pablow past away. I wrote this song for him...He made me so happy and I miss him everyday.... But now he is with Floyd and Melanie's sweet Sadie