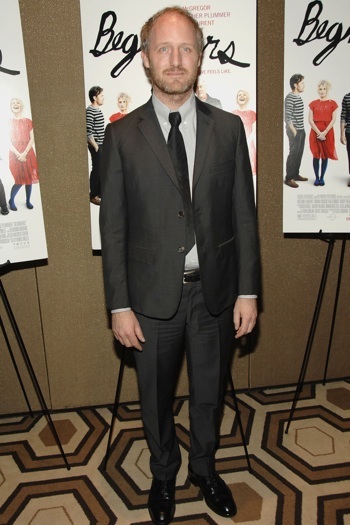 Mike Mills
is an artist who makes films. Though he calls himself a graphic designer (he's done album covers for Sonic Youth, among others, created T-shirts and posters galore) he is much too idiosyncratic to be purely commercial. Even as he becomes more established in the mainstream pop-culture-scape -- his second feature-length film,
Beginners
, opens next week -- he can't help but be the artist first, and a director second. I originally met Mike when he was organizing events at Cooper Union and asked me to speak along with others from the downtown arts scene. I didn't know of his work then, but over the coming years an outpouring of drawings, books, videos,  and a short film commissioned by Andy Spade put him squarely in the tradition of Warhol, where art and commerce lived together harmoniously. With his first film
Thumbsucker
, it was clear an original artist who was able to take something personal and make it universal had arrived. In
Beginners
,
Ewan McGregor
stars as a commercial artist working on a CD for a band called
The Sads
, which not so coincidentally in real life is an art band made-up of Mills's friends. Mills's drawings appear in the movie and they are being released as a book as well and in a short animation.
Beginners
also stars Christopher Plummer, a character based on Mills's dad who came out of the closet when he was in his 70s. Having grappled with this jaw-dropping life moment, what will Mills come up with next? Can't wait to find out. He talks about all this
here
. And on his really cool
Beginners
blog.