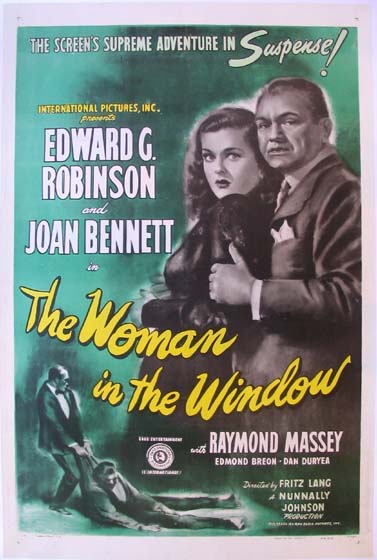 On July 10th, MGM is putting out four film noir titles and they're sensational: The Woman in ihe Window, a 1944 classic by Fritz Lang with Edward G. Robinson as a man who becomes intrigued with a portrait in a window and then falls under the spell of the painting's subject -- a devious dame (Joan Bennett).
A Bullet For Joey (1950) with Edward G. Robinson as a Canadian cop trying to thwart a commie plot to kidnap a scientist. With George Raft and the always divine Audrey Totter.
The Stranger (1946) with Edward G. Robinson again chasing an escaped Nazi (Orson Welles) through a Connecticut town. With Loretta Young, and wonderfully directed by Orson Welles this has always looked crummy on VHS and past DVD incarnations and now looks staggering.
And finally, Kansas City Confidential, a terrific 1952 Phil Karlson gritty crime drama with John Payne as an ex-G.I. trying to track down who set him up for an armored car robbery.
All of them look amazing!