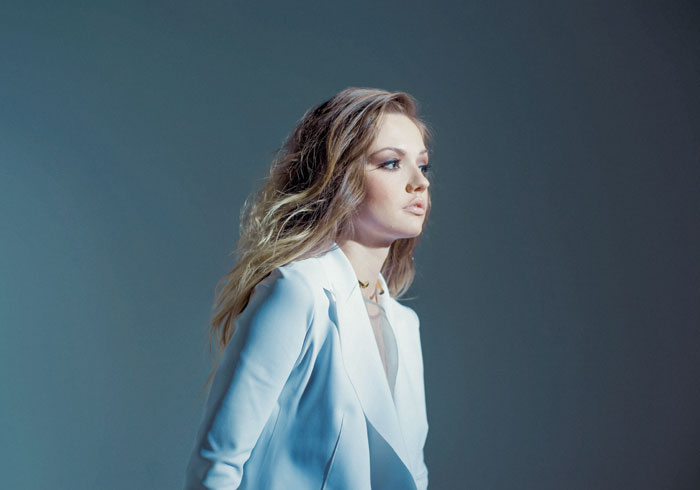 In HBO's new post-apocalyptic drama
The Leftovers
, two percent of the world's population disappears into thin air after a rapture-like occurrence. The surviving residents of Mapleton, New York, the fictional town where the series takes place, are hanging by a thread, but actress Emily Meade's character Aimee, a jaded, hard-partying, sexually adventurous high schooler, seems pretty much OK with the whole thing. "My character is definitely the one who seems to have the most acceptance and peace with it," says the 25-year-old. "I think she's maybe had her own turmoil and trauma that we'll find out about later on. It's made this all sort of normal."
The series, which also stars Justin Theroux, Margaret Qualley and Liv Tyler, shows how the world moves forward after a large-scale loss. It follows themes of faith and the afterlife, which Meade says she's been thinking about since she was a precocious kid growing up on Manhattan's Upper West Side. "Recently my mom found this book that I made when I was five," she says. "It was basically me explaining the different levels of souls and how in each life, you're working through a lesson. And then you reach the next life and the next life and eventually end with something like nirvana. And that was before I knew anything about Buddhism or religion. That was just what I thought happened! I was a weird little kid."
Though Meade has mostly stuck to the dark and disturbing throughout her career -- playing Michael Pitt's ill-fated prostitute girlfriend on
Boardwalk Empire
and a girl named "Fang" in Wes Craven's thriller
My Soul to Take
-- she's always had her sights set on comedy. "Growing up I was obsessed with
I Love Lucy
,
Saturday Night Live
and Christopher Guest, but I ended up playing all these sad, lost characters," Meade says. "I guess I'm not going to be the young- est cast member to join SNL after all."
The Leftovers
premieres Sunday, June 29th, at 10 p.m. on HBO.

Styled by Ashley Owens / Makeup by Anneliese Tieck and Hair by Anthony Joseph, both for Artists at Wilhelmina Image Board NYC. / Shotat Bitfire Studio / Emily wears a blazer and tank top by Emporio Armani and a necklace by Giles & Brother. Cosmetics by Tom Ford.