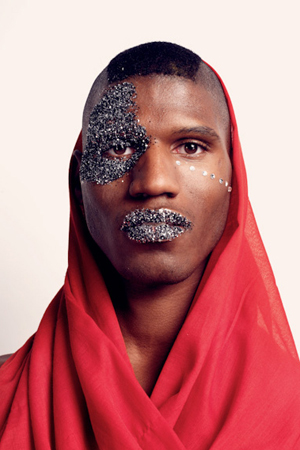 When I read a story about China or some other far off land in the
Times
I always feel like I'm being wonderfully informed because I don't know very much about the story other than what I'm reading. The closer to home they get (or at least the closer to my home), the less sure I am about what I'm getting. Take yesterday's article on art parties,
Social Disrobing and Other Party Fare
. Though I wouldn't call it plagiarism, I would say that it takes a very similar tone to our own
It's An Arty Party
, which covers some of the same turf, most prominently the monthly parties thrown by Kenny Scharf and Ryan McGinley, but with one major difference. We got it right.
In the
Times
piece, writer
Melena Ryzik
confuses two very different people, though they are both artists and they both throw parties, and their names are both Ryan McG-something. She conflates
Ryan
McGinley
, the outre photog of nubile boys and girls with
Ryan McGinness
, the artist who has been throwing a series of 50 parties every Friday night for the past year. It's not as if she got McGuinness and McGinley mixed up, which is forgiveable, it's that she molded them into one person and two different people at the same time, a very difficult thing to do.
Here's the messiest paragraph:
"But all this revelry -- dancing, drinks, exuberant youth -- can be hard to manage. One solution is to go invitation-only, as Mr. McGinley, the young photographer, has. Since last July he has been staging a series of
50 weekly parties
with different themes, like "Sunshine," "Prom" and, Friday night, "Search" in and around his studio. (For those not on his list, he helps organize a regular Thursday night open-to-the public party at B.East, a bar near Chinatown."
So for the record, it's McGinness who's thrown the 50 parties and McGinley who does B.East.
Above: Photo by Nathan Perkel of an attendee at McGinness' Vogue Ball party