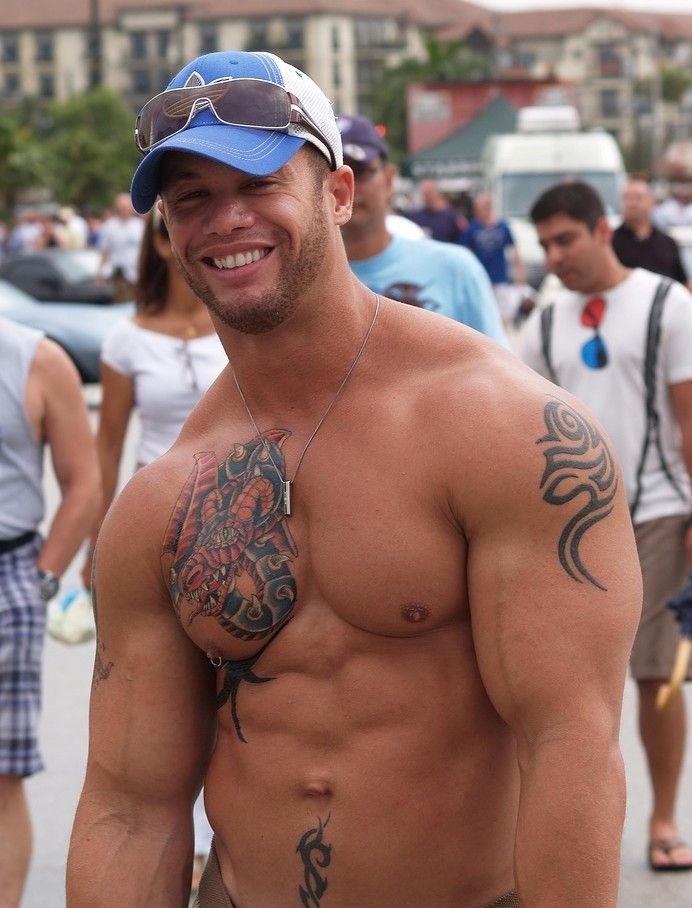 One of my favorite Tweeters is the hilarious
Matthew Rush
. Matthew also happens to be an extremely well-muscled veteran of gay adult films. He combined both worlds (comedy and sex) in a recent Public Service Announcement advocating Safe Sex and co-starring Hall of Fame Twink
Brent Corrigan
. (Watch the NSFW, Adults-Only PSA
here
)  
I caught up with the charming hunk recently and asked him all the hard-hitting questions you would expect a serious journalist like Mr. Mickey to ask. 
Mr. Mickey
: I love your PSA with Brent Corrigan. It seems you're a natural comedian (which also shows in your Tweets) Do you think there's a place for you in porn comedy?
Matthew Rush
: I don't know if there is a place for comedy in porn but when you're in the adult film industry you definitely have to have a sense of humor.
MM
: What brought you to live in Fort Lauderdale? What do you do for fun down there?
MR
: I was living in Columbus, Ohio and at the time I was traveling with the play
Making Porn
.  We'd done a six-week run in Fort Lauderdale and I fell in love with the warm weather and the beach. I knew it was the place where I was meant to be.
MM
: I recall you speaking out at one point against straight actors who make gay porn. Are you against it? Have you ever had a super hot experience with a straight actor while making a film?
MR
: Honestly, I don't care what your sexual preference is, but it's easier to work with a gay man than a straight one. Not all gay-for-pay guys do this, but some have to watch straight porn to get aroused. That requires more starting and stopping and it gets to be pain especially if you've been working all day.
MM
: I was a little disturbed to see one of the Gay Porn Awards has categories for bareback movies. What are your thoughts on that?
MR
: I'm strongly against it especially because of the younger generation that watches porn.  I don't consider myself a role model but we have fans that follow everything we do. If you're out there doing bareback sex movies, your basically saying that this type of behavior is OK and it's not.
MM
: Has the industry changed very much since you started?
MR
: It's changed quite a bit. Sites like Xtube really hurt the industry but I think studios are getting back on track with things.
MM
: You first bottomed on film for
Rob Romoni
whom has emerged as a Twitter superstar and was named one of PAPER's
140 Characters to follow on Twitter
in our Social Networking Issue. Was he fun to work with?
MR
: Rob is quite the character and at that time we were dating so he was very easy to work with.
MM
: I loved your work with
Francois Sagat
. He's quite unique. What are your thoughts on him?
MR
: In my opinion, Francois is walking sex.  Everything about that boy is so freaking sexy plus he's one of the nicest guys that I've ever worked with.  I have total respect for him.