So apparently a massive, 6-foot-tall penis-shaped Christmas light display has been, ahem, erected in the window of a penthouse of a fancy-pants luxury building in Brooklyn -- and we aren't dicking around when we say the neighbors are livid.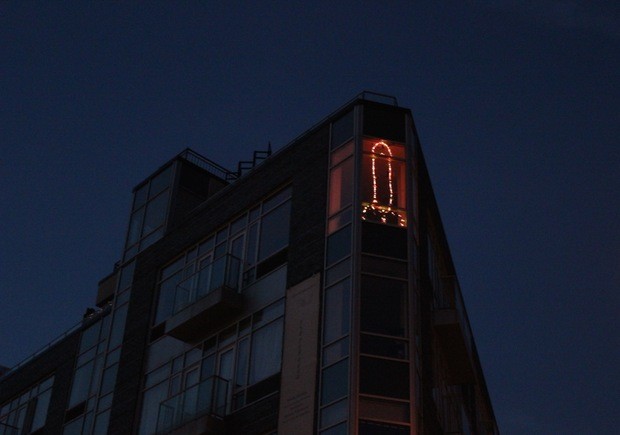 photo by Gwynne Hogan/DNA Info
"[An older man who pointed it out] was pretty disappointed, he didn't know what to tell his grandkids," the building's maintenance worker told DNA Info. "'What is it? What is it?" the man's grand kids wondered." After all, the building also happens to be on the very busy corner a block from the Metropolitan G/Lorimer L stop -- you know, just in case you were in any doubt that frat boys have officially taken over Williamsburg.
The most heartwarming part of all this though? An anonymous man who lives in the offending apartment said his roommate strung up the lights last weekend and just didn't think about his neighbors with kids -- seeing as how it's all just one big "joke."
Perhaps Santacon will make a detour for this one? Seems fitting.
[h/t DNA Info]