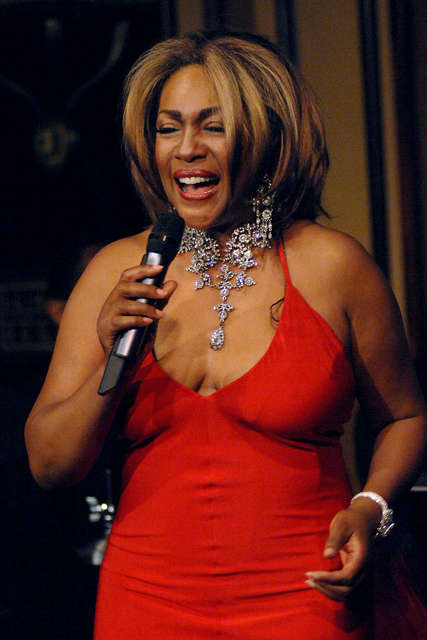 Though some of her former Motown peers have permanently parked their tour buses, Mary Wilson, balladeer and founding member of The Supremesstill travels the world, and is still going full steam ahead. Mr. Mickey was lucky enough to chat recently with Wilson, who is performing tonight and tomorrow at Feinstein's, about Supreme's gown collection, the "real" story behind the trio, and her beauty secrets.
MB: Last time I saw you at Feinstein's, there were more the ballads -- you're 'the ballad queen!' What made you want to add some of your Supremes songs and other songs that depart from that style?
MW: Well, you know, basically, I do rock ' n' roll concerts and they are filled with all of The Supremes songs, and current rock ' n' roll, and old time rock ' n' roll, and contemporary songs and all that. I took the time off to put together, as I explain in the show, things, songs that I've always wanted to do, to show the audience who I really am. And after having done [ballads] for about three or four years at various cabaret/jazz rooms around the world, I realized that I've done that and that's fine, but now I need to incorporate some of The Supremes songs that people really want to hear.
MB: I read something on your website about some kind of "Legends of Motown" tour in England, did that already happen?
MW: Oh yes, it did. In fact, I wish I had somebody, a webmaster… I don't have anyone to change it. I want to put up the actual flier and the reviews. [The show] really had to do with the 50th anniversary of Motown, and the Motown artists have done shows in Germany, we've done tours in England, and we're now going to Australia, in February.
MB: Oh, great!
MW: I don't think we've done one in the United States yet. But people around the world, they just love it. And that's what many of us have done. The one coming up in Australia has the Temptations, myself, and a few other artists.
MB: Well, England it seems was always particularly welcoming of the Supremes, and Motown in general…
MW: People don't forget, and they don't just put you into an "oldies box" over there, so it's really quite wonderful.
MB: And I saw you hosted on channel 13, the public television station…
MW: Oh, yes…
MB: It's amazing, and you look great, and the songs are amazing, I have to say. And it's funny, I was thinking, the night after I saw your show, I was watching on PBS, they had a special about the Mamas and the Papas.
MW: Oh, did they now?
MB: …and they said something about the music now versus the music then, and it got me thinking. I know Lady Gaga is fun and stuff, but at the same time to have you, The Supremes, The Rolling Stones, The Mamas and the Papas, The Who, you know, I mean, the list goes on and on and on. All these legendary groups at the same time…
MW: Yes, it was really just a phenomenal period for music
MB: You also mention your bestselling memoir about your time in The Supremes, Dreamgirl & Supreme Faith, in the show. Have you ever thought about trying to make it into a movie, a miniseries, or anything of that nature?
MW: Well, sure, I did. I had several deals, several movie companies had optioned the book, but everything fell through because I think it was always something to do with me versus Motown, they wanted to do their movie, while I wanted to do mine. And then of course when the Dreamgirls movie came out, that really took away from anyone wanting to do my story on The Supremes because they figured that they have it already, and Dreamgirls, it's not. Dreamgirls is sort of a broad concept of The Supremes story, but it is not The Supremes story. Plus, it deals with only the controversial, but I think The Supremes story is more about friendship, and the desire to achieve, more so than the concept that Henry [Eyen] and Tom[Krieg] did when they wrote the original book. So to answer your question, it's made it very difficult for me to get a movie, which I still want to do. So I always try to put it out there if anyone wants the real story on The Supremes, they really should do it based on my book, because it really was written as a diary. I wrote in it every single day, so it's more of a better concept of what the story would be about.
MB: And I know that a show of gowns from your collection of Supremes gowns have been touring around the world and getting lots of attention. I heard they're on display in Bath, England?
MW: It actually just left, it closed in Bath and it's on its way to Gateshead. Of course, it started out in the big museum, the Victoria and Albert Museum in London, and had a grand opening. It was just major. We had royalty there, we had pop artists, we had one of the Rolling Stones, Bill Wyman, and we had some other great groups there. It was just everywhere. It was so great. The opening in London was just fabulous. So I'm hoping that after it has toured the other parts of the world that it will come back to America, and I would love to have it here at the Metropolitan Museum of Art. I think it would be exquisite there.
MB: Yeah, that would be amazing.
MW: So if it started out at Victoria and Albert and then came here to the Metropolitan, I would just love it. And then of course, my ultimate goal is to have my own space, some place in Las Vegas for the gowns, which would be amazing.
MB: Because you live in Las Vegas, right?
MW: I live in Las Vegas, yes.
MB: And how did you end up in Las Vegas?
MW: I actually went there… I took my children there, I think it was the late '80s, early '90s. They grew up in Los Angeles, in Hollywood, and I wanted to get them out of that environment when they were still young and in school. I actually took them to Washington, DC for about six months, and they hated it. Leaving Hollywood and going out to DC just didn't make it for them. They were definitely Hollywood kids. So, I thought the best thing to do was to go to Las Vegas because it was still undeveloped at that time, and it hadn't grown to the extent that it has now. And my manager lived there at the time, and of course I was always working there. It was away from the city. People think Las Vegas is just the strip, but not if you live there, work there.
MB: You know they say that when you die your whole life flashes before your eyes… that could apply to "Dreamgirls" but some of the songs you sing in your show, like the Joni Mitchell song "Both Sides Now," seem applicable, too. It seemed like Joni had written that about your life. Can you explain a little about how that song is so special to you, and how you ended up choosing it for the show?
MW: Yes, well I wrote the show to tell a story about my life so every song had something to do with it. That summed up how I actually viewed my life. It was like a fairytale. Love was like a fairytale. But you do look back and ask, "Was I really that silly?" So that's why I think ['Both Sides Now'] represents many people's view of life -- its still not really clear but you think it is. It is all an illusion.
MB: You also do 'Smile' smile which is a great song. You are known as the sexy one, the happy one who is always upbeat and smiling. That fits in the song, which is about smiling even though your heart is breaking, or though you may not always be happy.
MW: Yeah. That's the way I look at it. People have accused me of being a victim and they think I think like I'm a victim. When really I don't. Things have happened to me, but I have a marvelous way... I will give you a good example -- when my son was very young, he saw that I was crying and the next minute I was laughing. My son asked me "mama how could you cry and the next minute you laughing?" I told him "Well, mom is basically a very happy person!" So I can be unhappy about a situation that happened, but it doesn't not make me an unhappy person. It just makes me unhappy about the situation. I am still basically a very happy person. I choose songs that I understand, [that make me feel like] I could have written that song too because that's the way I feel.
MB: You're working on a new book! What will be about? A new installment to tales of your life and adventures?
MW: The book would be about my life, and understanding life. It's kind of hard to explain. But when I went to NYU, I took psychology. I found that in reading a lot of great thinkers of our time – I understood pretty much all of it. So I really think that this book would be just a layman's look into the psychology of life. That's like my ultimate goal but right now I am working on a coffee table book.
MB: You look so amazing and I'm sure everyone wonders how you stay looking so gorgeous. Do you have any secrets to live a fabulous happy life?
MW: When I look at the mirror I see things have changed (laughs). You see a droop here and droop there and dah dah dah. But I think there is something there in getting old gracefully. I think I have been able to do that. I don't think I have the youth of a 20-year-old or a 30-year-old. I know that's not true. But I think that I have aged well. Even though there are things. I say to myself 'Hell! I am 65-and-a-half years old, what do I expect to look like?' But I do a lot of thankful praying --"Thank you God" -- and you know my mom and my dad were good-looking people, so I guess genes have something to do with it. And the grace of God. I try to do things…My younger sister used to watch me as a teenager I would tell her 'Now, make sure you take your makeup off at night. Never go to bed with your makeup on' so I do things like that. I drink lots of water -- that kind of stuff.
MB: In a way, you 're like the Diane Von Furstenberg of Motown. Have you seen her pictures? She looks like a gorgeous 40-year-old.
MW: I have seen her pictures. But I think a lot of the '60's-era woman look good and lot of people have things done. Fortunately, I haven't had anything done yet. Not anything major. Whatever. If I saw that something major needs to be done and if I had the money to do it – it's so expensive these days. So you can never tell. So, I am happy with what's going on.
MB: So the "Up Close" show its going to be going through October 3rd at Feinstein's. Are you going to take the show to other places?
MW: Like I said, people have really caught on to it so I am getting some major bookings from these types of clubs. Unfortunately, the venues are all very small—with a capacity of about 140 people. That is very small. It's very hard for the size of band that I take with me everywhere. So, its not really a money making kind of thing. To travel with eight people you gotta pay eight people, airlines, hotel rooms, often times its not always feasible to take them. But, I love doing it and my accountants tell me 'You need to make some moneymaking gigs for yourself!' But, yeah, I intend to continue. I hope the city starts to have more of these types of clubs. We use to do them all the time. In L.A,, at The Coconut… In London they have all these wonderful venues – cabaret kind of venues.
Catch Mary Wilson tonight and tomorrow at Feinstein's at the Regency.