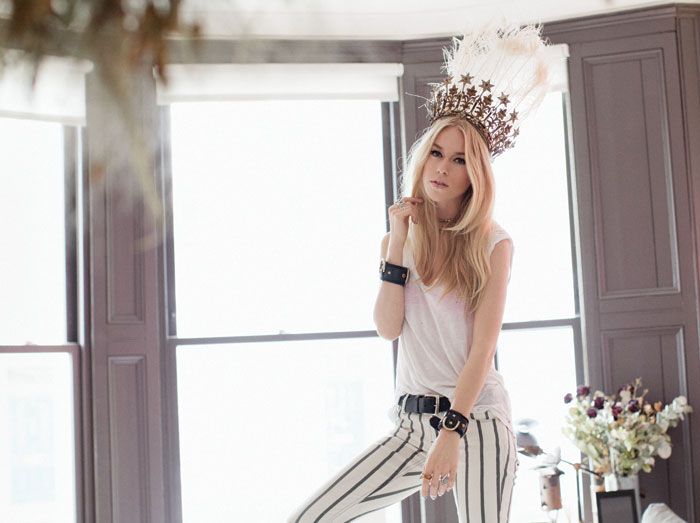 Mary wears a t-shirt by Splendid, pants by Sass and Bide, headress by Little Doe Is Love, Necklace and bracelets by Model Traitor from Coco de Mer and rings by Dominic Jones and Crazy Pig.

Not many well-connected cuties crowned "It" girls by the British society magazine
Tatler
would cite rock style icons Anita Pallenberg, David Bowie and Jane Birkin as their fashion inspirations -- but then again, Mary Charteris isn't your typical "It" girl. Lady Mary (yes, she's a Lady: her father is the Earl of Wemyss and March) can often be seen sporting black leather and fur while spinning '60s tunes at DJ gigs during fashion week ("I've never met anyone who doesn't like the Shangri-Las, the Dixie Cups or Nancy Sinatra") or singing backup and playing keyboards for her husband Robbie Furze's band the Big Pink. She's also been making her own music under the name MPRSS.
"There's a '60s and '70s vein running through my life, in case you haven't already picked that up from my taste in music," says Charteris. "I collect vintage clothes from all over the world when I travel on tour with the Big Pink." Charteris made her first big fashion splash in 2006, when she appeared in
Tatler
styled by the late fashion legend Isabella Blow. More recently she turned high-fashion heads around the world when she got married in a dress by punk fashion designer Pam Hogg, who is known for dressing the likes of Lady Gaga and Kate Moss. The dress, which will be on display at the Victoria & Albert Museum starting in July, featured a full tulle skirt and sheer panels that showed off Charteris' lithe physique. And it makes sense that although she's lived in both Paris and New York, it's her native England -- where some of the most fashion-forward rock stars were born -- that fits best with Charteris' style: "I'm never scared of being judged or expressing myself in London. Anything goes as far as I'm concerned."
Grooming by Elias Hove at Jed Root