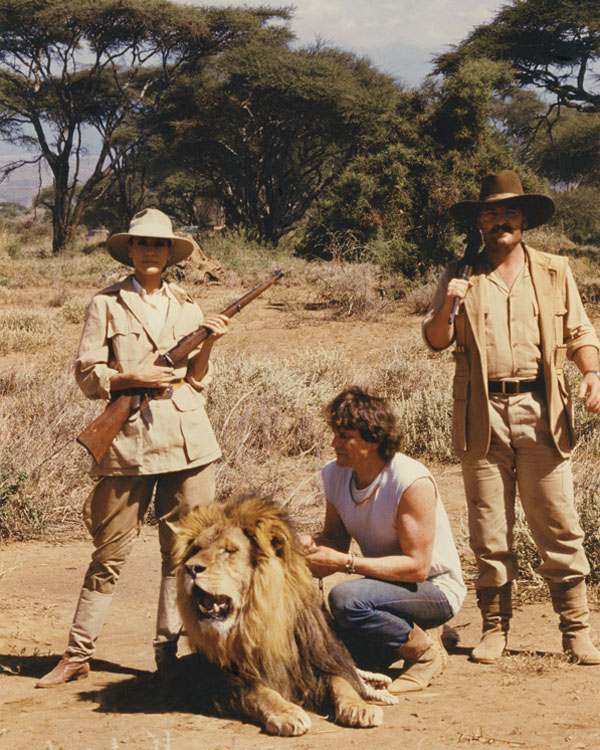 Marisa Berenson, the 64-year-old whom Yves Saint Laurent famously dubbed "the girl of the '70s," spent much of the decade trotting the globe to shoot films, not to mention countless fashion spreads for magazines. Following the release of her new book, Marisa Berenson: A Life In Pictures, which documents many of her far-flung adventures, we caught up with her to chat about some of her more memorable international escapades.
I've traveled to a lot of exotic places. I went all over India for Vogue -- Madras, Bangalore, Delhi, Bombay. It was during the '70s, so it was still very undeveloped in some parts. We mostly slept in huts, and jumped onto moving trains in the Indian bush. I would be standing there in these amazing outfits and hairstyles, and people would look at me like I was something from outer space. After one trip, I ended up in an ashram with the Maharishi Yogi, and I became initiated with Transcendental Meditation.
Back then we could do such extraordinary things. For instance, in Iran, on a photoshoot for Vogue, we were photographed on the roofs of the blue mosques, which today would be unheard of. We would probably be shot down. It would be impossible for women to do a fashion shoot with practically transparent dresses standing on top of the mosques.
It wasn't like today when you go on a shoot and there are 50 people there. In those days we were practically camping, so you could actually go to the heart and soul of the country. It wasn't always these luxury shoots.
I remember one time when Richard Avedon came to Switzerland where my parents had a chalet in Klosters and we did a whole series of shoots with bathing suits and little sequined dresses. They were very short, and I was very naked -- and up to my waist in powdered snow! During those days we did everything the real way. With the photographer Arnaud de Rosnay I went to Biarritz and he literally sprayed the entire garden and the forest different colors; the trees and the nature -- everything. Everybody was up in arms about it because they ended up with gold and silver trees. We photographed them in the middle of the night with all of these incredible lights so it looked like an enchanted forest. The next day people woke up and saw that their trees and parks had been spray-painted and they weren't too happy about it.
In Africa I've done more films than fashion shoots. I filmed White Hunter Black Heart with Clint Eastwood in Zimbabwe, which was truly a magical experience because there we would stay in a hotel on a lake and we would shoot on this island right across the way. Every day at 5 a.m., surrounded by crocodiles, we would cross over to the island on this little boat. Sometimes it was so cold and there were too many waves, and the crocodiles would get to us. If the weather got too bad we would go in the helicopter. Clint loves to fly by helicopter, so he would fly, or there would be an army helicopter that would fly us across. Herds of animals would walk through the garden at our hotel. Literally in front of our windows there would be elephants, and monkeys. All kinds of fantastic exotic animals would just be on our doorstep. It really was an amazing, amazing shoot and very real because you're basically in the middle of the bush.
I had a similar experience in Kenya when I did this film, Hemingway, where Stacy Keach played Ernest Hemingway and I played Pauline, his second wife. We went to Kenya because Hemingway loved to hunt. And in the film I was literally supposed to shoot a lion. Of course I didn't really shoot it, but he came at me. He was imported from Germany. He came with his trainer, and the poor animal, I'll never forget it; he wasn't used to the jungle and we were sleeping in tents and going out into the bush everyday and filming. So, they let loose this lion, and the lion totally panicked because he was used to his cage and being in Germany. He wasn't familiar with the jungle and totally freaked out. That was a scary moment when I saw him coming at me. 
Then I shot The Great White of Lambaréné in Gabon about the life of Dr. Albert Schweitzer. I played Mrs. Schweitzer. We filmed in [Schweitzer's] house and in the village of Lambaréné, where he built a hospital. It was probably the poorest, most diseased place on earth. So, we filmed in his hospital and his house, and there were colonies of lepers living in these villages that literally lived in holes in the wall with no electricity, no food, no water, no nothing. They lived like animals. I couldn't believe it. It was so devastating to see. It was very hard to get anything to eat, so we didn't have any food, either. But we were in the heart of Albert Schweitzer's world.
I must say Africa is very magical, although it's very poor, like India. Filming in these places really opens your eyes and your heart to a whole other way of living, and puts things in perspective.
Photo courtesy of Marisa Berenson's Collection and Rizzoli
This piece is part of our Winter Issue "Get Out of Town" travel feature.