10 Times Marc Jacobs Ruffled Fashion's Feathers
Since 1986 when he put on his first runway show, Marc Jacobs has been something of a lightning rod for controversy on (and off) the runways. After making a name for himself as the wunderkind of 7th Avenue in the late '80s, he sent the front row demimonde reeling after his needle-shifting grunge collection for Perry Ellis in 1992. And since then it seems every few years he is making headlines for not just his hemlines, be it the White Dreads debacle of 2016 or say his iconic Dynasty-esque feud with Suzy Menkes in 2007. Though in the end it is Jacobs' unabashed love of fashion that wins the day, and we love that he loves it so much, the other stuff seems to inevitably follow. In anticipation of his show tomorrow to close out NYFW, here are 10 times Marc Jacobs ruffled the fashion flock's (Lesage) feathers and lived to tell the tale.
Going Grunge
Imagine a time when flannel shirts and combat boots were the most divisive notion to hit fashion. Ah the '90s! After taking the helm of Perry Ellis in 1988 upon the death of the namesake founder, Jacobs, not quite 30, aped the thrift store grunge style sweeping the garage's of the Pacific Northwest for his Spring 1993 show at Ellis. The now iconoclastic collection was mostly a nevermind with critics and retailers, but more importantly a total bomb with the suits at Perry Ellis. He and his business partner, Robert Duffy, were canned shortly thereafter as a result of the collection, but the legend of Jacobs' grunge collection was a signal moment in American fashion and presaged the up-cycling of the street and youth movements to RTW runways that is now the norm.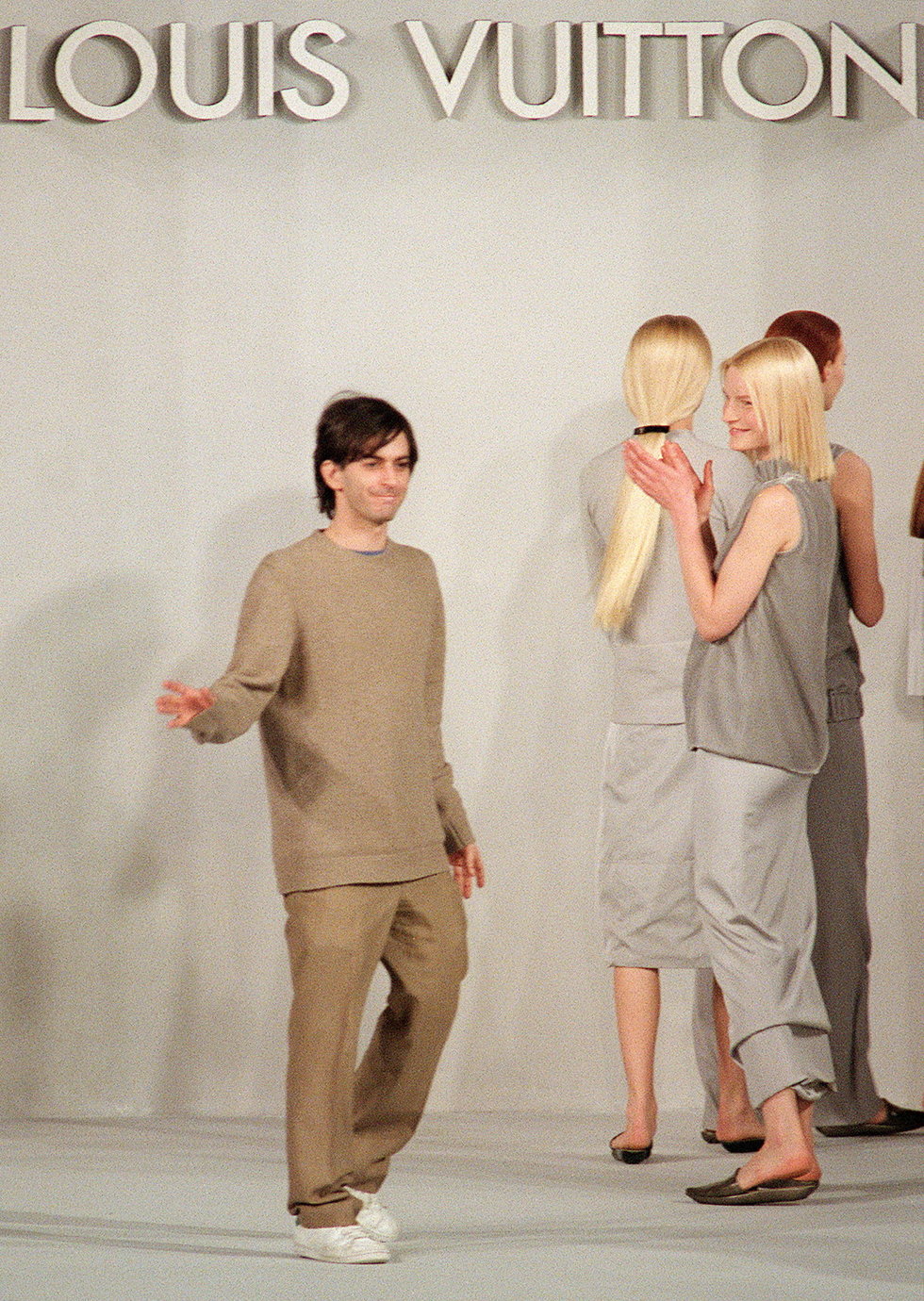 Marc Jacobs 1998 (Photo via Getty)
Bag(less) Ladies
The '90s for Jacobs would end a bit more auspiciously than they began. In 1998, he showed his debut collection for Louis Vuitton, where he had been made the first designer of RTW. The move was bold, typical of fashion maverick Bernard Arnault, in its placing of a young, dynamic designer at the head of an esteemed, but stagnant luxury brand. The collection Jacobs presented was something of a tabula rasa, with mostly separates all in a neutral and white palette. Clean, minimal and perhaps a play to distance himself from the insouciance of his still-fresh grunge fallout. But it was a bit too rasa for some. There was not a single bag or accessory shown on the runway which, for a brand like Vuitton, who's house is all bags and luggage was something of a head-scratch. But this opening salvo was an exception as Jacobs went on to produce arguably the most sought after bags of the following decade, with a range of hits in collaborations with artists like Murakami, Yayoi Kusama, and Richard Prince.
Related | At First Blush with Marc Jacobs Beauty
Better late than….
Actually no, nothing is better late, especially if you're Suzy Menkes. By the mid-aughts, MJ's shows were running notoriously delayed, even for for schedule / reality averse fashion world. The tardiness reached critical mass for his spring 2008 namesake show which Menkes called "everything that is wrong with current fashion." The 2+ hour wait time during an already overbooked fashion week started to feel callous. Menkes' scathing review prompted Marc to tell WWD that he felt like an outsider and would show "somewhere else." The feud lasted a couple of more months, but reached a detente by the next round of shows the following February. The upside? Jacobs' shows are now firmly on time.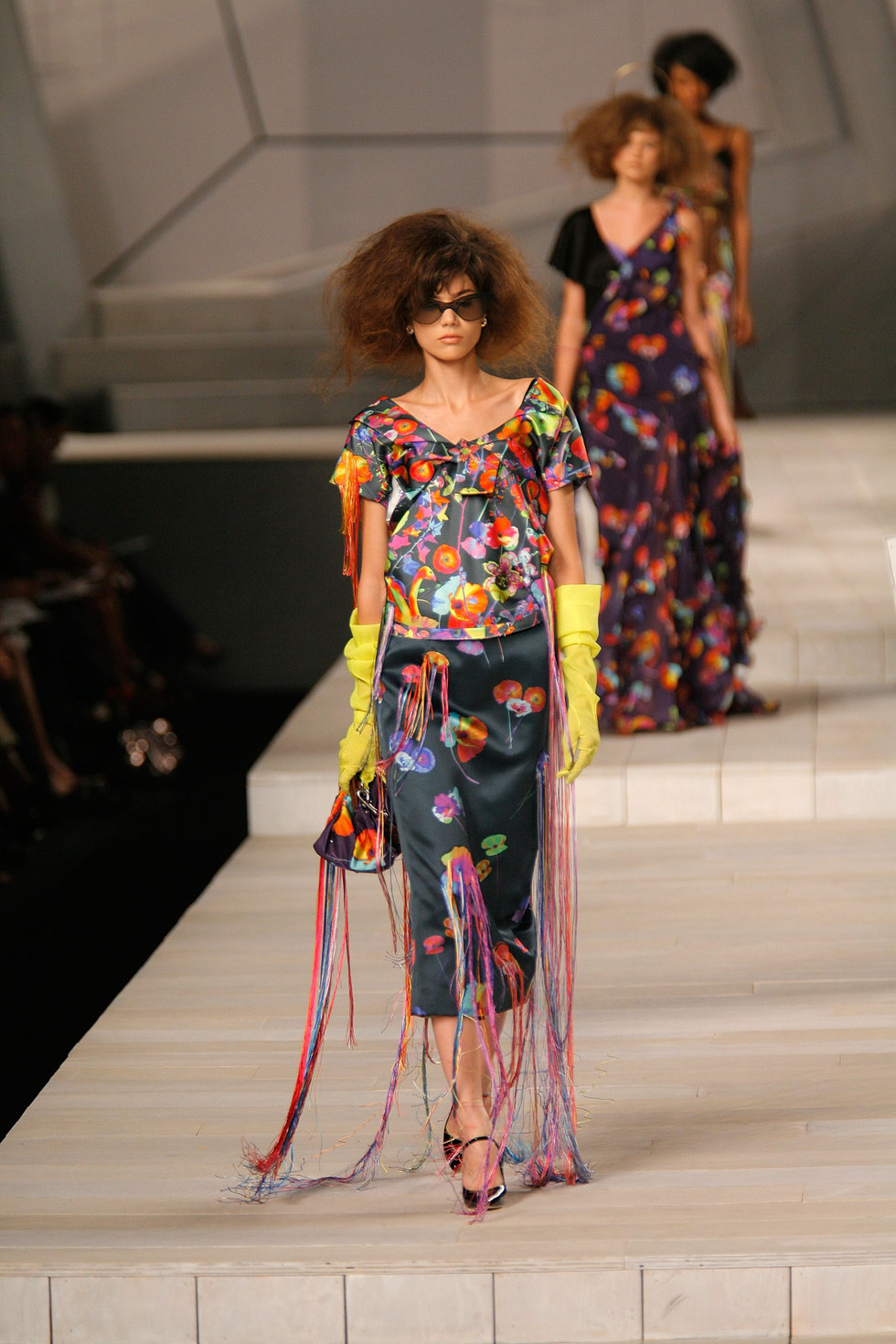 Marc Jacobs Spring 2008 (Photo via Getty)
Shakedown Chic
In 2008, Marc Jacobs Inc. paid a $1 million settlement for its involvement in bribing the superintendent of the 26th Street Armory, the longtime venue of the MJ shows each season. The suit claimed that from 2000 to 2007, the company paid tens of thousands of dollars over the venue's official rate for assured booking of the highly coveted space (it is one of the only spaces in NYC with a large capacity that also offers unobstructed views) and also for early access, often necessary for the spectacular sets and production each season. The city, the brand, and the armory seemed to make up rather quickly as Jacobs' continued to show there for subsequent season, though more recently opting for the Park Ave. Armory uptown.
Dakota Gets Banned
Oh, Lola! In 2011 Dakota Fanning teamed up with Jacobs and provocative lensmen Juergen Teller to face the campaign for Lola, his women's fragrance. The ad, which features Fanning posing with a large pink bottle of the perfume was deemed too hot for the blushing flowers of the UK and was banned by the British Advertising Standards Authority. In an interview a FAnning, who was 17 at the time of the shoot, said "If you want to read something into a perfume bottle, then I guess you can. But it's also like, Why are you making it about that, you creep? I love Marc and trust him, and we just laughed about it."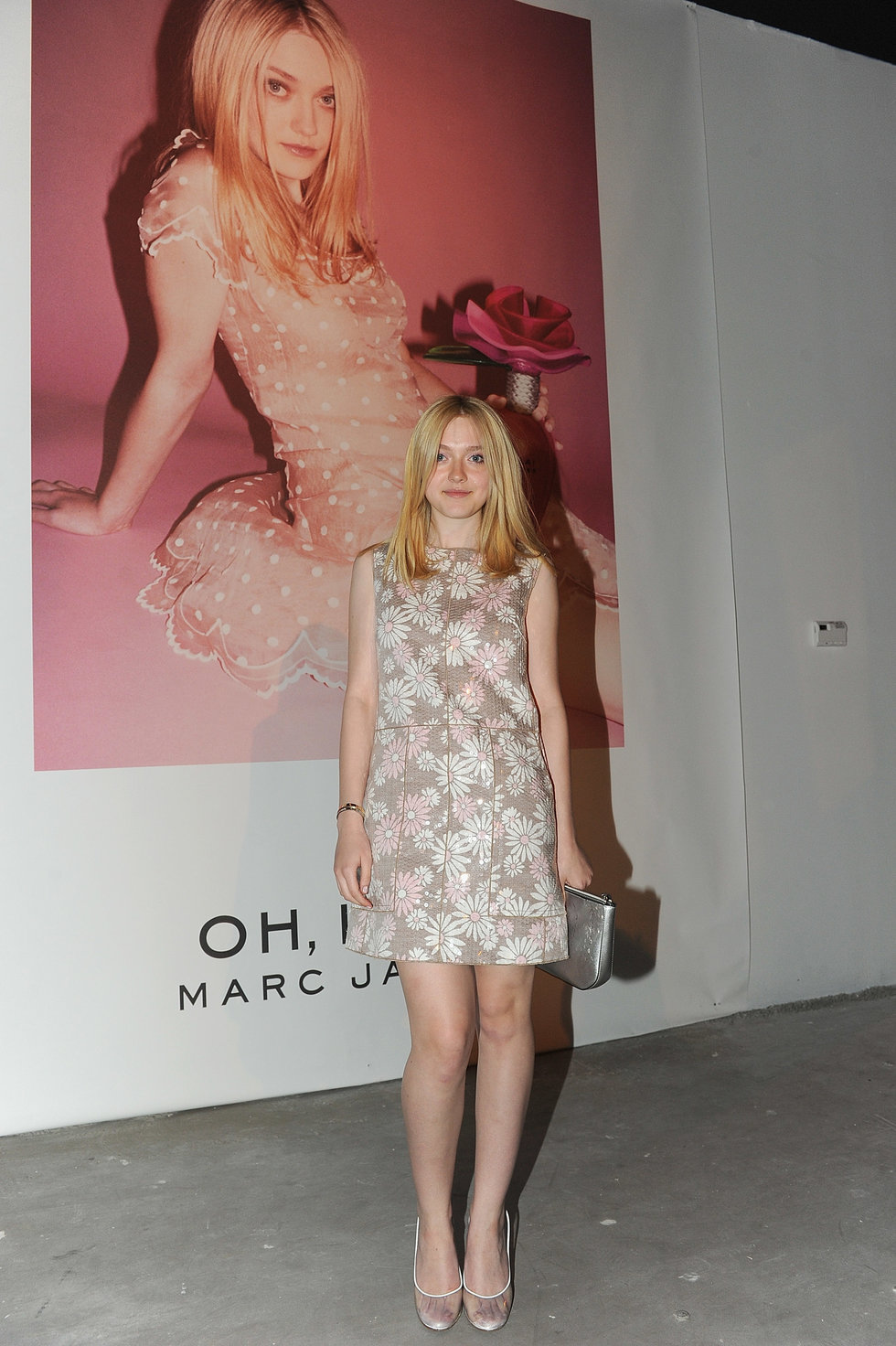 Dakota Fanning at the Marc Jacobs Spring 2012 After Party (Photo via Getty)
Age Rage
In 2012 the issue of age requirements for models, notoriously unregulated in the fashion industry, was a hot topic. The CFDA had recently come together to dictate that no models under the age of 16 should be used on the runways going forward. Most, if not all, designers adhered to the (nonbinding) agreement except one notable exception. Jacobs ignored the order stating: "I do the show the way I think it should be, and not the way somebody tells me it should be... If their parents are willing to let them do a show, I don't see any reason that it should be me who tells them that they can't." Ironically, the show that season was a parade of heavy hats and giants coats, mostly obscuring the faces of the models, which rendered the age, and overall identity of the models, a moot point.
Just Bein' Miley
Marc Jacobs and Juergen Teller produced some of the most memorable (and widely copied) images of the last two decades. From Victoria Beckham spilling out of a giant MJ shopping bag to Dakota Fanning playing dress-up in the Spring 2007 collection, the images and mischievous, knowing mood that they conveyed were emblematic of the aspirational cool of the brand. But the Teller / Jacobs campaign partnership ended in 2014 when Miley Cyrus was tapped to be the face of the Spring 2014 season. "He just didn't want to shoot her," the designer candidly told WWD on Teller's absence, after nearly a decade of collaboration. David Sims has shot nearly every MJ campaign since.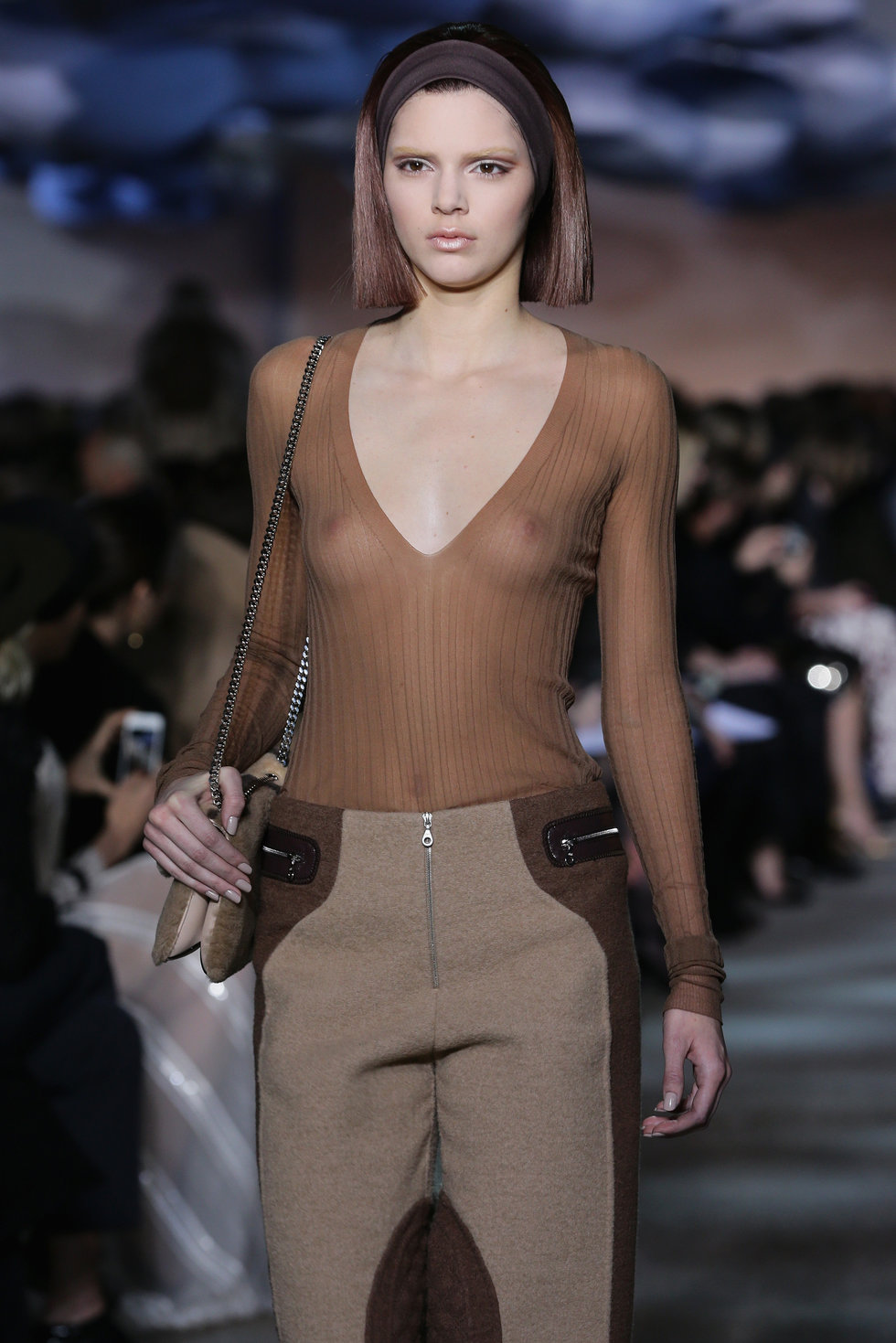 Kendall Jenner in Marc Jacobs Fall 2014 (Photo via Getty)
Kendall x Marc
In February 2014 a little known model by the name of Kendall Jenner was plucked from obscurity for her runway debut at MJ's fall show, which featured a dreamy puff paint set and Jessica Lange reading the lyrics of "Happy Day Are Here Again" in spoken word. Jk, actually, based on Instagram brand metrics, KJ was about 10x more "known" than MJ. Also debut may be disingenuous, but the casting announced Jenner's entrance into a heretofore guarded echelon of fashion that put the industry on watch. Fashion's ever-dwindling but vocal Kardashian refuseniks at the time were in a sky-is-falling dervish (also the sheer top on the barely 18 Jenner prompted some misguided pearl-clutching), but the die was cast, and by April Kim and Kanye were on the cover of Vogue, the rest being runway history.
T-Shirt Tease
Ah yes, the pitfalls of gramming-while-famous. One accidental "send" and your DM slide-up makes Page Six. And so it was for the designer when he accidentally posted a nude-ish selfie in 2015, meant for a flirty DM exchange, on his public account. The banality of the moment in retrospect is laughable, but Jacobs, in characteristic form, used the gaffe as an opportunity to move some product and created a tshirt featuring the (text only) post.
Oh No... Are Those...?
White Dreads? For his raver-themed Spring 2017 show — drawing inspiration from director Lana Wachowski among others — Jacobs, along with longtime hair collaborator Guido Palau, drew immediate criticism for cultural appropriation and ignorance. The controversy surrounding the hair choice was furthered when Jacobs took to Instagram and doubled down, calling the outcry "nonsense" and that "love is the answer" while drawing parallels to when black women straighten their hair. Yeah, no. Eventually the designer came around and acknowledged his "lack of sensitivity." A good lesson, if anything, on the dangers of etsy hair.