Malpertuis: A Weird-Ass DVD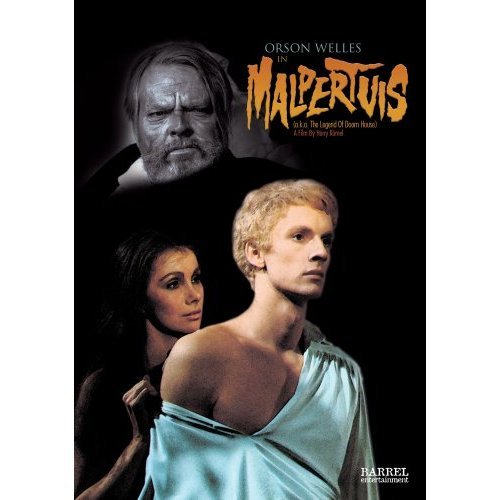 Watched one of the weirdest most obscure cult films over the weekend: Malpertuis from www.barrel-entertainment.com. This was the follow-up film from Flemish director Harry Kumel to his elegant, atmospheric, vampire film: Daughters of Darkness. Malpertuis is based on the 1943 surrealist novel by Jean Ray, about a sailor (Mathieu Carriere) on leave, who thinks he sees his long lost sister and follows her to a bar where he is hit over the head during a fight. He wakes in the bizarre house of his dying uncle (played by legendary Orson Welles), the evil patriarch of a greedy family. The sailor becomes entranced by a mysterious woman named Euryale (Susan Hampshire) and agrees to the uncle's edict that everyone stay put in this strange household.
Gorgeously filmed and maddeningly strange, the sailor's Alice In Wonderland trip down the rabbit hole of this household has been lovingly restored on this two-disc set, which includes a drastically recut version that premiered at Cannes and entertaining documentaries on the making of this rarity -- including one about Orson Welles' shenanigans on the set that is downright hilarious.