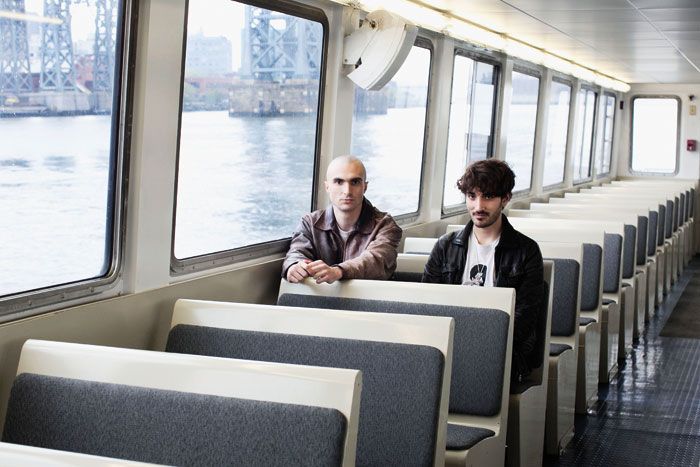 (l-r) Devon Welsh, Matthew Otto / Grooming: Scott McMahan at ArtMIx Beauty
Do a Google image search for Devon Welsh, the frontman of Montreal-based synth-pop band Majical Cloudz, and, over and over again, you'll find him wearing a white T-shirt and black jeans. "The notion of wearing a uniform seems contrived, but I just started feeling more comfortable wearing the same thing every day," admits Welsh, who with his shaved head and intense brows looks more like the frontman of an '80s hardcore band than the creator of Majical Cloudz's vulnerable, stirring music. "It happened when I was writing the material for the album. You know when you change your style, and it's basically how you feel inside? Like, this is how I was meant to look all along."
Welsh was writing music between his father's home in rural Ontario and Montreal when he brought on synthmaster Matthew Otto in 2012. Their first international album,
Impersonator
, released through Matador Records in May, is grounded in restraint and simple, slow melodies -- but it's Welsh's striking, deep bellow that makes his music so affecting, emotional and rich. A self-taught singer, Welsh is not sure where he gets his voice from, but thinks growing up with an actor for a father (Kenneth Welsh played evil genius Windom Earle on
Twin Peaks
) has something to do with it. "It could be genes, but if you've ever spent time with an older actor, they have these big booming voices from decades of training and having to project their voices on stage. So maybe I learned something from him?"
Despite their coolly minimal sound, you won't find Majical Cloudz moping around on stage. "I like the performances to have a sense of play," Welsh explains. "We could just be this sad, serious band, but I like to interact with the audience and be humorous or playful, awkward even. I like to try to make a joke and have it fall flat or have someone laugh when we are playing a serious song and be able to laugh with them. As performers, we want to be anything but cool and boring."
MORE FROM OUR SUMMER MIXTAPE