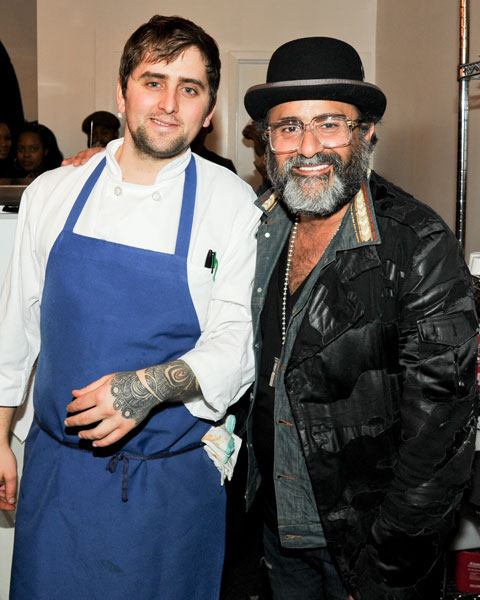 Until
Cyril Aouizerate
is able to find a proper venue for the New York outpost of hipster-posh Parisian hotel
Mama Shelter
, we can revel in his restaurant collaboration with three-Michelin-star-French chef
Alain Senderens
,
Maimonide of Brooklyn
(aka M.O.B.). Inspired by the healthy habits of 12th century philosopher and physician Maimonides, this sunny Atlantic Avenue hangout, with communal tables, menus nestled inside comic books, and a retro soul-loving DJ, also serves carnivore-friendly vegan dishes whipped up by executive chef
Neal Harden
, a
Pure Food and Wine
alum. Here, Harden talks veggies versus fake meat, small budgets, and punk rock.
Like many Manhattan chefs, you've made the migration over to Brooklyn.
I live in Williamsburg but I've always worked in Manhattan. I like Brooklyn because it's a lot less pretentious. The customers are more laid-back here. With the food, it's the same level of quality but it's not as many hours and as much pressure. It also feels good to be in sync with the rest of the country, making good food available to larger numbers of people -- it's inexpensive here by comparison. It's also nice to be where there's so much creative energy.
Your food is awesome -- popcorn laden corn soup, oyster mushroom and chickpea nuggets -- and it's also striking a chord with carnivores.
This is the most diverse group of people eating at any restaurant I've worked at. The kind of vegetarian food we make is different from other restaurants. We only focus on fruits and vegetables, not meat substitutes. For example, our saucisson is made with fennel and sage, sundried tomatoes, porcini mushrooms, and sunflower seeds. Our new veggie burger is made from crimini mushrooms and brown rice.
While you were in France, what did the chefs there have to say about veganism?
I think that for French chefs, vegan cuisine is an interesting exploration of ingredients. It's not like the U.S. where many protein-focused chefs are opposed to it on philosophical grounds. In my experience, high-level French chefs, such as the chefs at Senderens' restaurant, are interested in making any cuisine the best, most delicious experience through experimentation, quality ingredients, and recipe critique and development. And anything new, such as vegan food, is fascinating to them. The French chefs I worked with also went first towards ingredients from the farm and forest to test everything they could get out of them.
The restaurant's known for churning out open-faced sandwiches in the shape of the Brooklyn Bridge's arches. Is there a favorite?
The Iron Man. It's roasted shiitake mushrooms, kale, horseradish aioli, and parsley. I'm surprised, but people order it all day long.
That kitschy arch shape is definitely an M.O.B signature. What's the story behind it?
It's the brainchild of Cyril. He's always loved Brooklyn and it's his tribute to the Brooklyn Bridge. He had a small factory in France make special pans to bake them in that shape and trays to serve them. If you turn one over it says, "Proudly made by French workers for the people of Brooklyn."
I heard you used to play in bands. Did your passion for music influence your cooking?
I played bass for a long time in a variety of punk rock and metal bands. I would say it informed my diet initially because there are a lot of people in that community of musicians who are talking about vegetarianism in terms of a political statement, which was my initial draw, though that has changed over the past fourteen years. I also believe that being involved with a music scene where people just do what they want fearlessly all the time, outside of the societal norms (as was my experience with punk rock), gives you the confidence to live your life that way. This is especially relevant to creative work like cooking.
Does having a DJ in the restaurant inspire your cooking?


I do think it's great to have an interplay between all of the creative scenes. Music, art, and food are inextricably linked in my opinion. I hate when restaurants play easy jazz; it's just such a cop out. It makes people suspicious of the food. [Ed note:
Allswell chef Nate Smith feels the same
.]
Beyond the DJ, what music are you listening to these days?
I collect a lot of old psychedelic music and follow some contemporary, far out, noisy, psychey, or ambient stuff as well. The coolest show I've seen recently was the Acid Mothers Temple from Japan.
Is there anything you miss about the kitchen at Pure Food and Wine?
I miss the ability to go without a budget. I can't spend $1,000 on truffles for a menu like this.
Quite a few celebs flocked to Pure for your food. Has anyone hit up M.O.B. yet?
I'm not totally sure. Usually I have my eyes on the plates. We did have Afrika Bambaataa DJ at our opening though, and that was very cool.
Is there anything you miss about eating, say, meat or cheese?
Rarely. I believe we all have our set of things we have made our staples and comfort foods. I grew up with a lot of natural foods and a lot of gardening and fresh cooking, so my comfort foods would never have been a burger and fries anyway. My parents often leaned towards vegetarian food throughout the years. I would say the only thing I miss is sharing things with people who are important to me. And occasionally I still do that.
Maimonide Of Brooklyn
525 Atlantic Ave., Boerum Hill, Brooklyn, (718) 797-2555
. 
Above (L-R): Neal Harden and Cyril Aouizerate at the opening of Maimonide of Brooklyn. Photo by Neil Rasmus/BFAnyc.com
.