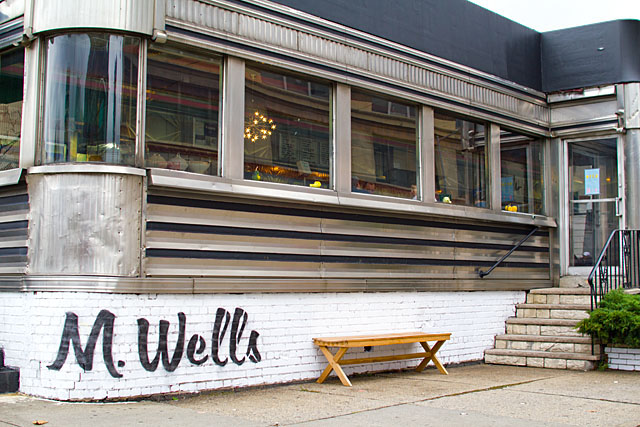 The first time I visited
M. Wells
was shortly after the Quebecois diner settled into its chrome digs on an industrial Long Island City street last summer. I slid into a booth and ordered a massive sausage-jalapeno-egg sandwich on a from-scratch English muffin for breakfast, and with just a few bites of that sage sausage patty, it was clear M. Wells was not an eggs-over-easy kind of joint. After several long -- hyped -- months,
Hugue Dufour
, an alum of Montreal's gluttonous Au Pied de Cochon restaurant, and wife
Sarah Obraitis
of Heritage Foods, finally unveiled M. Wells' dinner service. A friend and I found our way to the communal table where a trio of pals feasted on a glorious hunk of cote de boeuf while we sipped cocktails made by
Zachary Gelnaw-Rubin
, the ambitious bartender from nearby Dutch Kills; a balanced Defenestration ($10) with Cognac, Cocchi Americano, Punt e Mes, and Benedictine was the winner. Slurping the last of the oysters ($16) topped with ethereal coffee sabayon froth, Beau Soleils from the Canadian province of New Brunswick, my friend declared, "I'd like to eat those for breakfast -- with an iced coffee." Such a madcap morning meal would feel natural at M. Wells, where Dufour's wild imagination dictates the menu. Butter Chicken ($16), an Indian takeout staple, is complex in his hands, tender chunks spilling out of an aforementioned muffin, accented by spicy yogurt. A signature escargot and bone marrow dish, sold out for the evening, led my offal-loving companion to spring for the much talked about delicate veal brains ($15) instead. Then came the sandwiches, one with thick slabs of aged meatloaf ($22) and a light dressing of cranberry ketchup unable to conceal its richness, another successfully marrying grouper with mortadella ($18). Despite being full, I couldn't tear my eyes away from the counter and its desserts. I felt as if I really was in a suburban diner of yore. But as I lingered with my sugar rush-inducing wet maple pie ($6), preventing hipsters from sitting down to a dinner of blood sausages, I knew that nostalgic simplicity was yet another of Dufour's illusions.
M. Wells
21-17 49th Ave.
Long Island City, Queens
(718) 425-6917

Image from mightysweet.com