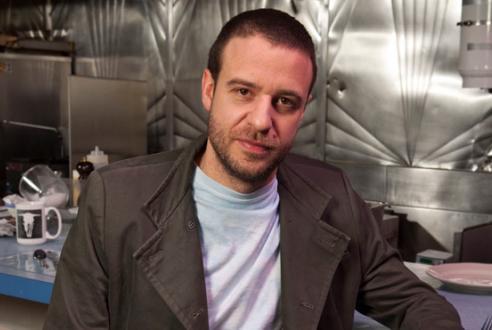 By now, every food-loving New Yorker has likely stood in line to eat at the dearly departed restaurant
M. Wells
-- or wishes they had. The Long Island City diner might be shuttered, but the myth of French-Canadian chef
Hugue Dufour
and wife and partner
Sarah Obraitis
continues to seduce. After all, how many other couples are planning to open a floating steakhouse on a self-built Polynesian catamaran?
A number of recent M. Wells pop-ups have only amplified the interest. They sold their famous meat pies on the courtyard of MoMA PS 1 just before Christmas, made eggs in aspic for 25 MasterCard holders in the museum's cafeteria (their new home, come March), and just this past Saturday teamed up with Gianna Cerbone-Teoli of cozy LIC eatery Manducatis Rustica to present a three-hour brunch featuring the likes of pork pate, huevos rancheros, and peanut butter and jelly gelato. The next day, the M. Wells team was back at MoMA PS 1 with an outdoor grill, serving up steak frites and merguez sandwiches. We caught up with Dufour just as the crowd was winding down.
So, what time did you run out of sandwiches today? How many did you go through?
4:30. We probably went through 500 sandwiches today, but now we're serving leftovers from yesterday's brunch: bacon with pickled greens.
M. Wells was wildly popular when the diner was open, but it seems with all the pop-up action there is even more intrigue surrounding you guys since you closed.
I've been thinking about that a lot lately. We never thought we would lose the diner. Even when we knew we would close we thought we'd be able to open again much faster. We found a way to make it happen anyway, and keep our staff around us. It's one of the most beautiful things in a lifetime that all these people are so involved and stick around. I don't want people to forget about us.
I strongly doubt that will happen.
I hope not. Maybe that's a part of the insecurity of my life.
Beyond the pop-ups, the biggest news is that in March you'll be taking over the cafeteria of MoMA PS 1 and introducing M. Wells Dinette. What can we expect?
It's going to be a cafeteria, and keep that idea of PS 1 being a school. We'll have cafeteria trays with compartments, and we came up with these long tables, one-sided communal tables with little drawers for each person. There's nothing on the table but everything is in your drawers -- utensils, condiments -- and we'll keep replenishing them as people come and go. I like the idea of using the place and not being out of context.
What about the food? Any M. Wells classics?
There's no gas, so we're working on the plans for sous vide. Not because it's trendy, it's just another technique that will allow us to cook things for a long time, braise things, confit things, and serve them pretty quickly. Of course I'll make things from the diner, but I can't promise. Things come back in different forms, and I'll see what the place dictates. Everything changes, like people.
You served veal brain Tortilla Espanola at your Manducatis Rustica brunch this weekend. When you started cooking here, were you impressed by how adventurous New York eaters are?
New Yorkers are great. It was really surprising, especially in Queens at a little diner. The weird things I've been able to serve, I'm happily surprised. I don't do it to shock; I really like these things. I'm also always trying to find a way to not skimp on products -- some that aren't easy are cheaper to transform with a little love.
Is there a weird American food habit you'll never understand?
It's more about the drinking, the cocktail thing. Having a martini while you're having a steak is totally weird to me.
What do you miss about Montreal?
The markets. Who can afford paying ten dollars for two tomatoes here when you can buy two cases for the same price in Montreal?
I have to ask about your former diner's greedy landlord, who we've read much about in the media. By forcing the diner to close, he has played a significant role in the evolution of M. Wells.
I don't know why he did that. It's hard to understand it. Misplaced pride, maybe. I don't regret it. We signed this short lease agreement on one page, which I would never do again -- [the diner] ended up being successful. I'd rather have a great landlord like at PS 1, where you can build something. Everything happens for a reason. The place was nice and it will stay in people's minds. It brings us more inspiration. When we get too comfortable, it will be time to move on. 
Photo via
Time Out New York
.