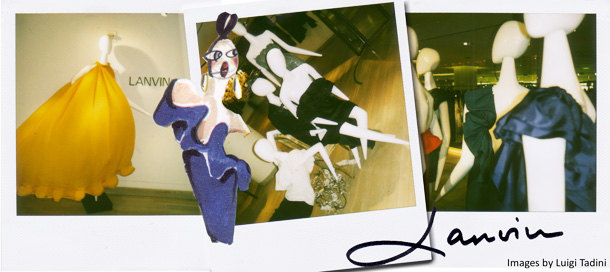 "My work doesn't scream, it whispers." – Alber Elbaz


Jeanne Lanvin opened the doors of 22 Rue du Faubourg Saint-Honoré in 1889 and quickly gained fame for her striking and delicate mother-daughter robes de style. In a matter of months the dress garnered a devoted and exclusive Parisian clientele. Jeanne's exquisite designs where unique from the beginning, so it is no surprise that Lanvin would join the Syndicat de la Couture 20 years later.

The iconic style of this fashion house, born in the late 19th century, still creatively inspires the fashion industry today with its meticulous attention to detail.

Flash forward to 2001 when Israeli fashion designer, Alber Elbaz, was appointed the creative director for the brand. Elbaz had a long line of success before his position at Lanvin having worked at world-renowned fashion houses like Guy Laroche and Yves Saint-Laurent; but it was in his new venture that his talent and vision had no limitations.

The Tadinis have always been somewhat of unofficial ambassadors to Lanvin. My father and all his groomsmen were fitted in Lanvin creations for his wedding day back in the mid-'70s. (Believe me, I raided my father's closet for these pieces on various occasions.) The impeccable tailoring, the historical expertise and refined taste have always been qualities attributed to Lanvin's menswear. Elbaz, however, managed to do the impossible. With a contemporary approach to design, Elbaz gave the brand a breath of fresh air while keeping all the qualities that are so Lanvin intact. He has been hailed as a "master of improvisation" and to me he is one of the ultimate designers. His designs in all its complexities look simple and always elegant.

The 2008 prêt-a-porter spring collection was to some one of the "most uplifting show of the season." One quick glimpse at the pieces themselves and I readily agree.

This past Tuesday, Vogue held a cocktail at Barney's to an intimate set of fashion insiders to take a first look at Elbaz latest triumph. The technicality and lightness of the designs displayed on the second floor were inspiring. Amidst magenta ruffles were fashion babe Kate Schelter, sporting a huge Lanvin hat which only someone as stylish and fabulous as herself could pull off, Jackie Astier in a hot-pink dress fit for a downtown hipster or a crown princess, the always charming Hamish Bowles, dear Mr. Mickey Boardman, Voguette Stephanie LaCava in a gorgeous little Lanvin pencil skirt, the energetic and lovely Emma Snowdon Jones, Olivia Chantecaille, Byrdie Bell, Dabney Mercer and columnist extraordinaire Derek Blasberg.

Between a glass of wine, a delicious and mysterious vodka concoction and a canapé or two, I had a moment to catch up with my dear friend and fashion icon in the making, Julia Erdman. Julia handles PR for Lanvin in the U.S. and recently returned from Paris on her first couture adventure for the brand, so it dawned on me that this was clearly a great opportunity to get the insider scoop on this celebrated collection and a handful of style tips for our female readers. Viva Lanvin!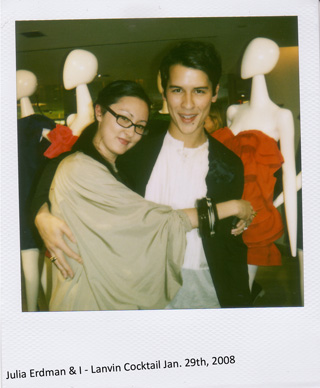 Luigi Tadini:
In your opinion, why is the Spring 2008 collection hailed by fashion critics as the most uplifting show of the season? What is particularly singular about this collection?
Julia Erdman: What most stunned me about this particular collection was that it really ignited an emotional, almost physical response with its viewers. The show was just breathtaking, and I received phone calls afterwards from editors: "Julia, we were in TEARS -- the collection was so beautiful, so moving..." From a technical point of view, the materials were also innovative. The billowing goddess gowns are polyester! Light as air, and luxurious -- who knew?
LT: How does the use of vibrant colors like magenta, teal and red reflect on the personality of the Lanvin woman? Who is the Lanvin woman?
JE: Well this collection wasn't just about color -- it really ran the spectrum. Yes, the show was punctuated by bright, bold colors, but nude tones were just as relevant. And I think that speaks to who the LANVIN woman is -- she can be a scene-stealer, or demure. But always elegant.
LT: What are you looking forward to during fashion week?
JE: The Alexander Wang show -- he's at such an exciting time in his career, and I'm always eager to see how he grows from season to season.
LT: What, in your opinion, are the essential pieces to have in one's closet?
JE: 1) A classic trench coat; 2) a white button-up shirt; 3) a great pair of jeans; 4) ballet flats (these are as close to sneakers as I get); and to top it all off, your own signature jewelry (Tadini, one would hope) -- such a must!