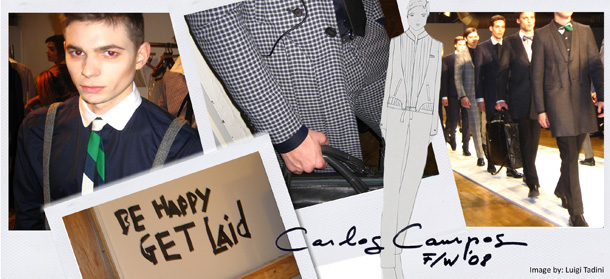 Despite the vile tempest looming over Manhattan yesterday, I braved the weather and ventured out to view one of my favorite designer's newest collections.

I am glad I did!

Carlos Campos is a fairly new name when it comes to New York Fashion Week, his fall/winter '08 show being his third presentation, but in no way, shape or form can he be considered an upcoming designer. Campos has been designing beautifully tailored clothes for as long as he can remember. His identity as a menswear designer was established many years ago when his father, a tailor, taught him the basic tricks of the trade. The fashion industry is practically part of his DNA, and such is reflected directly in the quality and precision of his work.

Carlos was born in Honduras and at the age of 13 moved to the Big Apple. Influenced by the diversity and rhythm of our great city and his passion for tailoring, he decided to study fashion design at FIT. His studies helped him gather all tools and techniques to execute his craft with unparalleled skill.
Carlos has quickly become the go-to designer for the perfectly tailored suit. Very few American designers have the European sensibility when it comes to tailoring; Campos is certainly at the lead of those who do. His creations are technically ambitious, innovative and brilliantly styled.

His latest, an ode to the romantic rebel, was to me his best yet! With a subdued palette and bursts of unexpected emerald green, each of the 33 looks oozed elegance and sex appeal. Every piece that came down the runway was worked with meticulous attention to detail; from the luxurious cashmere peacoats to the emerald wool pants. Campos has the unique ability to tailor heavy materials, like tweed, and turn them into seemingly delicate pieces. His clothes are chic and masculine; never straying from the classic staples of elegant menswear.

In the front row, I ran into Men's Vogue style editor Alvaro Salazar who has also been a fan of Carlos for quite sometime. Interview's Market Director J Errico and NYLON's Dani Stahl were also among the many admirers those admiring the collection.

The pièce de résistance where the last two looks: a sleek black on black polka dot tuxedo and a most unbelievable Glen plaid tuxedo fit for Saville Row!

After the triumphant show, I visited Carlos backstage for a little Q&A. Enjoy!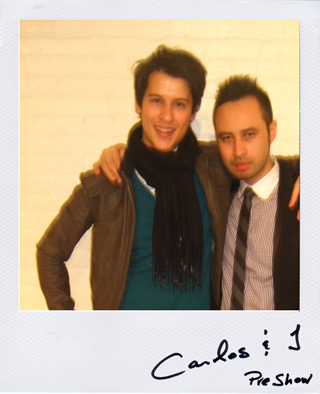 Luigi Tadini: Having been born and raised in Honduras, how has the culture of your motherland influenced your design aesthetics -- color, tailoring, and textile choices?
Carlos Campos: I left Honduras when I was very young... but my childhood was one surrounded by the world of design -- my father was a tailor and I grew up in that world. Certainly it is amazing to go back now so many years after to revisit my memories of my youth. But, to be honest, I tend to be more influenced by my current situation -- as a designer living in this big city... there are so many things going on and happening, the ebb and flow of this life, here and now.
LT: You've worked in the past in creating costumes for highly acclaimed Tony-winning shows like Jersey Boys, The Graduate and Light on the Piazza; how different is creating a collection as opposed to creating the wardrobe for a show? Is there a different approach to narrative?
CC: I think in a way, creating any type of clothing is like dressing for a production -- in a way any article can be an element of a costume. When I create a collection I have a very specific idea of the inspiration, down to the individual who is wearing it and the way they play their life out -- what they eat for breakfast, what kind of music they listen to, where they are traveling, who their friends are... I make clothes that facilitate that life.

LT: Where did you draw inspiration for your current collection?


CC: The current collection is sort of based around romantic rebels -- these well-manicured souls who are also slightly tormented and deeply poetic -- they are a bit naughty as well. I was looking to James Dean and Giacometti at the same time and drawing parallels between the two personas... and then of course I am always influenced by music and literature. I love Pablo Neruda and Gabriel Garcia Marquez.

LT: What designers have most influenced you creatively in the past?
CC: I've been inspired by the amazing tailoring and creations of the great Cristobal Balenciaga -- a true genius! Also by the old tailoring of Saville Row!

LT: What are three essential pieces every man should have in his wardrobe?
CC: A tailored suit, a coat that will take you anywhere and a tie --I feel naked without mine.