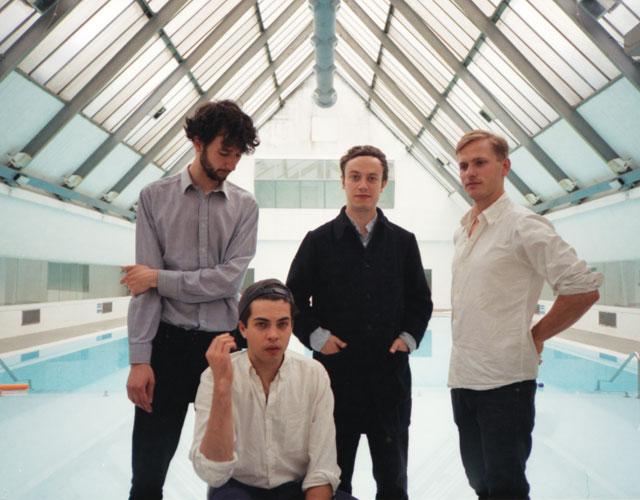 With a cable-access aesthetic and penchant for glittery MySpace GIFS and DeVry Institute animations, London-based boys LuckyPDF are part TV producers and part art group, collaborating on creative work for the post-Internet world that is as weird as it is watchable. They've quickly made a name for themselves with their clever new-media pastiche and apt understanding of cultural communications in the modern world. Under the creative direction of its four core members -- James Early, John Hill, Ollie Hogan and Yuri Pattison, art-school friends who met while living on the same street in South-East London's Peckham neighborhood -- the group's projects typically combine performance with digital art in site-specific works and accompanying online videos.

Though their roster of collaborators is ever changing, usually plucked from the booming South London art scene which many of their peers are involved in, the boys are hesitant to call themselves a collective, or attach themselves to a particular localized scene. "We don't have a manifesto," says Early. "We still think the art world is a social space that gives lubrication to conversation that we find interesting. We dictate the format and work with people right for the project, rather than have a consistent team." 
LuckyPDF's semi-fictional online university, the "School of Global Art," confronts the elitism of the art world with its tongue-in-cheek open-enrollment policy and engagement with the Internet as a viable platform for creating and communicating about art. The application asks prospective students questions such as "Are you sleeping with, or have you recently slept with someone in the art profession?" "The School is just another name for the Internet, really," explains Early. "We're already participating with other people, and learning from each other, and reading stuff all the time."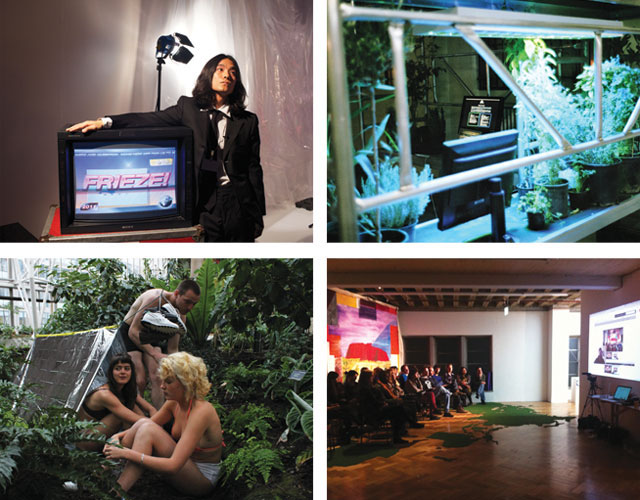 Left to Right, Top to Bottom: Daniel Swan for "From Frieze Art Fair, this is LuckyPDF";
The Conservatory
featuring Callum Hill; The School of Global Art: Down Under for Next Wave 2012 featuring Omar Kholeif;
Free Galaxias
, commissioned by KERNEL
For their latest project, the crew created a fashion line which was shown at London's V22 gallery and Boetzelaer|Nispen gallery in Amsterdam. "The prints on each piece of clothing were based on the artworks of our peers," says Hill. The idea was inspired by the way in which images can be shared, seen and re-authored via online platforms like Google Images and Tumblr.  "A 15-year-old in America reblogs your work because it looks cool, without any understanding of its context," says Pattison. "Equally, we scroll through images, not really taking a lot in. But on some level, through this onslaught of digital feeds, it all comes back into your work, like a kind of cross-pollination."
The piece that introduced them to a more mainstream audience was a contribution to the ICA's Remote Control exhibition last spring. LuckyPDF invited the British reality star Chloe Simms, of the
Jersey Shore
-esque reality TV show
The Only Way Is Essex
, to the esteemed gallery's private view, alongside paparazzi to photograph her as she critiqued the other works. "It was interesting to pit her against the exhibition and see what was more media-worthy -- and that reality TV is more powerful than art," adds Hogan. "However, I don't think the ICA wanted us to spend our fee on a celebrity appearance."
Top photo (l-r): John Hill, Ollie Hogan, Yuri Pattison, James Early