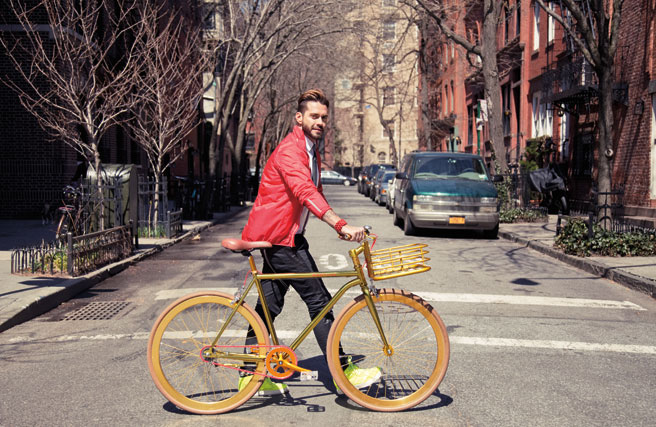 Here's a genius way to get the word out about the collection of stylish, retro-inspired bikes you've just designed: Make like plugged-in fashion publicist Lorenzo Martone and ride up on one of said bikes to meet a reporter for lunch in the West Village. Be sure this happens on one of New York's first legitimate spring days, along a street where most passersby just happen to look like European runway models with $899 to spend on a bicycle, and you're in business.
It goes without saying that the handsome Martone looked great executing this crafty product placement, but his bike, bearing his last name across the frame, also impressed onlookers. Metallic gold with a convenient basket for baguette storage -- it was chic to death.
Martone, a New Yorker via Paris and São Paolo, remembers his very first bike -- a gift from Santa Claus that he nicknamed "Fina" -- from his childhood in Brazil: "The tropical weather never stopped me from riding it. I even rode it inside the house."
Martone decided to make bike design his passion project when faced with the dilemma of having to store his old bike, a bulky eyesore that was "all utility, zero style," in his otherwise impeccably decorated West Village apartment. He ultimately took his vision of bikes for the style-minded to "four factories, before the fifth manufacturer in Taiwan said yes," and Martone Cycling Co. was born. Martone's debut collection comes in five colors: white, black, red, gold and silver. Each bike features a red chain -- an extra pop of color that he calls a "sly nod to the fashion industry."
Martone also adopted the idea of designing "collections" of bikes from the fashion world, and will release new lines every spring, right when New Yorkers are hanging up their winter parkas and coming out to play. Any word on what Martone's next line will look like? "Let's just say," answers a coy Martone, "it'll be something electric."
Martone Cycling Co. bikes are available at martonecycling.com