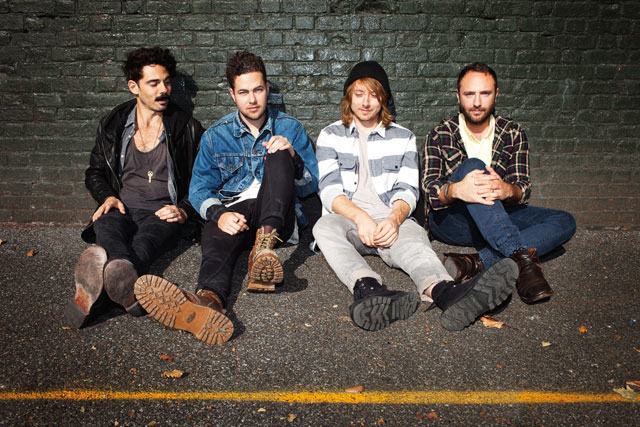 The past few years have been a bit of a whirlwind for Local Natives. The Los Angeles-based band was relatively unknown when they recorded their debut album
Gorilla Manor
in 2009; in a matter of months, they were on the
Billboard
Top 200 chart, touring with Arcade Fire and playing festivals with the likes of Thom Yorke.
"The success that we've seen has been, for the lack of a better phrase, a dream come true," says keyboardist and singer Kelcey Ayer. "The struggle came afterwards."
First came the stresses of the road, which injected unprecedented tension into the tight-knit quintet. In March 2011, the band announced that they had parted ways with bassist Andy Hamm, citing personal and professional differences. Then in June, Ayer's mother passed away. "It was a weird juxtaposition of really happy stuff and really dark stuff," says Ayer.
Local Natives may have lost loved ones, but they've gained some new friends. While on tour with the National, they befriended the band's keyboardist and guitarist Aaron Dessner, whom both Ayer and guitarist and vocalist Ryan Hahn now refer to as an "older brother." Dessner went on to coproduce their second album,
Hummingbird
, most of which was recorded in his home studio in Brooklyn's Ditmas Park. "His suggestions were really earthy and natural and classic-sounding," says Hahn. "It definitely wouldn't be the same album without him," says Ayer.
The album has the sense of an awakening -- of truth learned and maturity earned -- and a sedate, deliberate quality that makes the more energetic
Gorilla Manor
seem downright spastic in comparison.
Now the band is on tour once again -- and, surprisingly, they're happy to be back on the road. "I think we're all ready," says Hahn. "We love touring, we love playing live. That's kind of our thing."

Hummingbird is out Jan. 29 via Frenchkiss/Infectious.

(Above, l-r): Taylor Rice, Ryan Hahn, Matthew Frazier, Kelcey Ayer