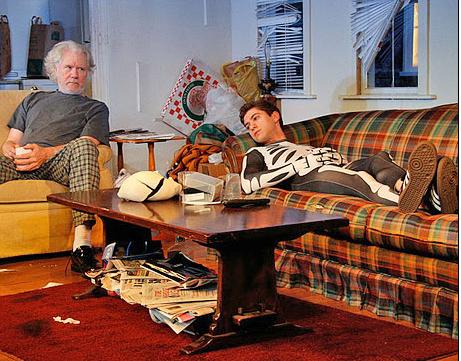 Playwright/screenwriter
Liz Meriwether
's current projects have her in two very different sexual positions on opposite coasts. Her new off-Broadway play, 
Oliver Parker!
, which opened Monday night at the Cherry Lane Theater, is a (very) dark comedy about sexual abuse. In L.A., her first feature film about no-strings-attached sex is in early production. Formerly known as
Friends with Benefits
and
Fuckbuddies
, the movie is apparently light and sunny and stars
Natalie Portman
and
Ashton Kutcher
.
But in
Oliver Parker!
, 28-year-old Meriwether peppers the uncomfortable subject matter with the laugh-out-loud, off-kilter wit for which she's known. Sometimes in the same 10 seconds. The first-rate cast includes
Michael Zegen
(who happens to spend a lot of time on stage in his tighty-whities in case you're interested) as Oliver Parker, a loquacious high-school-aged kid straight out of
NYC Prep
who was sexually abused as a child by his limo driver, Jasper, played by a feisty yet vulnerable
John Larroquette
 (Remember
Night Court
?). Instead of steering clear of the old, sad man, Oliver visits Jasper's equally sad and crumbling midtown apartment daily. He brings Jasper vodka and asks him questions like "How do you pleasure a woman?" When we first meet them, Oliver is obsessed with losing his virginity and Jasper, worried Oliver has been permanently scarred and damaged by his "diddling" (as Oliver calls it), tries to give him books about dealing with sexual abuse, which Oliver promptly laughs off. It's a complicated relationship and shows Meriwether's ability to take her work to the dark side, a place we'll gladly follow her to any time.
Above is a photo of Michael Zegen and John Larroquete in a scene from
Oliver Parker!
now playing through June 6th at the Cherry Lane theater, 38 Commerce St., New York, NY.