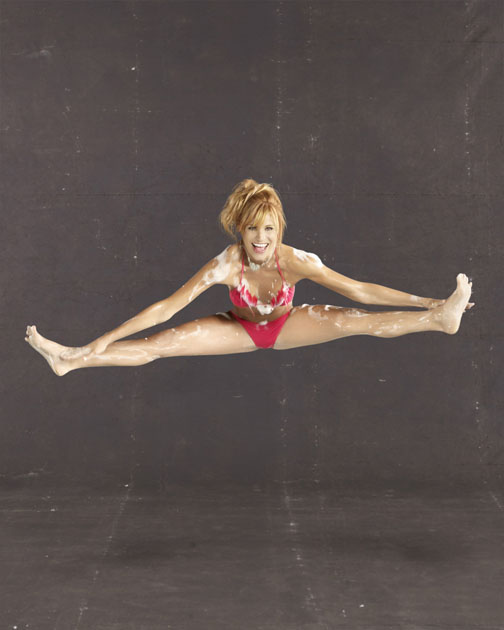 America's Next Top Model
season five's resident wild child
Lisa D'Amato
is back. The California native -- who currently appears alongside other ANTM favorites on the CW's
America's Next Top Model All Stars
-- is best remembered for wacky stunts like peeing in a diaper and befriending a houseplant before she was ousted. Since her cycle, she's padded her model résumé, made music with Cisco Adler and Aqua, and bared her soul to Dr. Drew. PAPERMAG chats with D'Amato about wildin' out and wising up.
Is this second go-around easier or harder than your first time on ANTM?
I think it's a bit of both. With my first cycle, I'd never seen the show before. I was balls to the wall all the time. Now I'm smarter, and I understand the process much better. As far as modeling experience, I was just as capable then as I am now.
The last six years I've been doing music. When you're modeling, you kind of have to "tame the beast," but when you're on stage you can be crazy. [On
Top Model
] I have to tone it down. I'm in a houseful of girls, and I can be too much for them sometimes.
Speaking of the girls, did you think there were any glaring omissions in this first Top Model All-Star cast?
I definitely wanted Brittany [Brower, cycle four cast member and first All-Star to be eliminated] to stay; we get along. I've heard a lot about Jade...
YES. JADE.
I'm friends with Joanie [Dodds, cycle six's runner-up], and I heard so much crazy stuff about her, so I was apprehensive. I love a good match in someone being bonkers and balls to the wall like me. And people can say I'm delusional all day long, but she's, like, seriously delusional I think. She's a beautiful girl, though. So many people wanted Jade to be on the show, and said I was too old, but we're both 30. Whatever.
Whatever indeed. Last week's episode concluded with you almost going home, sharing the bottom two position with cycle two's Camille. What's it like to stand before Tyra, facing elimination?
It was just not my week... to think I could have been sent home for acting, something I know. For the challenge we had to memorize all these lines. Acting isn't memorization, it's character development. Truth is, I didn't put my heart in it. Now, if it had been something I loved and put my heart into, like music, that would've been different.
Just last month, your sophomore album
Flippin' the Bird dropped. Do you consider yourself a model/musician or musician/model?
With modeling, it's fun to play dress-up, but at the end of the day, I'm 100 percent performer. Period. I'm a songwriter, a dancer, a singer, a gymnast, and a model.
And humanitarian. As Tyra says, all top models need a cause. Can you tell us about yours, Free Arts for Abused Children?
Yes! It's an organization that specializes in children who've dealt with sexual or mental abuse. Volunteers work with the kids in whatever art they like -- painting, dancing. They express their emotions through creative art. It's a beautiful organization. The kids are the strongest kids I've ever met in my life.
I was one of those abused children, but they didn't have a program like this when I was growing up. I would've loved it.
You made a brave appearance on season three of VH1's Celebrity Rehab with Dr. Drew, sharing the experience with Mackenzie Phillips, Dennis Rodman and Heidi Fleiss. What is more intense: living in a rehab facility with celebrity addicts, or an LA manse with a dozen competition-hungry models?
Well, both were life-changing experiences, for better or worse.
Celebrity Rehab
was the most amazing, inspiring info-packed experience I've ever had.
I proved the world wrong: I'm not an addict. But I got therapy, which I needed and I'd never had. Society has a very unhealthy relationship with alcohol.  I was an L.A. kid, drinking and going to parties when I was 14. Now I'm stronger and smarter. I want to make a difference. I want to raise the bar. That comes with a lot of scrutiny, but I've been dealing with it my whole life anyway. People who are crazy enough to change the world will, and I am one of those people. That's a Steve Jobs quote by the way.
Speaking of scrutiny, in 2008, TV Guide dubbed you as one of the biggest villains in reality TV, which is totally inaccurate. What was your reaction?
Yeah, isn't that crazy? I'm ninth, and Spencer Pratt is tenth! I don't get it.
I'm incredibly sarcastic. I use comic relief. It's a survival mechanism. But I really wanted to help the girls. I'm from L.A. and I'd been modeling since I was 12. A lot of the girls were homecoming queens in their small towns. I was trying to show them the ropes, and I guess I came off as vindictive.
There seemed to be a lot of mean girls on your cycle.
Nah. People get threatened. Claws come out. They will bite. I really was trying to help! It was hard to watch my season. The worst part was seeing the girls talking so much crap about me during interviews. While they're wearing my clothes!
I was an easy person to claw at because I seemed self-confident. But there was no one giving me self-confidence. When you come from rock bottom, you're the only one who can boost yourself.
It seems like the All-Star ladies are more receptive to your maternal instinct.
I'm definitely more respected. The way I'm being treated is a lot better. I'm a nurturing person. That's just who I am. It's one of my best qualities, but it's also stabbed me in the back more than I can say. I've decided I'm going to wait until I have my own kids to be a mother!
From watching your TV journey from your first Top Model appearance, to Celebrity Rehab to now, it seems like you've really come into your own.
Thanks! When I was growing up, things that happened to me were unspoken. I'd get reprimanded like crazy. On TV there was the
Brady Bunch
,
ALF
,
Charles in Charge
. Nothing I could relate to. Now, people can watch reality shows and understand that they're not alone; that there are people like them. I like being part of that.
And we like you being a part of it. Anything else you'd like to hype?
I've got a video coming out in a couple weeks for my new song "Soldier." For those people who still think I'm an ugly crack whore, this song will shed some light. I'm not a lunatic. I have a story.
America's Next Top Model All-Stars
airs Wednesdays on the CW at 9 p.m. ET.Photo of Lisa by Celeste Canino/ Pottle Productions, Inc 2011 Pottle Productions, Inc. All Rights Reserved.