Lindsay Lohan with Pal Jeremy Scott at PAPER's 24-Hour Store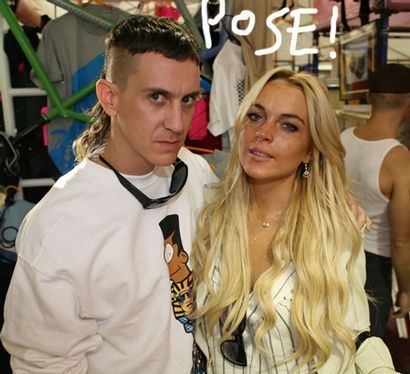 The PAPER store was in about its 20th hour of non-stop operation when we got word that Lindsay Lohan was going to stop by to visit her pal Jeremy Scott who had a booth set up. Pulling up in front of the store on LaBrea in her Escalade SUV, she was quickly followed by a half-dozen thuggy paparazzi who hovered outside, peering in through the window in hopes of a shot of their prey. Inside, she made her way through the booths, stopping to buy a piece from the Modern Appealing Clothing store from San Francisco who were selling work by the artists from Creative Growth. As she left, she held a copy of PAPER to her face and dashed off in her car, paparazzi in mad pursuit. Bye, Lindsay!
Photo by The Cobrasnake via Perez Hilton.