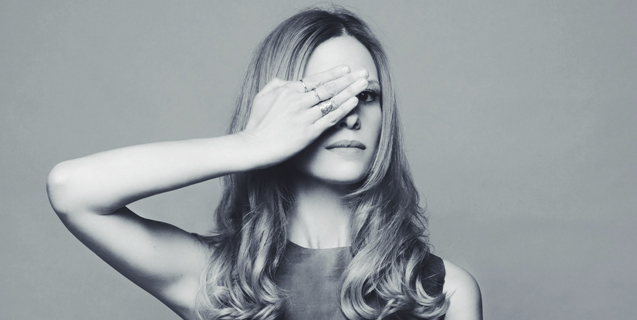 Over the course of two albums, Lia Kessel -- better known by her moniker Lia Ices -- made her name as a singer-songwriter. Now with a forthcoming record,
Ices
, out September 16th via Jagjaguwar, comes a new vision, one that more closely mirrors the artist's self-description as a "psychedelic hip-hop pop" musician. Produced in collaboration with her brother Eliot over the course of two years living in the Hudson Valley,
Ices
brings a wide variety of instrumentals, experimentation and people together; it takes the listener from north of New York City to San Francisco and Jamaica with a constant sense of levity, expressed both in the lyrics and lofty sounds. 
The day after an earthquake hit her home in Northern California, we caught up with Kessel and spoke about everything from her musical collaborations to poetry and traveling. Read on to hear her thoughts and to watch the exclusive premiere of her new music video, "Higher," which features kaleidoscopic visions of the artist and her brother as they explore Jamaica.
What were your inspirations on Ices?
The album is inspired by a lot of things but a lot of it is this feeling of levity and lightness. It was really important for me to go inside and learn a whole new set of systems -- I got really into software, technology, and making my own beats. That's really a positive force and it's very freeing. I think the energy of what it actually felt like to experiment and push myself as a writer and musician is the positivity in the album.
What inspired you to start this experimentation and learn these new processes?
My last album,
Grown Unknown
, has a very '70s singer-songwriter kind of vibe, but the more I toured, the songs naturally started to extrovert themselves. When it was time to write again, I was like, "I want to make an album with [my brother] Eliot," who I've always played music with. We're very in synch and we're great foils for each other.
Tell me about working with your brother.
We moved to the Hudson Valley together two years ago. He's an amazing musician, but we also bounce ideas off of each other like crazy. We got really into making sounds and playing with beats. We let all of our influences come in, all of the random shit that we like. We like hip-hop and we like Persian pop. We wanted to make a classic album and we didn't stop until we were satisfied, which is kind of crazy now that I think about it.
During those two years did you still travel or were you rooted in the Hudson Valley?
I think this is where the levity comes in. I was really committed to the project, but I was going back-and-forth between New York and California. My fiancé lives in San Francisco, so I would have crazy work binges in the Hudson Valley, get on a plane, spend time with my love partner, and then have to go back. It became a strange ritual.
When you look back on those two years, what is one of the formative moments that you'll remember?
A big one was the first time we had a production session with Clams Casino in Brooklyn. It was for the song "Waves" -- the last song on the album. Eliot and I had taken such a long time with that song and it was already so epic and powerful. During our session with Clams, I remember thinking, "This is what this album is about." The deeper Eliot and I go and the more we can communicate that, the people we collaborate with can go there immediately too. That makes the project much deeper and more meaningful. It's not just me.
What were the biggest differences between working with a partner versus working on an album alone?
It's more fun just having the days pass. You can also work longer because it's not just you and your brain. If you're really in synch with someone and speaking the same language, you get places faster. Eliot and I keep each other in check. Like the hook for "Higher," Eliot played that on the guitar and I was like, "That's it," and he was like, "What?" Maybe if I wasn't there he wouldn't have thought that was a cool line, but he's the one that played it. It's a really good give and take.