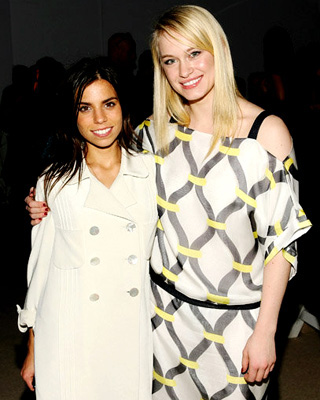 If you missed Leven's first installment, check it out here...
THURSDAY, FEB. 7th
Turns out my godforsaken cold got the best of me. I was sick with a fever and sore throat and out of commission on Monday, Tuesday and even part of Wednesday. I ended up missing (painfully!) Catherine Malandrino, Charlotte Ronson (I heard the show was spectacular and one of my crushes, Mark Ronson, was in attendance), Steffe (a favorite), Gustavo Arrango and Vivienne Tam, which was really disappointing. Thank God for Style.com and Mickey Boardman, who fills me in on everything.
Today I was feeling well enough to attend Rebecca Taylor at the tents, one of my all-time favorites! I pop into the Alice + Olivia presentation, which has been styled to look like a rock 'n' roll slumber party. Models are strumming guitars and lounging around pizza boxes and vintage paperbacks and everyone is snacking on mini muffins and bagels. I bump into Julia Stiles who I share a long conversation with about the doormen in my building, as she used to reside here too. We agree they are hilarious. Also, I meet Nicky Hilton and we talk about my friend, her brother Barron Hilton, whom we both agree is adorable.

Afterwards, I meet up with my girl Lindsay Price from Lipstick Jungle at the Spanx gift lounge in the Bryant Park Hotel. Also, ran into the jovial, energetic and enthusiastic, Jorge Ramon, who divulged his love for the Naeem Khan show and suggested pieces that would look "fab" on me. At Luna Bar later, it was Rebecca Taylor show time! I get to chat with my favorite lady, Rebecca, who so graciously gave me some kick-ass hot pink one of a kind high heeled open toed saddle shoes! Everyone is stopping me to take photos of my shoes and I don't blame them -- they are HOT and WILD! She is such a tiny woman but always turns out these fantastic party frocks and tops and puts on great shows.
I get even more excited when I see the runway -- it is gold and covered in shiny, sparkly, disco gold dust glitter. I sit with Sophia Bush, Stacy from What Not to Wear, Beth Ostrosky, Aishia Tyler, Carmen Electra and Ally Hilfiger is across from me. Sophia and I compare dresses; mine is embellished with free form prints and pink stones. The collection is one of my favorites yet; once again, Rebecca wows me with her ingenious combinations of patterns, luxe fabrics and textures. One of my favorite looks was a long, see-through black chiffon dress with metallic floral accents and black pants underneath. The creation was expertly paired with a vintage inspired scarf and an ivory shearling vest. Also, the glimmering star-shaped accessories added a slight touch of whimsy to the animal prints and tailored pants of the collection.
The show was a blast, although that runway proved difficult. One model lost her purple suede shoe, but like a true professional she stopped, kicked her other shoe off, hoisted them up and walked on. People couldn't help but clap and I totally admired her poise under pressure!
After a few hours of work (reading scripts and auditions don't stop just because it is Fashion week) it was off to the Tommy Hilfiger show at Avery Fisher Hall at Lincoln Center. The space was palatial and fitting for the majesty that is the Tommy Hilfiger empire. Jordan and I were shuffled to a "VIP lounge" or a curtained-off 4x4 ft square containing the likes of Maggie Gyllenhaal, Julianne Moore, Kelly Rowland, our pal Nicky Hilton, the lovely Tinsley Mortimer, Richie Rich, the subdued Helena Christensen, Ioan Gruffud (stunningly gorgeous) and of course Miss Ally Hilfiger. After greeting Tommy and congratulating him on his recent engagement, Jordan and I are chaperoned to our seat, where we are squished next to Kat DeLuna, Richie Rich, and Nicky Hilton. As the show begins, stunning dress after beautiful dress are sashayed down the runway by my favorite models like Natasha Poly, Jessica Stam and Lily Donaldson. I spy Brett Ratner across the runway from me texting constantly.
The collection consists of beautiful long sleeved jewel towed gowns with exquisite tailoring, glamorous country looks like high-waisted plaid skirts and thigh-high flat boots. I was blown away by the grace and elegance of the collection. After the show, and an upsetting missing car drama, Jordan and I stopped by the after-party at Rose Bar where we are warmly greeted by Tommy,
Dee Occleppo, Elizabeth Hilfiger, Tinsley and Topper Mortimer and Michael
Houghton. I decide, yet again, to be the embrace my inner geriatric and go home to watch the first episode of Lipstick Jungle and consume and entire box of organic macaroni and cheese.
FRIDAY, FEB. 8
The next day -- and last day -- is decidedly less hectic, and we get a late start at the Willow show, which is so fierce! The unbelievable thigh-high leather lace-up boots are truly perplexing. Meeting the Australian Kit Willow was a true delight.
Afterwards, we high tail it back home for much-needed apartment rejuvenation.
Then, we were off to Jenni Kayne held at a private residence in the West Village. With violin players strumming romantic tunes, the vibe is that of an upscale fashion luncheon. Models stand and sit in one of the most striking collections I had seen all week. Jessica Stam and Kate Walsh were also on hand to gawk. The styling was so detailed, the models looked like romantic hipster Victorian beauties with high waisted animal print skirts, bright bootie shoes, Wayfarer glasses, jewel toned patterns and prints, and matte hot pink lips. It reminded me of a combination of late nineties and beautiful tailoring. I chatted with Elle.com and the gracious and beautiful Jenni Kayne herself.