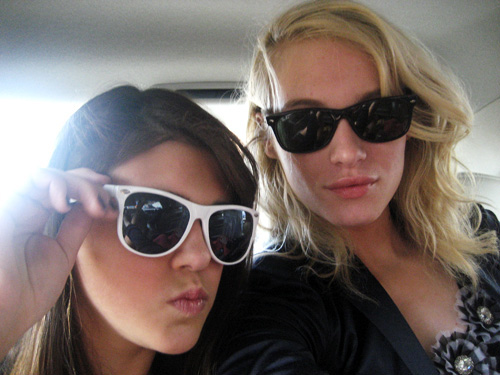 We asked the lovely Leven Rambin, actress and girl about town (look out for her on Lipstick Jungle!), to keep a diary for us during Fashion Week, detailing her various and sundry Fashion Week exploits -- the shows, the parties, the broken elevators (read her Feb. 2nd entry and you'll know what we're talking about). Fashion Week may be over; but it's still fun to read about! Here are her first two entries...
FRIDAY, FEB. 1
Fashion Week has kicked off on a gloomy day! It is raining torrentially and the dark sky attempts to dampen my excited mood. Hoping that this atmospheric misfortune was not a sign of days to come, I steadfastly tromp through puddle after frigid puddle in my beautiful hot pink and silver Giuseppe Zanotti pumps. Luckily those babies held up for me quite nicely as did my recently straightened locks. Fortunately, I am headed to the Nicole Miller show inside the tents, immediately followed by the radiant, hypnotic Erin Fetherson show, also in the tents.
I adore my outfit for the Nicole Miller show -- it is a beige dress from her new collection, a bit of a tent with a darling bow on the back and a pink snakeskin clutch by LAI. I find Nicole backstage, calm and gorgeous. She greets me very warmly and we chat for a mere few moments but she tells me that her collection is inspired by strong women, like Joan of Arc, and that it is like the armor of the modern-day city woman. Speaking of Joan of Arc, I see another strong Joan backstage -- Joan Jett! She's wearing a tuxedo coat and tailored pants by Nicole and is apparently old friends with her.
The show itself is amazing! I am sitting next to the statuesque Beth Ostrosky and my friend Katrina Bowden from NBC's 30 Rock. Cheryl Hines and Melissa George are perfectly perched on their seats. The collection is very a daring departure for Nicole, straying from her usual bold prints and silks. There were a lot of heavier fabrics, leathers and spandex. I love the edginess and styling of the collection. The boots and shoes are absolutely breathtaking with metal heels and wedges. I promise myself to rock these.
After Nicole Miller, I successfully pull off a quick-change and enter my friend Erin Fetherston's show. I am seated with my pals Ally Hilfiger and Jason Preston; Anne Hathaway, Taylor Momsen, Leigh Lezark, Irina Lazareanu and Arden Wohl are all there to witness the fantasy and glamour that Erin embodies. It feels like a party with the cool Bat for Lashes soundtrack and the black silk roses strewn on the seats. I love Erin's designs and own several pieces of hers, both collection and her Target line. Karlie Kloss, a recent model obsession of mine is scheduled to walk, and I see her signature "sleepwalk" up close. With my trusty digital camera, I snap pics of my favorite pieces like the long black felted wool overcoat and the metallic tweed cape.
After the show and a momentary drama surrounding my missing (and recovered) purse, my lovely best friend Jordan (pictured above) and I head to Socialista for Nicole's private fete. I love going to the designer dinners because you actually get a chance to sit down and celebrate the collection, as well as meet the design team and executives who make it all happen. I order the fish and talk with Nicole, who is so kind to me and very inspiring. Heather Graham rolls in and begins to dance to the band. Pretty soon my friend Jordan and I are joining in the debauchery. I can't help but notice the salsa singer resembles Barack Obama! I contemplate heading to the Erin post-party but ultimately decide to go home. After all, the week is young and I don't want to get Fashion Week fatigue!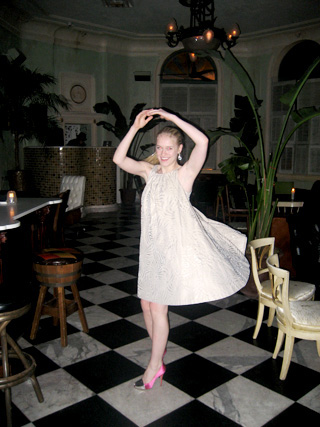 SATURDAY, FEB. 2
Today I had a shockingly early start to day two of Fashion Week; FORM was at 10 a.m. at The New Museum on the Bowery. I love FORM with its modern and urbane look. Jerry Tam is a good friend with abundant creativity and endless vision. For the show I am given a fabulous ruffled black dress and chic trench coat and I add my own Ray Ban Wayfarers, a LAI snakeskin clutch and Giuseppe Zanotti pumps. Friends like Annabel Vartanian, Ally Hilfiger, and Izzy Gold also rose early to come witness Tam's latest brilliant creations. As an added surprise, Nikki Taylor and Tyson Beckford are there, filming an episode of Bravo TV's Make Me a Supermodel. Apparently the female contestants from the show are going to be modeling FORM. I love the show and was actually watching the marathon yesterday during an episode of insomnia. I sit next to Nikki, who has to be the most friendly and down to earth supermodel ever, and we talk about our shows and fashion (and her tattoos!). She tells me that this is her first fashion show as a spectator because she spent years walking in them and now that she is a mom, she doesn't usually attend Fashion Week. I tell her I am looking forward to watching the rest of Make Me a Supermodel and she tells me that she will be watching out for me on Lipstick Jungle.
The FORM show is fantastic, lots of black sculptural pieces and gloves. There is not a hint of country or sweetness or frilly touches. I expect to see lots of artists, models and indie record execs rocking these designs.
Personal anecdote: Much to my chagrin, the elevator at the New Museum malfunctioned, leaving everyone to believe we were all over weight capacity. This upset many slim fashion goers. I sacrifice my 120 pounds and walk down eight flights of concrete stairs, carrying my heels in hand. Right as I get to the ground floor, I hear the unexpected "Ding!" of the elevator in full operation. C'est la vie!
Up next was Frank Tell, a 21-year-old Spanish designer that everyone is talking about. He was showing an 18 dress presentation down at the Tribeca Grand. I am starting to feel under the weather but am soldiering on, as I am really curious to see what this collection is about. I was interviewed by Style.com, and chat with Ally Hilfiger and her adorable little sister, Elizabeth. I am so glad that I did go because the collection is breathtaking! It is all very minimalist, with a palette of black, white, grey and silver and very unique touches, like huge circle studded belts. One dress was all fur with one of those incredible studded belts! I fall madly in love with a black, Italian silk, empire waist dress with silver stud accents.
With all the models lined up with the diligence and discipline of Royal British guards, I decide to hop in the mix and strike a pose, completely undermining the beauty and essence of the other models. Frank has a decent turnout, lots of people from Gucci, Bulgari and all of the publications are there, admiring and mingling. I decide to assume Katie-Couric-like professionalism and interview Frank, mostly questions stemming from my personal intrigue. He is really laid-back and soft-spoken and introduces me to his friend, Nathalie Rock, daughter of iconic photog, Mick. I met Mick about a year ago at an obscure party supporting Autism awareness and the Teletubbies' journey to America. He also inspired me to get my star tattoo on my right wrist. Nathalie is the same age as me and is also into fashion; we have mutual friends like the fantastic Sue Stemp. Nathalie and Frank graciously invite me to go to the Rock and Republic show with them but my heart beckons me to Alexander Wang. Frank is so in demand that I have to change out of my dress backstage because it is on its way to an editorial photoshoot! I felt so Devil Wears Prada!
I stop into Felix for our first hot meal in two days and think about dropping by the Erica Davies show. I decided to just head straight to Alex's show, which is over on 12th Avenue.
Ally, Jordan, and I sit together at the borderline uncomfortably packed Alexander Wang show at Eyebeam. I spot Mr. Mickey seated at the end of the runway looking as pleased as a prince, we chat about my upcoming PAPERMAG blog! We share mutual excitement. Ally introduces me to the LA kid, Cory Kennedy who promises to join us at the Unruly Heir show later, and proudly shows us her intricate bracelet collection on her arm. As we take our seats, the atmosphere assumes that of an underground, misty, grungy rock club. Alex displayed a brilliant collection with the theme of "model, off-duty glam" with impeccably ripped leggings, denim shorts, boots, socks over tights, under shirts and lots of beanies. I love the pink chiffon skirt with white t-shirt and leather vest and plan on wearing it in my fantasy life of an ultra-cool, hip, carefree Lower East Side rock enthusiast.
As we leave the show, I feel really stuffed up, sick and light-headed. The rainy weather is not helping and I decide to be a grandma and call it a day, even though everyone knows that Alex's after-party is the best party of the week -- and the most wild! As I lay in bed the rest of the might, sinking into misery of a cold, eating cookie dough, my stylist, Shane Cisneros, lets me live vicariously through him at the Annex.