Let Kendrick Soundtrack Your First SXSW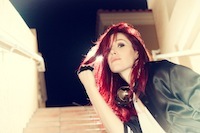 In this weekly column, MC/DJ Hesta Prynn pairs pop culture stories with an original playlist.
South by Southwest officially starts today, and the exodus of indie bands from NYC to Texas is well underway. Finding one's way at their first SXSW is not always easy. In honor of Kendrick Lamar being the rapper to see this year, and the fact that I'll be DJing the Spotify Live event with him on 3/13 (!), this week's Five 'n' Five picks five of his best songs (so far) as the soundtrack to the First Time SXSW Experience.