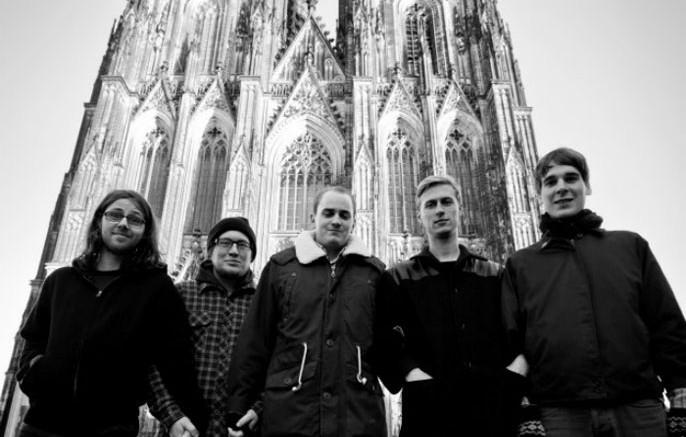 "Is that his nuts or his dick?" George Mitchell, singer of the Leeds punk band Eagulls, is showing me a picture on his phone -- an alarming blur of denim, skin, and short-and-curlies. It's 2:30 p.m. on the last day of the CMJ Music Marathon, and Mitchell and guitarist Liam Matthews show only subtle signs that they've played four shows since Wednesday -- including NME and Brooklyn Vegan parties, with equally buzzy bands like Joanna Gruesome and Yuck -- and that they toasted the dawn of this day on a Williamsburg rooftop.
After our interview, the band (which also includes guitarist Mark Goldsworthy, drummer Henry Ruddell and bassist Tom Kelly) head to Pianos, where they unleash a squall of reverb-drenched punk rock, at once glazed and furious, on an industry-heavy matinee audience. With their debut album due out on Partisan Records next year, and an escalating series of singles and critical raves to date, we will probably see a lot more of these soft-spoken Yorkshire lads and their gloriously punishing band. Meanwhile, here they are talking about their humble beginnings and precipitous present.
Did you all grow up together?
Mitchell:
Me and the drummer [Henry Ruddell] grew up together from when we were really little, in a shitty town called Ripley. We went to school together and did everything together. Smashed windows, broke into places, blew up stuff.
Matthews:
I'm from a seaside town and met Goldy the guitarist [a.k.a. Mark Goldsworthy] through other bands, and then met Henry when we came to Uni. Then Tom [Kelly, bassist] beat Goldy's band with his band in a battle of the bands when they was like sixteen. They was writing their own punk songs and then Tom was doing Strokes covers.
Mitchell:
Strokes covers!
Matthews:
We knew each other from then, and we all lived in Leeds and...
Mitchell:
From beef to band.
When exactly did the band come together?
Mitchell:
It was at Primavera when the band first formed. Can't remember what year it was.
Matthews:
Four years ago? Obviously it was a while before we played any gigs.
Mitchell:
Me, Henry, and Goldy went and saw Primavera. It was when Neil Young played. We said we wanted to start a punk band that had sort of like carnival drumming.
Wait, what?
Mitchell:
Carnival drumming. You know, proper like...
Matthews:
Like Tommy.
Mitchell:
Tribal sort of drums. But Henry can't play tribal drums so we just did what we do now.
Matthews:
We never want to sound like this or that. Just whatever each song sounds like, it is what it is.
Mitchell:
It was quite a while ago, isn't it, that we started? But I wouldn't say that we've been a proper band 'til now that we've made the album. Before it was just like, go to work constantly, slave away at work, slave away at writing, slave away at making this album, and now we're able to like go to places and play in front of people.
You guys played South by Southwest this year. Had you encountered much industry schmoozing before then?
Mitchell:
Bits and bobs. When we first started, we had people trying to talk to us and stuff. It was a bit weird, really.
Matthews:
You get a bit of hype, don't you? And then you get all these record labels that send you an email, like, "Hey guys, really like your shit! We're not going to take a risk on you, and we don't really give a shit about you, but we just want to make sure we've sent you an email."
Mitchell:
"And then maybe we can make some money out of you later on!"
Matthews:
Tim [Putnam, Partisan Records co-founder] came up and he was like, "I loved all your shows. I want to hear your album and then we'll talk." He's put his faith into us, and that's the sort of record label that we want -- a real guy who's as passionate as we are.
Mitchell:
If we bumped into Tim in a bar, we'd be mates with him. We wouldn't be mates with fucking Simon Cowell if he walked into a bar, would we?
Was the album already done when you signed with Partisan?
Matthews:
Yeah, we'd recorded it all before we went to South by Southwest.
Mitchell:
We recorded the album because we wanted to do an album. We worked for our album.
Matthews:
Mostly out of our own pocket. We just chipped in and paid for it.
Mitchell:
We ended up recording with this bloke Matt Peel who's fucking amazing. He understood us and he was on our level. 'Cause we've been into recording studios before; someone once paid us to go to London and record, and it was where fucking Madness recorded and people like that. We went in there and it just didn't jell.
Matthews:
It was like, "Oh yeah, guys, I'm really feeling this, you sound like the Clash!"
Mitchell:
"We need that 'punk' sound, man!"
Matthews:
Like really clean and produced. They just didn't get it. Whereas Matt, it was just a perfect sort of combination.
Mitchell:
We took a lot of time sitting and working out the mixes. A lot of fucking stress.
Matthews:
It was ridiculous, really, considering normally we record five songs in one day, and they get mixed they day after, and then it's done. It was pure stress for everyone, really. We all wanted to do it, but it was just like, going to work in the day, going to the studio after work, going to bed, going to work, going to the studio, every day, every night of the week. We just believed in it enough to do it.
Do all of you still have day jobs?
Matthews:
Yeah, yeah. We go back to Leeds on Monday, at half past three, and George has got to go to work at 4:00.
Mitchell:
We all work in retail. When I first moved to Leeds, I met this girl who was like, "Do you need a job? You can have a job at [popular clothing chain]." I was just like, "Fuck off! I'm not doing that. No chance. Are you mad?" And then I ended up going out with her.
Matthews:
And getting the job!
Mitchell:
Still there. And then Goldy quit his job.
Mitchell: We did a tour with Iceage and 'cause [Goldy] worked in a really big chain store where Christmas is the busiest time, he couldn't get it off. But he never really asked 'em. I think he hated the job and he'd just had enough of it. So he just quit his job to go on this tour. And then he ended up getting a job with you, didn't he?
Mitchell:
Yeah.
So you two work together?
Mitchell:
And live together. And play in a band together...I work at Tesco. It's brilliant. No, I absolutely hate it. I do a similar job to him -- working the warehouse. Stock control. Tom Kelly is the manager of a bar that we go to at least four times a week. We probably pay for his wages.
Matthews:
And then Henry sells speakers.
Do you ever get recognized at work?
Mitchell:
Yeah. I used to work on the shop floor, and then I couldn't handle talking to people. I was the best salesman. I used to fuckin' sell shit like mad, just making people buy coats. "Try this! It's really warm." Then the mum would be like, "You do need a new coat, you know." But yeah, people have recognized me. It's dead awkward.
Matthews:
I've had it at the checkout as well. My shop is right in the student area. It's just embarrassing really, 'cause I'm still at Tesco. But yeah. Don't really want to be in a band to be recognized. I enjoy being in a band for myself, really.
Do you guys see yourselves staying in Leeds indefinitely?
Matthews:
The only other place I'd move to in England is Brighton.
Mitchell:
I like Manchester. I like Liverpool. I dunno. I won't go anywhere unless my girlfriend is with me.
Matthews:
Just nice to all be based in the same place. We're out of Leeds most weeks.
Mitchell:
I'd love to live here.
Anything you're dying to do while you're in New York?
Matthews:
I really want to see some of the skate spots around the city. Right by the [Partisan] office, under the flyover, there's a DIY spot; I went there the other day, had a little roll.
Mitchell:
I'd like to go to an exhibition, actually. Try and see some Dadaist art.
Matthews:
A funny thing I'm dying to do is to be able to drink a beer on the street. In England you can do that. Here you go from venue to venue, and you've got to leave your drink. Henry and I actually got tickets.
Mitchell:
Do you know anywhere we can get them iced daiquiris? I've always wanted one of them.