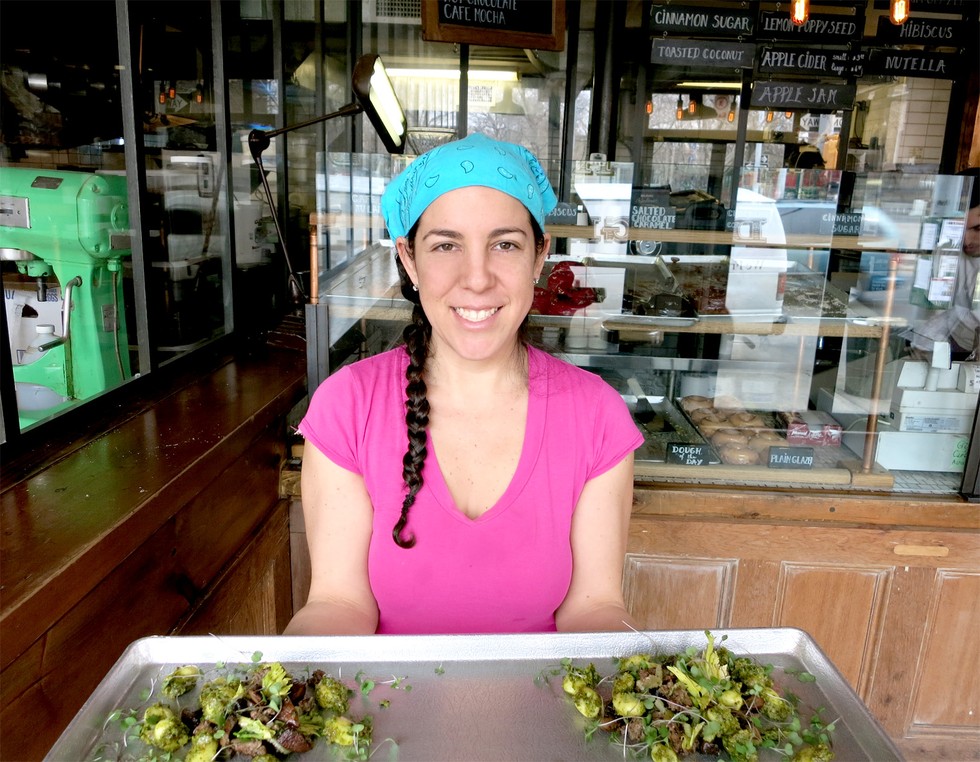 In our ongoing series, "Ladies Who Lunch," 2014 Beautiful Person, cook, co-founder of catering company bigLITTLE Get Together and Marc Jacobs' personal chef, Lauren Gerrie, will be whipping up lunch -- and conversation -- with some of our favorite New York City gals.
Bad. Ass. Fany Gerson is one bad ass culinary mama taking over the world of not only frozen delights, but also deep fried ecstasy. Hailing originally from Mexico City, Gerson is here to share her love and passion for the sweets of her homeland through her two companies
La Newyorkina
and
Dough Donuts
. Gerson attended the CIA, where she chose not to specialize in pastry, instead focusing on the savory end of the culinary arts, which prepared her for stints working in some of Manhattan's finest restaurants like the renowned Eleven Madison Park. And, though she calls herself the "anti-pastry chef," she went on to write
My Sweet Mexico
, a cookbook about the different varieties of Mexican pastries. Not only can Gerson cook and run two thriving Brooklyn-based companies, but she's also a gem of a lady and I found myself wanting to squeeze and hug her at every moment during our lunch.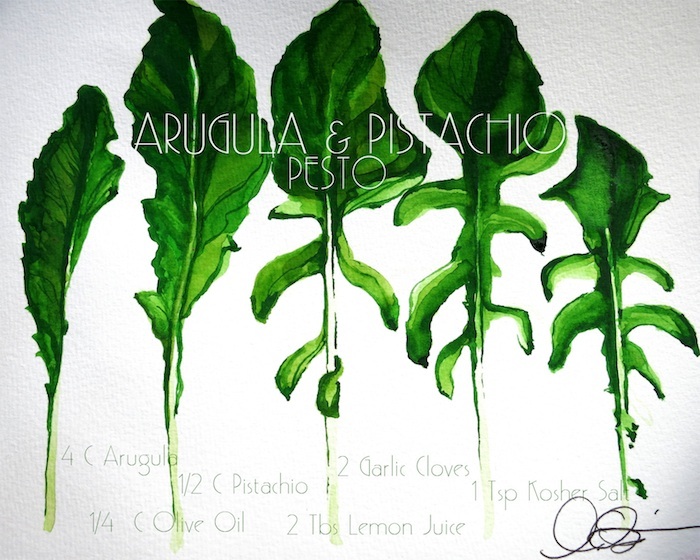 MENU
*

Spring Sausage with Gnocchi
*
Garlic Herb Sausage with Caramelized Onions
*
Celery & Black Sesame Salad
*
Potato Gnocci with Pistachio & Arugula Pesto


What made you decide to go into the world of popsicles?
My dream had always been to write a cookbook. In 2010, I was given the opportunity and I spent one year traveling and researching. Most of the sweet traditions of Mexico are oral recipes -- they are all about tasting the flavors and making adjustments. People are very protective of their recipes and some would rather go to the grave than share their secrets. I wanted to open a Mexican bakery or candy store but my dad kept urging me to start something that would be a profitable business. Then I had a vision about a Mexican ice cream shop. When I worked at Eleven Madison Park one of my jobs was to spin the ice creams and I adored it. Then I realized no one was making paletas, not like the ones I had had back home, so I started La Newyorkina. I love icy and crunch popsicles so I set out to create a delicious product with perfect taste and texture. It was quite an ordeal.
Where did you start? Any start up horror stories?
Hester Street Market. We would rent a kitchen during the off hours and work all night. The first week we were to launch, we had difficulties with our freezer and our recipe and ratios weren't setting because there was too much sugar. I was working two other jobs as well -- a morning shift at Quinto Pino in Chelsea, a delicious tapas bar, then an evening shift at The Essex. The night before the first Hester Street Market, I was filling the paleta cart, which folds to fill and release, it was slippery and cold and the cart slid right into my face and fractured my nose. I was so concerned about saving the popsicles and getting to the market that I just avoided the problem. Basically I was running on adrenaline and as the day at the market progressed my nose kept getting more and more swollen. Luckily we had an amazing response and we sold out. Then I went to the Emergency Room.
As if running one business isn't hard enough, you also co-own and run DOUGH Donuts. When did that start?
I used to work as the Pastry Chef at Choice Market and when the summer was over, the owner there asked me what I was going to do during the off-season of La Newyorkina. He wanted to open a donut shop and wanted me to work with him. He's French and I'm Mexican and so we didn't grow up with donuts but we knew what the perfect donut would be for us. He wanted a big donut -- a celebration. But we also wanted a simple and luxurious texture with all natural ingredients and flavors. The only time we use food coloring is St. Patrick's day because it's hard to get that green.
When you think of Mexico and growing up what is the first thing you think of?
The markets are unbelievable. I love fruit -- you will always see me snacking on fruit -- and it's difficult to choose a favorite... maybe guanabana/soursop? I love mangoes and tamarind, so I guess my favorites are tropical fruit. But in the States, stone fruit and berries are unreal. I also love the expression in Mexico "of the lingering after lunch" called
sobremesa
. I adore the cultural aspect of just enjoying lunch and relaxing with friends and family.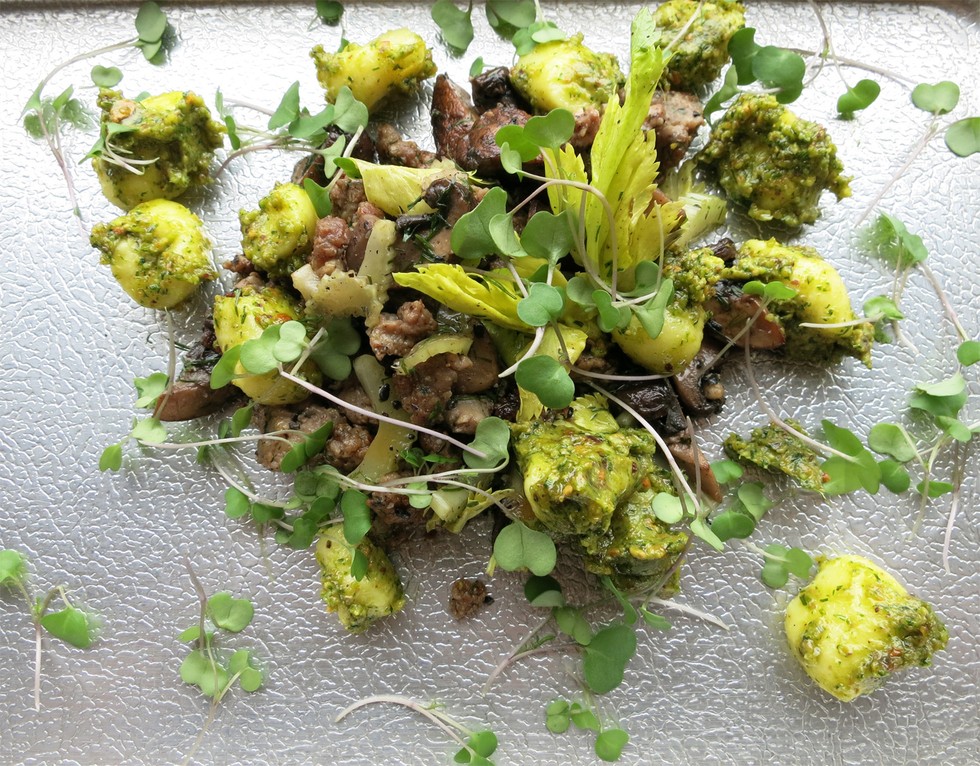 What's your favorite food to indulge in when you go back?
There is this soup with purslane, tomatillos, chicken or pork and it is served with blue corn tortillas. I call ahead to make sure that my dad will have it ready for my arrival. When I come back to the States I always bring tortillas. There is nothing like them. Nothing. The pink tortillas are so cool, but the blue are my favorite. After soup, I always have more fruit or a tamarind paleta.
What is your favorite meal of the day?
Lunch in Mexico. But in New York, dinner. I love making soup -- pozole or ramen, anything hearty.
If you could eat anywhere, where would you go?
I would love to go to Southeast Asia but if I was just going to a restaurant I would go to Noma -- I want to see what all the hype is about. I crave those types of restaurants less and less, but I do understand the importance and the draw. The fanfare is entertaining. Or maybe I would go to Spain again. I love it there and the food is so good.
What is your favorite condiment?
LIMES. Yeah, I use everything with limes. There is a big price issue right now because the drug cartels are taking over the land and charging people extra to get them out. Last year a box was $24 and last week a box was $98. I have to figure something out because most of my paletas have lime juice. Mexican limes are the best and so important for my business.
What is your perspective on being a female entrepreneur in the male-dominated culinary industry?
I think we kick ass. I think we have to prove ourselves more. It is all about respect. Women have been the cooks in most cultures for thousands of years. Why is it rare that women would want to do it professionally? Woman come together and support one another. Collaborations within the female culinary world are happening a lot now and I think that's great.
Last -- and very important -- question: are you sick of donuts and popsicles?
I crave savory food. But sometimes a fresh donut comes out and it just calls my name. I am very specific about the sweets that I want now, especially when I go out to nice restaurants. I want to make sweets, but not look like one.