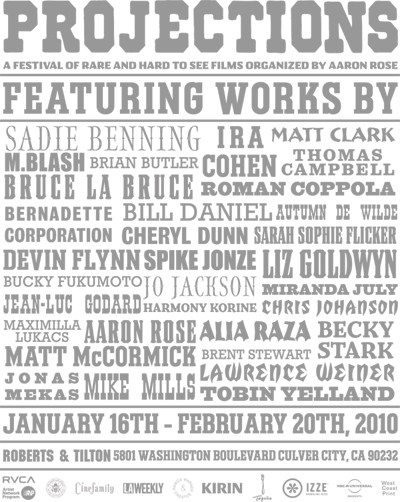 With the looming loss of
Deitch Projects
, now that Jeffrey Deitch is headed to the MOCA in L.A., Manhattan's art scene is losing a huge edge. L.A. is pumping, folks. Check out this awesome five week film festival our old friend
Aaron Rose
organized called
Projections
that's taking place
Roberts & Tilton
in Culver City. 
Billed as a festival of "rare and hard to see films,"
Projections
will feature the work of lots of our favorite artists and friends:
Cheryl Dunn, Mike Mills, Chris Johanson, Jo Jackson and Thomas Campbell to Sarah Sophie Flicker, Alia Raza, Maximilla Lucacs and Autumn De Wilde
. And on opening night (January 16th) don't miss a screening of
Jonas Mekas
(he was my teacher in college!!!)'s legendary 1968 film called
Walden: Diaries, Notes and Sketches
featuring appearances by the likes of Alan Ginsberg, Warhol, John and Yko, Edie Sedgewick, Jack Smith and more. Check the
Projections site
for more information.
Projections
January 16th-February 20th, 2010
Opening reception, Saturday, January 16th, 6-9 p.m.
Roberts & Tilton
5801 Washington Blvd
Culver City, CA 90232