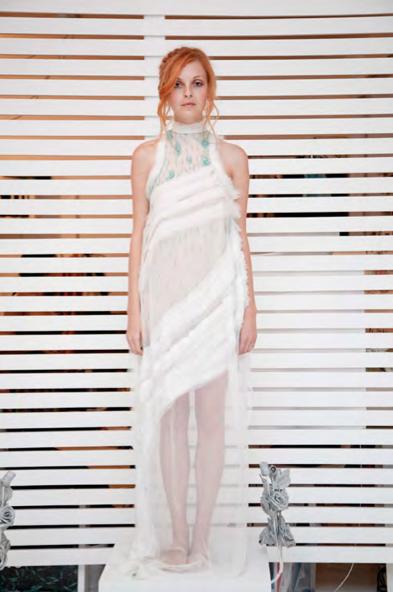 With a long history in fashion design and art (and gigs at threeASFOUR and Band of Outsiders under her belt), California-based designer Heather Goldberg launched her debut collection HABER last week. Consisting of ethereal silk dresses that play liberally with length, draping, and hand embroidery, HABER's debut collection is a gorgeous introduction into the Los Angeles fashion scene. We talked to Goldberg about the inspirations behind her collection, California versus New York, and why she has a fashion uniform. 
When did you first know you wanted to start a fashion line?
I always knew I wanted to [start a line.] I moved to California from Miami to go to Otis College to study art and design, and I always knew when I graduated I wanted to start my own thing. When I graduated, I worked for a few different places but the whole time I was trying to start it.
So tell me a little about the inspiration behind HABER's debut collection?
It was inspired by the idea of making the invisible visible and seascapes. I was looking a lot at Bas Jan Ader's work. There's a piece that he did called "In Search of the Miraculous" and I was always inspired by it. He sailed out to sea in the 70's for a project and he just never returned. And then I was continuously watching, at the same time, films like La Piscine and La Collectionneuse, which are both French films about love triangles by the sea. So, it was a mixture of this romantic, moody, dark beautiful seascape inspiration.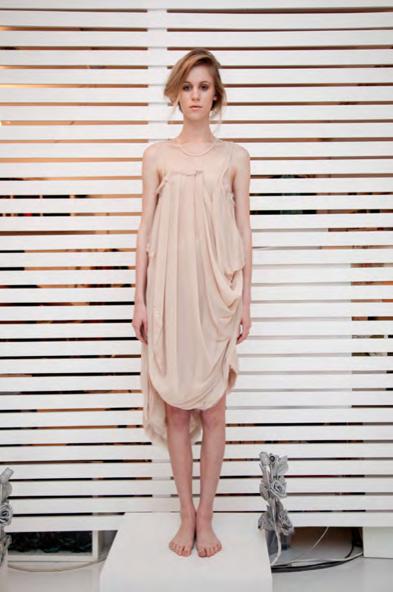 And why the name "HABER"?
Haber is the name of my great-grandmother, Helen Haber, and my name was inspired by her, Heather. I just thought it was perfect. It's not my name but sort of is historically. 
You've previously described Haber as having a sort of tomboy chic look, even though it seems very overtly feminine at first glance. What about HABER embodies tomboy chic in your words?
Yeah, I think ['tomboy chic' is] not necessarily [about] in my collection, but more the way that I feel about the clothes. Even though people think they're very feminine, I think there's that underlying tomboy feel. It's a little more playful.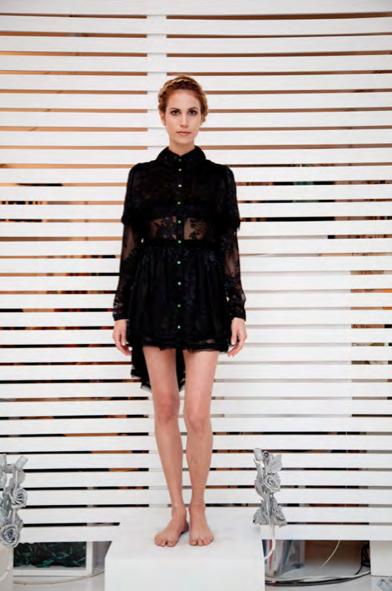 You worked previously for ThreeASFOUR and Band of Outsiders. What insights into the fashion world did you gain from those experiences?
I interned at ThreeASFOUR my second year of school and I was always in love with them; they were like my dream come true. Being there also solidified to me that I wanted to do my own line. They were very independent and doing their own work. Band of Outsiders was totally different but when I was there it was a lot smaller, and that also helped me realize I wanted to start my own line and have my own business rather than be with a huge company. 
So you've worked in both New York City and Los Angeles, but have chosen to make California the place where you launched Haber. Why LA and not New York?
I was always obsessed with California and that's why I wanted to go to school here. It's interesting when I look back because I don't really know why I was obsessed with it. I wasn't interested in going to New York, which is strange because it's so much closer to Miami and it's so much more fast-paced. I didn't even want to go to Parsons, I don't even know why. It always made sense that I could still do [my fashion career] here. It's interesting because towards the end of school, LA started to actually be taken seriously as a place for high-end design and what I wanted to do. It was perfect timing. I love it here.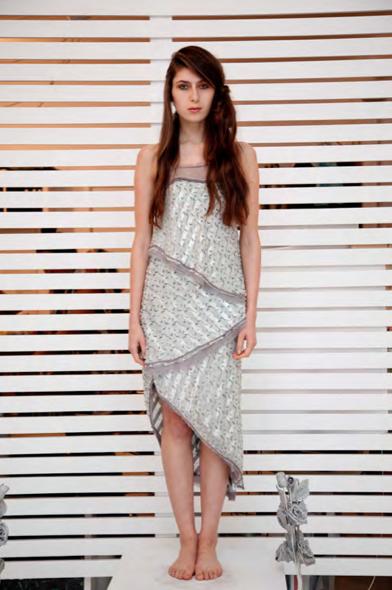 Who are some of your favorite LA-based designers or where are some of your favorite places to shop in LA?
I'm the worst person to ask that because I never go shopping, like, at all. [Laughs]
A designer that doesn't go shopping!
I know -- it's funny because I don't care about what I wear, I just want to make things.
So do you make a lot of your own clothes?
No, not really. I don't know why I don't. I make some things, but sort of randomly. 
What's your typical personal uniform then?
It's funny you say uniform because I'm sort of obsessed with the idea of wearing a uniform as a designer. The head of fashion at OCAD, Rosemary Brantley, always wore white or black men's shirts, and I always wanted to do that. So every day I wear this one black, button-down men's shirt that I wear as a dress and it's actually my boyfriend's. His dad gave it to him and it's like my uniform. Especially for any photos or interviews -- I always wear it.
I feel like that's the mark of a serious designer, having a uniform. You're already ahead of the game!
It's like I'm already an icon! [Laughs]