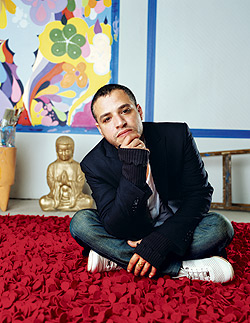 Basel/Miami
events and invites are rolling in and we just received word that beginning December 3, the
Bass Museum
(2121 Park Avenue, South Beach) will be showcasing selected pieces from the private collection of Mexican billionaire
Eugenio Lopez Alonso
with an exhibit called "Where Do We Go From Here?"
Lopez is the heir to the Jumex juice and beverage company and has collected contemporary art for over ten years.
Currently housed outside of Mexico City, the full 1,300 piece collection is expected to move to a new site in 2011 designed by British architect
David Chipperfield
.
Chipperfield designed the new tower and interiors for Miami's Shore Club hotel in 2001.
Also on view at the Bass will be works by Chicago's multi-talented
Dzine
(
né
Carlos Rolon).
AND: We're saving December 3, 7 p.m., for a special appearance by the Drums at the
NADA Fair
at the
Deauville Beach Resort
(6701 Collins Avenue, Miami Beach).
W
magazine just called the Drums a "retro-cute 'it' band and fashion world favorite" and you already know what
we think
.
Photo: Chicago magazine