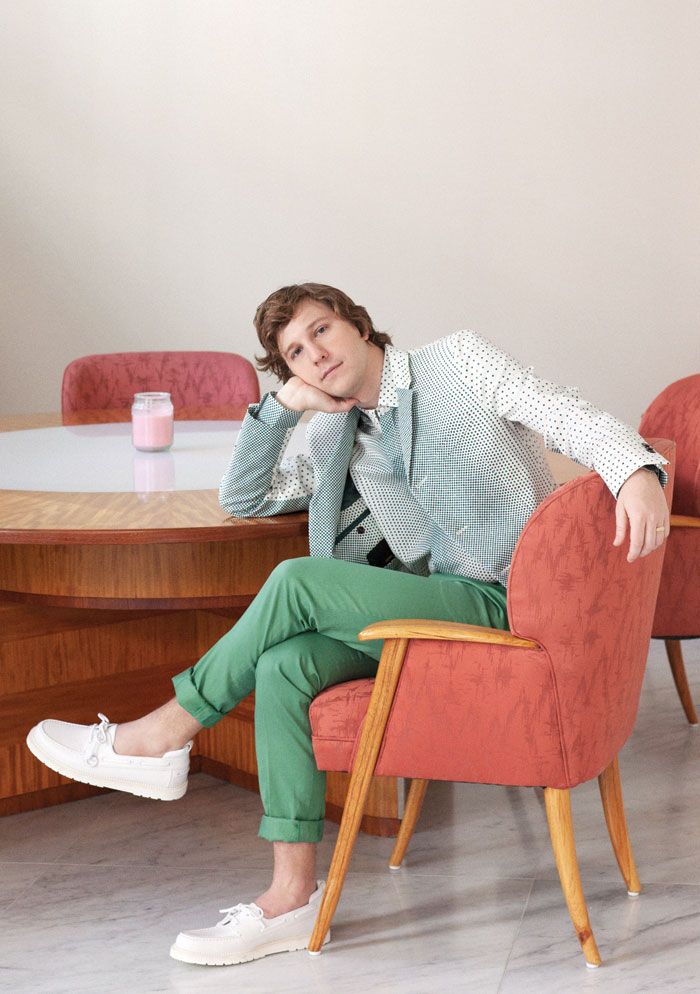 Kristopher wears a blazer and shirt by Fendi, pants by Carlos Campos and shoes by Louis Vuitton.

Kristopher Jansma's debut novel,
The Unchangeable Spots of Leopard
, begins with a warning: "If you believe you are the author of this book, please contact Haslett & Grouse Publishers (New York, New York) at your first convenience." And onward we go, into a globe-trotting story following iterations of three characters: the unnamed writer protagonist who narrates, his best friend (Jeffrey...or is it Julian? Or perhaps Anton?) and the beautiful actress/princess of Luxembourg.
"The narrator is so wrapped up with these two people," Jansma says, "that everything he writes is about them in some way."
Jansma, now 30, started the novel in 2009, when he was dealing with his own frustrations as a writer. After graduating from Columbia's MFA program, he started working on a handful of novels, all of which eventually "self-destructed." He then decided to take it upon himself to write 40 short stories in a year and post them online. "My friends would harass me if I didn't do it one week. 'It's Monday, where's my story!'"
His thirteenth story, about an unruly brunch that an actress and her date (a Ryan Lochte jock type) have with two writers, turned into the third chapter in
Leopards
. "For the rest of the year I'd work on some other stuff and then pick up with those characters again." When asked about the identity of the book's double-crossing protagonist, Jansma goes the Alanis Morissette "You Oughta Know" route. "I have a name for him, but it's something I want to keep for myself," Jansma says. Then he thinks better of it: "It's actually Dave Coulier."
MEET THE REST OF OUR 2013 BEAUTIFUL PEOPLE