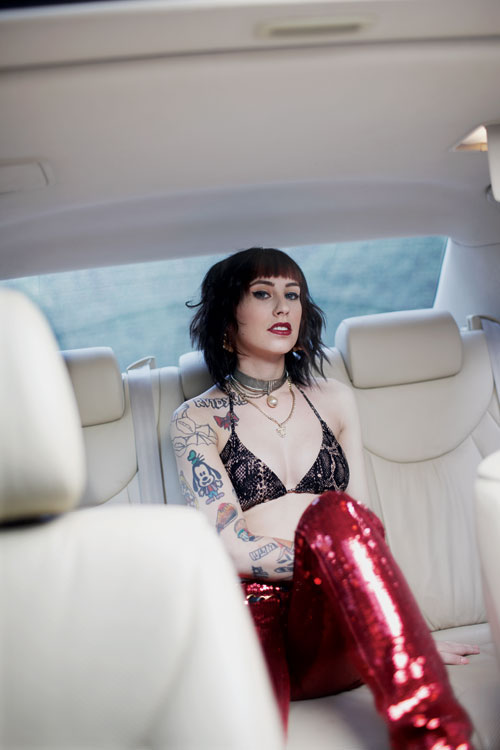 When Columbia Records doled out a big fat check, signing Kreayshawn after her "
Gucci Gucci
" YouTube video went viral last May, the 22-year-old rapper-slash-director bought a bag of Hot Cheetos and a Cup O' Noodles. "My manager laughed at me because I wasn't used to having money -- and I don't think I ever will be," she says. Considering her claim to fame now has nearly 32 million Internet hits, the tart-tongued L.A.-based artist is shockingly self-deprecating: "I don't even think I'm good at rapping, just at having fun, and having some kinda rhythm." 
Mos Def, Kool Keith and Funkdoobiest were the soundtrack to the artist's Bay Area upbringing. Her mom, a San Fran punk band vet, instilled a sense of DIY into her young daughter by handing Kreayshawn (real name Natassia Gail Zolot) a VHS camera at age 10. She ran around the house shooting mini movies -- which inspired her to direct her own videos as well as those of fellow up-and-coming hip-hopper Lil B. And she's currently in the process of converting her old home movies into DVDs for kicks. Hear that, Rock and Roll Hall of Fame archives? 
In the more immediate future, marching to the beat of her own tricked out tune is a focus that's evident in all Kreayshawn's work, the latest of which is slated to pop onto iTunes soon. And when she's not stocking up on junk food at the corner store, you can catch her spinning tunes under the DJ name KJ Dreayshawn. "I'm just tryna to be creative, man."
Kreayshawn
wears pants by
Adriano Goldschmied
, bikini top and belt by
Volcom
, earrings by
Dogeared
, choker by
Chanel
from Clothes Heaven Pasadena and other jewelry by
Cartier
.