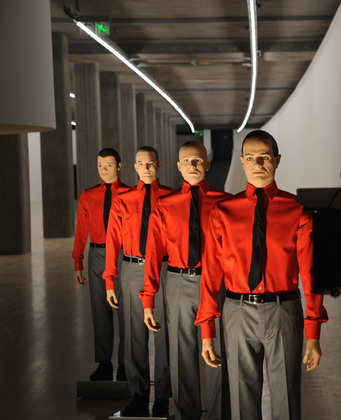 It's Kraft(werk)-week in New York City! 
An eight-night retrospective
of the legendary German band's repertoire starts tomorrow at
the Museum of Modern Art
(11 West 53rd Street).
Kraftwerk
was formed in Dusseldorf by
Ralf Hutter
and
Florian Schneider
in 1968, but the two split in 2008 and only Hutter will appear at MoMA. Tickets to all the shows sold out in minutes and are now going for up to $1,000 on eBay. Only 450 people will be attending each show which will feature a different album starting with their fourth,
Autobahn
(1974) on Tuesday, April 10, and ending on April 17. Below, a complete run-down of the albums and the schedule. Also, watch a cool fan-made video for "Computer World" that was directed by
Andrew Doss.


KRAFTWERK MOMA PERFORMANCE DATES:
April 10 Autobahn (1974)
April 11 Radio-Activity (1975)

April 12 Trans Europe Express (1977)

April 13 The Man-Machine (1978)

April 14 Computer World (1981)
April 15 Techno Pop (1986)
April 16 The Mix (1991)

April 17 Tour de France (2003)
Photo via MoMA. Image courtesy of Sprueth Magers, Berlin and London. © Kraftwerk