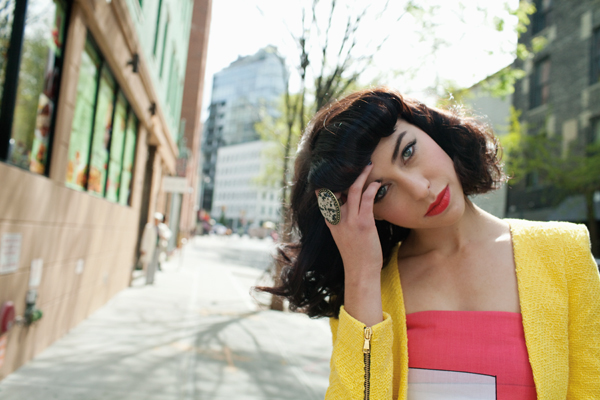 Though her name might not be ringing any bells just yet, you're probably not as unfamiliar with Kimbra as you think. If you've rolled-up all the windows in your car to shamelessly belt along to Gotye's smash hit "Somebody That I Used to Know," you've sung along with the New Zealand-based 22-year-old singer-songwriter, who guests on the track. On the phone from Australia, just after the song broke a Billboard record for holding the number-one spot in four separate categories, Kimbra explains the song's wild success: "I really didn't see that coming. Of course I knew the song would resonate with people because Gotye has an amazing way of capturing a kind of warmness and vulnerability in his songs, and it speaks to people. But to see it up there with Justin Bieber and Rihanna..." she says before interrupting herself with her own laughter.
Funny, because Kimbra should be used to seeing her own name "up there," evidenced by the fact that her debut LP
Vows
had already been certified platinum in both her home country and in Australia a little less than a year before "Somebody" took off. Notably more funky than the track that landed her on America's collective radar, Kimbra's solo material is stripped-down but dance-y, all while managing to maintain an air of en vogue retro-cool, evidenced on cuts like the single, "Cameo Lover." But should she be worried about being seen only as "the Gotye girl" during her stateside transition? "I feel confident that people will be excited by more than just one song," she says.
Conveniently, Vows saw its U.S. release in May, outfitted with six new tracks, including "Warrior," a collaboration with A-Trak and Mark Foster of Foster the People that was commissioned by Converse and released in April. "It's exciting for me as well because it means it's a somewhat fresh album to promote," she says. And promote she will, bringing all things indie-adult-contempo full circle by supporting Foster's band on tour this summer. It's the first step to shedding the often hard-to-shake sidekick image, but Kimbra seems confident that this music that has connected with so many people, half a world away, will be able to speak for itself. "I officially can let go of it," she says of Vows, "really set it free, in a way, and let it become someone else's experience."
Stylist:
Brandy Joy Smith
Hair:
Hikari Tezuka
for
Kiehl's at Artists by Next
Makeup:
David Tibolla
for DiorShow at Artists by Next Management, LLC
Stylist's Assistants:
Seane Marie, Whitney Malloy, Graham Cumberbatch
Special thanks to The James New York
Kimbra wears a blazer by

Zara
, scarf worn as bandeau
 by
EBW
and ring by
Chrissy L Accessories