Costumeish--the Halloween costume company who've been responsible for such fuckery as the "Bruce Gender" getup last year--have decided to mock the horrific armed robbery Kim Kardashian endured in Paris last weekend. It's called the "Parisian Heist Robbery Victim Costume Kit."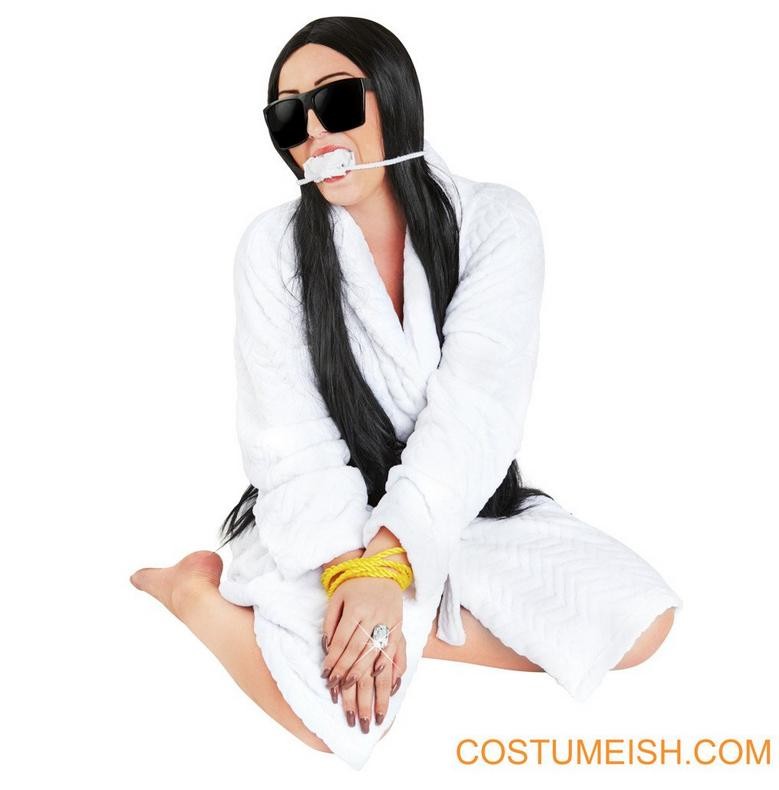 Emphasis on "victim."
The company, who doesn't explicitly name Kardashian, explained the theme:
This Halloween it's all about the #Hallomeme and who better than America's goddess of all things glamorous "Parisian Heist Robbery Victim Costume?" She has devoted her life to promoting American decadence, youth, and hedonism but all that flashy living caught up with her one night in Paris when armed men bound her, stole her jewelry and her peace of mind. This Halloween have some fun with pop culture and dress just like the Queen of Social media with our sensational "Parisian Heist Robbery Victim Costume" Costume.

White Short Sexy Robe
Long Black Wig
"$4 Million Dollar" Ring*
Large Sunglasses
Fake Gag
2' of Rope

*Costume ring is made of plastic and not worth $4 million dollars.

Not surprisingly, the internet doesn't approve:
Kidnapped Kim Kardashian Halloween costume. This is actually fucked 😐😐😑😑 pic.twitter.com/gZ7hYIaPHl
— L (@EttyTweets) October 11, 2016
Who wants to out themselves as a human trash fire & try to explain why you think a "Kim Kardashian mid-robbery" Halloween costume is funny?
— Tyler McCall (@eiffeltyler) October 11, 2016
honestly can we please just cancel halloween this year https://t.co/fCsW4RTJMW
— Katie Rogers (@katierogers) October 11, 2016
A costume company released a Kim Kardashian 'Getting Robbed' outfit for Halloween. This is so disgusting. How could anyone do this? pic.twitter.com/oKyPQhezBP
— Nancy Hanes (@MamaHanes) October 10, 2016
plllleeeease let me catch you in the kim kardashian robbery halloween costume your life will end on october 31st
— polite millionaire (@briannaocs) October 11, 2016
BuzzFeed reached out to the company's "vice president" Johnathon Weeks, who stated:
I'm sad that people are offended by it, but it is Halloween: It's one day out of the year. Halloween should be a light-hearted, spirited party and people should be able to laugh at it and think it's funny. We haven't sold any yet, if that matters.
Yeah, no shit.
Meanwhile, Kim's sister, Khloe, told Ellen Degeneres today that Kim is "really not doing well" in the wake of the truly traumatic event, which many on the internet idiotically assumed was a "publicity stunt."
Khloe said:

It's incredibly traumatic what happened to her, but our family is super close and great and we'll get through it together. We do appreciate all of your guys' love and support. It will take time. It was horrible what happened to her.
Kim has returned to Los Angeles since the event, and has--aside from two instances--not been seen in public or posted anything on social media since before the robbery occurred; Parisian authorities have recently found DNA of potential suspects, who carried Kim out of her bed, bound and gagged her, before taking off with nearly $5 million in jewelry.