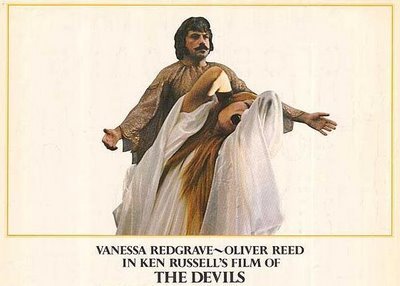 This week Walter Reade Theater at Lincoln Center
is running a fabulous tribute at the W
to the British enfant terrible of cinema
Ken Russell
. The 81-year=old controversial director (who will be making an appearance every night) began his career with fabulous black and white biographies for British television on people like
Dante Gabriel Rossetti
(played by a young brooding
Oliver Reed
),
Isadora Duncan
(starring a brilliant
Vivian Pickles
), and
Frederick Delius
. But most know him for
Women In Love,
his masterful take on the
D. H. Lawrence
classic (and a memorable nude wrestling scene between Oliver Reed and
Alan Bates
). Russell's work also includes
The Boy Friend
, starring
Twiggy
, a delightfully campy take on
Busby Berkeley
musicals, as well as
The Music Lovers
-- an extravagantly delirious take on the tragic life of Tchaikovsky (with an searing performance by
Richard Chamberlain
in the lead and a heartrending
Glenda Jackson
as his tormented wife). And who can forget
Ann-Margret
rolling in baked beans in the rock opera movie of
Tommy
? But my favorite- playing this weekend, is
The Devils
, Russell's controversial 1971 version of an
Aldous Huxley
novel about a 17th century priest (
Oliver Reed
) executed for witchcraft in the walled-in convent of Loudun.
Vanessa Redgrave
is unforgettable as the sexually repressed hunchback nun. With visionary production design by the late, great,
Derek Jarman
, the film caused a furor when it opened and was rated X when it played in America. Only ever appearing on VHS, Warner Brothers seems too chicken-shit to release this on DVD. Which is a shame --
The Devils
shows Russell at his most blasphemous, his most outrageous and his most inspired.