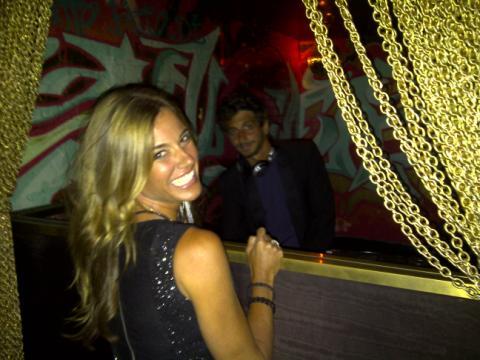 Kelly Bensimon, whom you might know from a little television show called The Real Housewives of New York, is a model, writer, party circuit fixture and general lady-about-town. She'll be covering the goings on in NYC during Fashion Week for PAPERMAG.
Gold bar hosted a party for me Thursday night to celebrate the kick off of Spring 11 Fashion Week, and for my new role as guest blogger for
papermag.com
. Rob McKinley, the co-owner/designer of GoldBar and The Surf Lodge, is pictured here with me at Gold Bar. As a designer, he is responsible for many of the most buzzed-about hotspots in town. In his spare time he loves to get in the DJ booth and spin records. All of my TV producers came to see all of the fashion insiders who were there, like my jewelry designer, as well as the fashion publicists, Cosmo Radio uber talents, press reporters, and amazing personal shoppers from Intermix and Stella McCartney who stopped by.
It's not just the designers that make the fashion wheel turn. If personal shoppers don't like items, they don't sell. If press doesn't speak well of trends, they don't sell. It was fun to watch the TV peeps observe how the fashion peeps navigate. Little do the TV peeps know that one look
and 2.4 million viewers makes a huge impact for designers. Maybe TV and fashion should have a beer and discuss the possibilities. Just a thought.