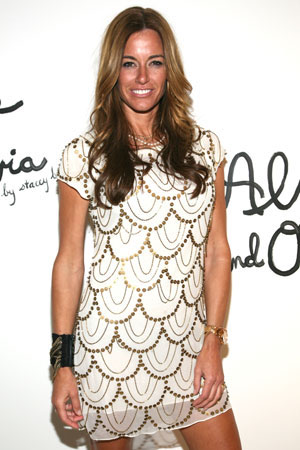 PAPERMAG spent Valentine's Day at the Plaza for
alice + olivia
's
girlie-chic fall 2011 presentation. Between
Vanessa Hudgens
and
Johnny Weir
sightings, we forgot all about the fact that we were Valentine-less and revisiting the complimentary Godiva goodies gifted to us more than we now care to share. But the real treat of the evening was bumping into f
ormer PAPERMAG Fashion Week guest-blogger
and
Real Housewives of New York
scene-stealer 
Kelly Bensimon
, who's just as excited for the show's next season as we are.
How would you describe your personal style?
I like to mix it up. I'm a mother but I'm also doing other things -- so sporty but sexy. I always like to be able to move and not be confined and I like short dresses because I have good legs. That's my asset! I'm going to show them off as long as I can.
Are you looking forward to the next season of Real Housewives of New York?
I'm so excited -- it's going to be great. I think, at this point, a lot of people are just waiting for it to come out. They're like, "Wait a minute, what happened?" I'm waiting for it to be back on like everybody else. It's a really good season and I'm really proud of it.
Last season was full of memorable scenes and so much drama. Are you guys going to top that this season?
I don't think of it as scenes. This is my real life -- If I go to a party, I go there. If I leave, it's because I have something else to do. I don't make any excuses for anything I do, I make a lot of mistakes. And it's my real life. I don't have a story line, I don't have an idea, I don't have a strategy. I'm the same way that I am with you, when I'm with my friends, when I'm with everyone else. There's no difference.
In other words, you keep it real.
I'm real. I'm really real. I'm always like, "I don't understand what you're talking about. That's not real." I'm excited for the next season because it's going to be a great opportunity for people to really see me. If I don't like it, I don't like it. And if I do, I love it.