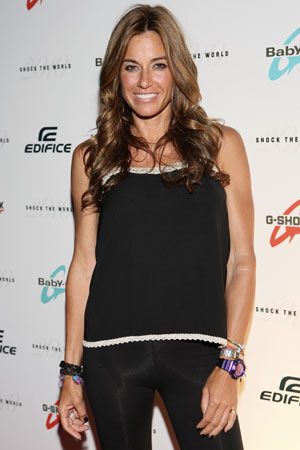 As we
reported earlier
,
G-Shock's
"Shock the World" concert last night featuring
Ke$ha
was awash with reality stars, including
Danielle Staub
and
Kelly Bensimon
. We caught up with
Real Housewife of New York
Bensimon for a chat about what she's been up to on her time off from the show and her solo project.


There was so much drama on the Real Housewives of New York this season. How have you risen above it?
Because I'm grounded. I mean, I come from a great family, I have a great education, I have unbelievable kids, I have a great ex-husband, and I have amazing friends. So what I'm doing on television is just so much fun and I love it. But I don't take it home with me. Drama doesn't really interest me. Problems with kids or charity? That interests me. But the drama just is like fuel for that fire. It just allows me the freedom to be more charitable and that's awesome.
How has summer treated you? You've had a break from filming.
I have my show on Plum TV and I've just been really so fortunate to be incredibly charitable. I just ran the Rock 'n' Roll half marathon yesterday in Chicago. I did it in two hours which is really good and really fun. It was for the American Cancer Society. And let's be honest... Let's fight cancer and everyone deserves a birthday.

Do you identify with any of the other Housewives from the other franchises?
I don't really identify with any of them. We're so completely different and I think that's what makes the show so exciting is that it's all of these different women in the intersection of these lives. You know, it's not the 'Kelly Kiloren Bensimon Show' so that's why I don't really take it to heart, because it's not really about me. It's about the intersection with other people and how I respond to them -- so that's just like, fun.

We hear you're working on a secret solo project
.
I am working on a project and we're live-streaming it. That'll be interesting for a lot of viewers too because they're going to be able to see me live. So I don't know what's going to happen on the
Housewives
because they're gonna be like, 'Wait a minute, here she is live and working! So we've gotta bring it up. She doesn't really care, you know. She works hard!'