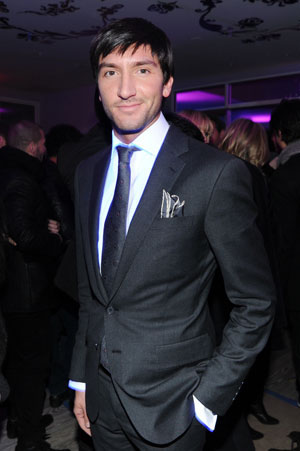 Fashion Week is all about the next best thing -- by the time it's morning, the party from the night before is usually something of an afterthought. But sometimes there are exceptions, like in the case of
Vman
's unreal shindig two nights ago at the Mondrian Soho, which celebrated the launch of its 21st issue with cover boy
Kanye West
himself. Hence why we're still talking about it.
Naturally, the line to get into this part was a real doozy. Makes sense, considering the impressive crowd of fancy fashion folk attendees:
Cecilia Dean
,
Alexander Wang
,
Julia Restoin Roitfeld
,
Calvin Klein
's
Italo Zucchelli
, and many others. That could also explain why
MGMT
's
Andrew VanWyngarden
couldn't get in. Silly bouncers. Once inside, the place was seriously buzzing. Maybe it was the Belvedere. Maybe it was the packed dance floor bathed in purple light. Maybe it was
Zoe Kravitz
breaking it down like it was her job.
We caught up with
Leigh Lezark
from
the Misshapes
by the coat check, who, characteristically dressed in all black, told us about her rager-filled V-Day. "I DJ'ed at the Boom Boom Room. They were giving out these headband things with antennas, which is extremely cheesy, but if every single person is wearing them, it's kind of cute. But I really could care less about Valentine's Day," she said. The woman oozes cool. We also spotted
Chromeo
's
Dave 1
, who had dropped in to support the evening's DJ (and his baby bro),
A-Trak
. He put on a fantastic remix of
Rihanna
's "Umbrella" as the 'Ye bills starting to rain down from the ceiling.
In addition to the the musicians in attendance, there was Olymipic gold medal-winning skater
Evan Lysacek
, who, after professing his love for PAPER, did the same for Mr. West. "I like him a lot. This is a funny story. I don't know if you know this -- I'm an ice skater," Lysacek told us with an unnervingly large amount of sincerity.  "And I had a dream that before I won the Olympics, I listened to Kanye West's song "Champion" over and over again, and I won in my dream. So at the Olympics I just kept playing it over and over and over again. When I see him, I want to tell him thank you."
Photo by Billy Farrell