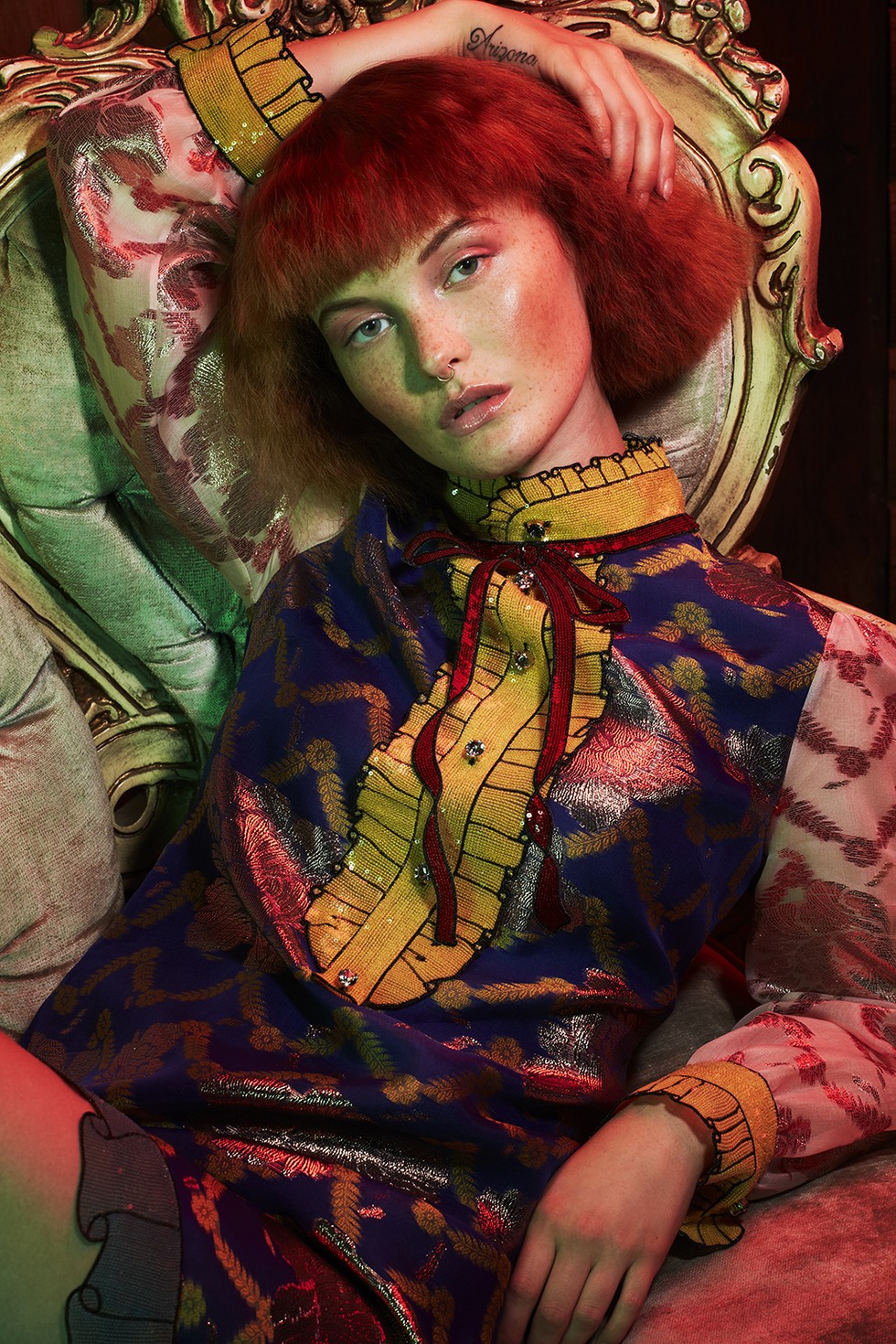 Kacy wears a dress by Gucci
It's a sunny July afternoon in West Hollywood and Kacy Hill sits on a stool on a packed coffee shop patio describing the unexpected twists and turns her music career has taken since she moved from Phoenix to LA at 18 years-old. When she first arrived, she found work modeling for American Apparel and it was there that she caught the eye of artist and Kanye West collaborator Vanessa Beecroft, who cast her as a backup dancer for the rapper's Yeezus tour two years ago. She landed the job even though, technically, Hill didn't dance. But she'd always been musical -- and nervous. As a teenage oboe player, she could never hold the reed in her mouth when she played the instrument onstage. "My lips would turn to jello," she recalls.
But her fears onstage were matched by her boldness off. She decided to drop off the Yeezus tour before it wrapped so she could record her own singles, a risky move that paid off when Kanye came across the video she'd filmed for one such track, 2014's "Experience." He signed her to his label G.O.O.D. Music, for which she recorded the 2015 EP Bloo. Now 22, she's been at work on her first full-length album (as-yet untitled), which is due out this year. Along the way, she's quietly risen to the rank of fashion-world darling. In the midst of the lead-up to her album's release, she's been spotted hobnobbing in a marigold pantsuit at a Gucci dinner, performing in organza and jeans at a Marc Jacobs launch party and, most recently, appearing in a Calvin Klein campaign.
Before her meteoric rise, Hill's stay in LA, however, started very differently -- under brutal circumstance and with harrowing difficulty. Within the first two weeks of moving to the city, she was sexually assaulted by the first person she met.
Her assailant, a neighbor, was sixty. Hill was eighteen. Fresh out of high school. She hadn't yet landed the American Apparel gig that would soon pay her bills. Hadn't made any friends. "It was a big deal for me to go…anywhere," she says. Once, as a fourteen-year-old in Phoenix, she'd undergone a severe panic attack on a school bus. The one panic attack led to many. Soon, Hill says she couldn't leave the house without succumbing to full-blown agoraphobia. So it had taken a lot of work, anxiety-wise, to muster the nerve to pack her bags for California. It would take even more nerve to file a police report immediately following her assault. (The Bureau of Justice estimates that up to 80 percent of all sexual assaults of college-age students go unreported). "I explained the entire situation," she says, picking at the label of a bottle of kombucha in front of her. "A detective told me: 'Yeah, well what he did sounds really slimy but it doesn't sound criminal, because he didn't necessarily force you.'" (The Los Angeles Police Department declined to comment on the grounds that it cannot release victim information.) After a pause, Hill looks up, straightening her back and folding her hands in her lap. "It's mind-blowing to me that even as of three years ago, a person in that position would determine a rapist as someone who came at you in a dark alley with a knife. The police had my DNA evidence," she continues. "I kept following up. The police kept saying, 'Oh, I think we're interviewing him next week.' The police didn't do anything."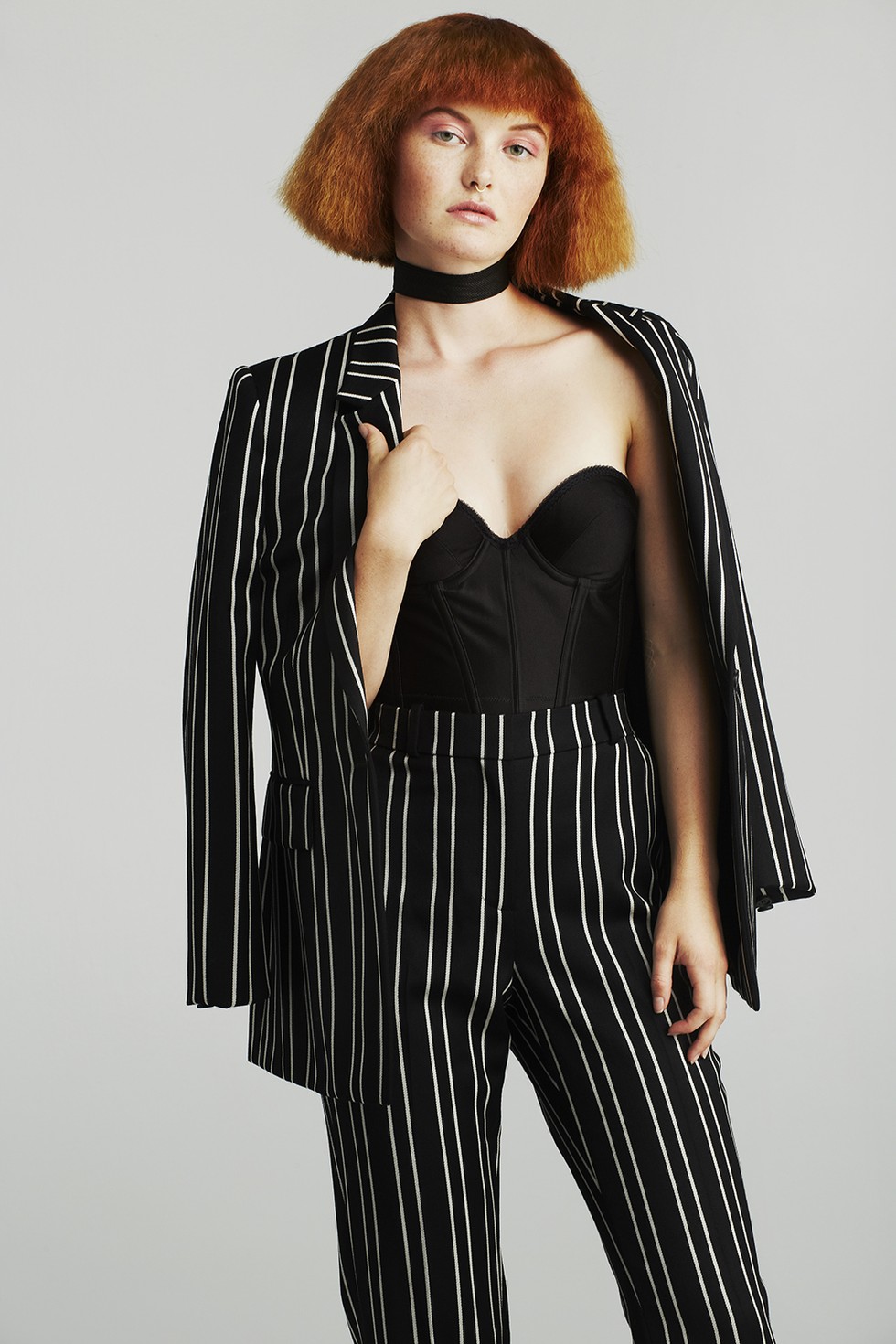 Kacy wears a suit by Givenchy
When I ask Hill if she'd had a difficult time convincing herself afterwards whether anything had happened at all, she says, "Yes," definitively. "While it was happening, I kept thinking, this just can't be real. I need to leave, but I don't know if that will escalate the situation. You freeze. It was even more violating to think the police, who were supposed to be on [my] side, don't believe me or don't care about me. I am nothing in their eyes. Afterwards, I felt even more alone than I already did. I felt: Wow, no one cares about a young girl. You're that young girl who wants to be a model, cool. You probably asked for it. Number one, I never asked for it."

When we speak, the letter the Stanford rape case victim read aloud to her attacker, Brock Turner, is still in the news (Turner was released from jail last week after only serving three months of a six month sentence). When I ask Hill about that letter, she says it was almost too infuriating; it hit so close to the bone. "I can almost guarantee that the person who raped me has done it to other people because it was so systematic," she says, before returning her vitriol to the outcome of the Stanford trial, and the light sentence dealt to Turner. "People are like, 'Well, it's going to be so hard for him to find another job.' And it's like, No. That girl will be affected for her entire life. It's going to affect her relationships and how she conducts herself at work, everything," Hill says. "But [for him], there's going to be some other sympathetic dude who's like, 'Oh man, I feel so sorry for you. You were in the news. That sucks.' No. You raped a girl. You should not exist in the outside world. You don't deserve it."
After a pause, Hill continues in an only slightly less angry tone. "Once someone has violated your authority so severely, does anything [you] say carry weight?" she asks. "Regardless of sexual assault, I think that's a concept that sticks with a lot of young women. So many young girls have tried to assert themselves and been brushed under the rug."

Earlier in the conversation, she'd spoken on the topic of assertiveness under a very different guise. I'd asked Hill what she'd gleaned, artistically, from working with Beecroft. She'd perked up at the question, clasping her hands together shyly. Once, during a Yeezus rehearsal on a concrete floor at the USC campus stadium, Beecroft had attempted to recreate the movements of a group of indigenous dancers she'd seen do a fertility dance in an online video, Hill explained. In the video, the dancers bounced up and down. At USC, Beecroft, trying to figure how to articulate her vision, began bouncing as well. "So she's bouncing up and down for ages," Hill had said, laughing. "We were literally jumping up and down for an hour and a half. We'd get tired. She'd be like, 'No, no. Like this. Higher!' We were pouring sweat. The next day our calves were on fire. She's ruthless. You kind of have to respect that -- she was bouncing with us the whole time."

Like Beecroft, Hill says she's been able find power and catharsis in making art. "A lot of my anxiety comes from not knowing what people think of me. Or how I should act in a situation," she says. "But performing is a more transparent process. There's a level of detachment. Me as an artist is different than me as a person, even if only slightly. There's a veil between the two. As a new artist, I needed to figure out my voice before anyone else was speaking for me. But music has been the only thing in my life that I've really felt passionate about. I feel powerful doing it. I feel like I'm able to assert myself and believe in the ideas that I have."
As she looks ahead to the release of her album and the year to come, Hill says her ambitions are many and varied. She says she wants to flex her songwriting muscle for other artists, maybe score a movie. She'd like to collaborate on a fashion label. Hopes to hone her ability to curate collaborators, like Kanye. Just before we part ways at the coffee shop, she adds, with gravitas, a few final desires. "I want to have my own voice. I want to be viewed as an artist. And I want to view myself as the same."
Hair by Nikki Providence
Makeup by Amber Deadron at Cloutier Remix
Location: Forge Studio