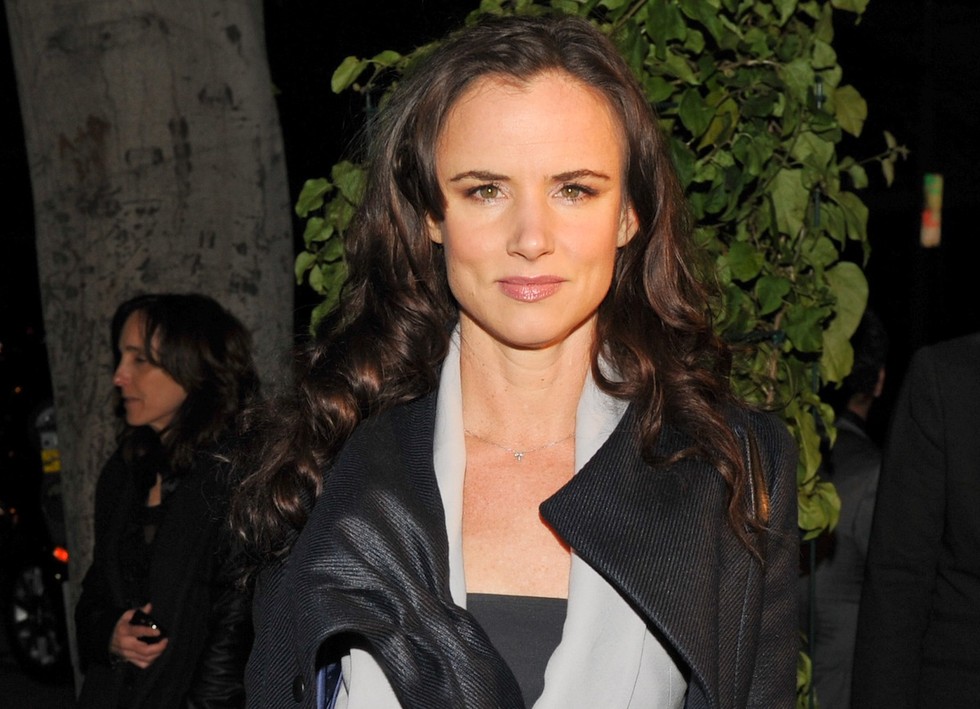 (Photo by Billy Farrell /
BFAnyc.com
)
Juliette Lewis is holed up in her car in a Wilmington, North Carolina Whole Foods parking lot. It's around 100 degrees outside by her own estimation and she's got the air conditioner cranked as she fields a marathon of calls in 15 minute bursts. It's a one-woman press junket of sorts, an activity she's designated for her day off from shooting
Secrets and Lies
, an upcoming ABC mystery thriller that finds her cast as a detective working to unravel a murder case with Ryan Phillippe as an unlikely prime suspect.
Lewis punctuates each mention of the network drama with an enthusiastic "out next year!" It's second nature for a seasoned pro who's been acting for most of her life, scoring Oscar and Golden Globe nominations at the tender age of 18 for her part in Martin Scorsese's
Cape Fear
remake.
Her career has been a diverse one almost since the start, and the description still stands in her early 40s. She's using this quick break from shooting her primetime detective series to speak to a handful of journalists about
Kelly & Cal
, a quiet little indie film she proudly refers to as a "labor of love."
"It's my day off and I'm doing the hustle for this beautiful independent film that I adore," Lewis says before quickly adding that she's certainly not complaining. "There are harder things in life. I don't mind doing this. It was incredibly personal, so I'm happy to do it."
The film, which made its festival debut at SXSW back in March, was the first feature-length project for both director Jen McGowan and screenwriter Amy Lowe Starbin. "When I got the script for this, I was so moved by the story and challenged," the actress says about coming across the project. "There's a lot of stillness and a quiet intimacy, wait and agitation, but it's a very quiet performance. It's really challenging. I was excited by how unsentimental it was and how the characters are full of contradictions. It was a story I'd never seen before."
It stars Lewis as the titular Kelly, a suburban mother grappling with malaise in the wake of the recent birth of her first child. She finds comfort after rekindling her love of music, returning to her riot grrrl past with the encouragement of her 17-year-old neighbor played by Jonny Weston. It's also a story that reflects some of the veteran actress's own creative struggles. "I related to this feeling of finding yourself where you've accomplished goals, you're supposed to be happy, you're kind of set up, but you're confused more than ever," Lewis confesses. "You don't know who you are. All of those are feelings that we go through at different times in our lives. I understood that feeling and that reversion. She wants to revert to her old self, to find that old spark. But that old spark has to evolve it's not going to be what sustains her, but she doesn't know that yet."
While Lewis admits that the '90s feminist punk movement that plays such a pivotal role in the film passed her by the first time around, the actress did embark on a music career of her own a little over a decade ago. "When I was turning 30, I realized I wasn't doing anything with my music dream, so I put a band together and started writing songs. I just started doing baby steps until I had a 20 minute set," she says.
Those rock and roll dreams became Juliette and the Licks, a band that would go on to release three records over the span of its six year existence. And while her more straightforward rock approach was a different beast than her character's musical background, Lewis channeled her experience to pen two songs for the film's soundtrack. "I'm usually hesitant to do anything musical in films," Lewis explains almost apologetically. "It's always so cheesy."
But at McGowan's insistence Lewis embraced the new challenge. "Jen gave me very specific songs to use as a template," she says. "The song 'Wet Nap' has that low-fi sludgey '90s vibe. That quite-loud style. We wanted to record it sounding really lo-fi like a demo. We produced the whole thing together. The other song is called 'Change.' It's super indie, kind of melancholy and hopeful. That's another writing style that normally isn't my kind of music, but it was very real to me because I related it to the project and the character."
And now Lewis may have another opportunity to channel those musical talents -- she'll be appearing in Jon Chu's
Jem and the Holograms
live-action feature film. Though the actress isn't able to say much about the project at this stage, she's customarily enthusiastic about it. "How exciting is it!?" she beams. "It's going to be really poppy, really fun. I'm in a secret role that I'm not supposed to talk about. All I can say is that they wrote it for me."