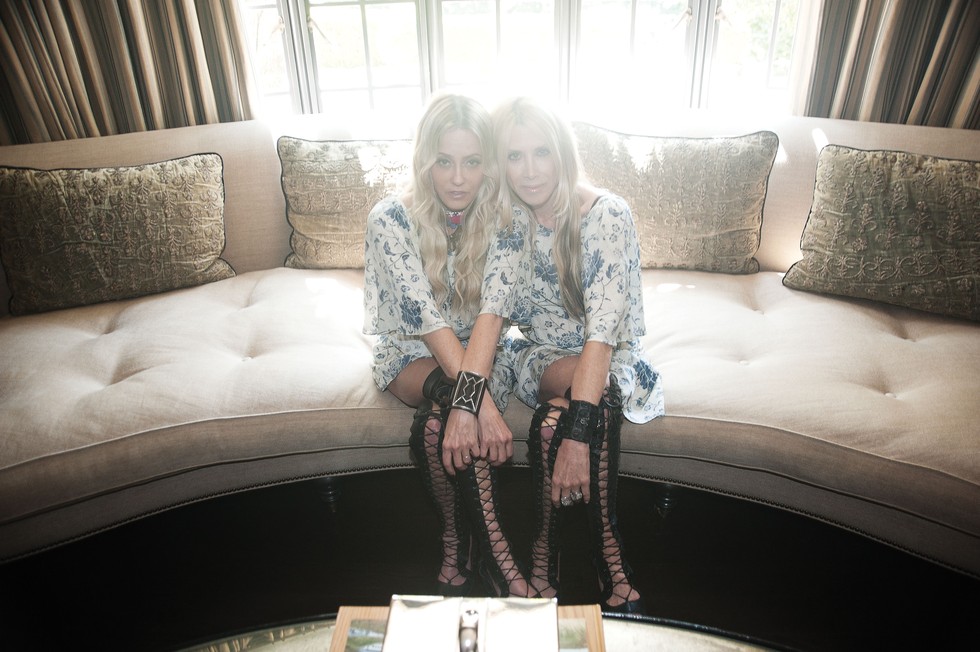 (L-R) Pam Skaist-Levy and Gela Nash-Taylor wear looks by Pam & Gela.


The name Juicy Couture brings to mind one thing: velour tracksuits. In the aughties, Juicy's fuzzy fit was an inescapable trend, appearing everywhere from
Vogue
fashion editorials to paparazzi shots of Britney Spears on Starbucks runs. In their new book
The Glitter Plan
, founders of the iconic L.A. label Pam Skaist-Levy and Gela Nash-Taylor, along with
Los Angeles Times
fashion critic Booth Moore -- who documented the rise of Juicy in celebrity circles and high schools alike -- take you beyond the brand's trendsetting tracksuit with an aspirational memoir on how they navigated the fashion industry as outsiders.
When Skaist-Levy and Nash-Taylor started Juicy Couture in 1995, Los Angeles was a sartorial no man's land, which they used to their advantage. "L.A. is the stepchild of fashion," says Skaist-Levy. "The fashion world didn't really care what we were doing so we could be as crazy as we wanted." As outsiders, the duo were able to identify unfilled niches in the marketplace and predict trends like stylish maternity wear (they got their break in the early '90s when hip women like Melanie Griffith started wearing their punk-spirited maternity jeans), the fashion T-shirt, which they perfected at Juicy and, of course, luxurious loungewear, a market now filled by companies like Lululemon. "We were total crazy mavericks and really still are," Skaist-Levy adds. The eccentric duo have gone on to create Pam & Gela, a line of rock n' roll hippie separates for the modern Juicy girl.
Doubling as an entrepreneurial handbook,
The Glitter Plan
offers tips like "be prepared to dumpster-dive for resources" and make sure your business partner is "someone you trust
and
want to do tequila shots with." Above all, Skaist-Levy and Nash-Taylor champion the power of female friendship. "Everything is easier with your best friend," Skaist-Levy says. "We're all about girl power."
The Glitter Plan
is out may 29 via Gotham Books