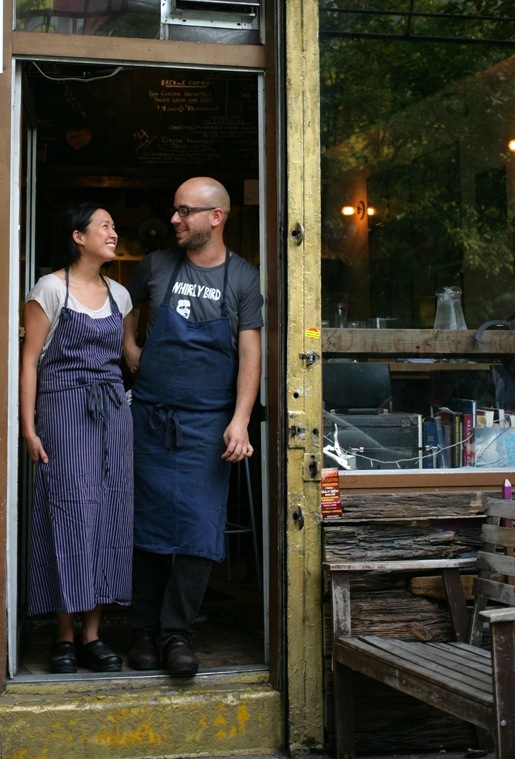 It's been more than a year since Taavo Somer cleared the decks at Isa. For ousted sous and pastry chefs José Ramirez-Ruiz (Brooklyn Fare, Per Se, Degustation) and Pam Yung (Roberta's, Tailor, Room 4 Dessert) it's been a dreamy opportunity for the longtime couple to collaborate on their own terms at Chez José. This BYOB pop-up -- held at the tiny Williamsburg coffee and breakfast taco joint Whirlybird -- offers two seatings on Tuesday and Thursday evenings, where $55 scores you a generous, 8-11 course prix-fixe menu that leans heavily towards fresh vegetables. One recent evening revealed such creative triumphs as cod mousse with green garlic pancake triangles and turnip paired with vibrant strawberry and tobiko, along with Yung's herbaceous chamomile-thyme lemon curd and warm brioche swirled with nettles. On Sunday afternoons, you can catch the duo on the South Side of the neighborhood in Crown Victoria's spacious backyard, where Ramirez-Ruiz presides over the organic pig roasts with John Ratliff of Greenpoint-based Ends Meat. Yung has also started making her own ice cream (shiso-lime sherbet!) for the carnivorous event. Here, the couple discusses their unified culinary vision, the allure of vegetables and the freedom to play Spanish hip-hop.
José, you grew up in Puerto Rico, went to the New England Culinary Institute, lived in New Orleans and worked in Boston at Clio before settling in New York. What drew you here?
José:
It seemed like the place to be. I moved here with $600 in my pocket. It was a great time hanging out on the Lower East Side with an amazing amount of talented cooks from Room 4 Dessert, wd-50 and Momofuku. We all went to Ssäm Bar before it was cool.
And then you and Pam spent a year eating and cooking through Europe. What was the takeaway from that experience?
Pam:
I would say working at In De wulf with Kobe Desramaults in Flemish Belgium was the beginning of a revelation for me. I was thrown into the savory cold station in the dead of the winter and fell in love with root vegetables. The products we worked with were unimaginably pristine, and Kobe's food had a purity and lightness I had never experienced before. My first job back from Europe was pastry chef at Roberta's, and if you happened to have dessert back then, you'd see beets, sunchokes and preserved lemon all making appearances.
José:
In Provence, where the mosquitoes bit you through your jeans, I discovered natural wines. At La Chassagnette they were cooking things old-school, in big pots. The food was so fucking honest. In Spain I worked at Els Casals, where they close two months a year, but they work their asses off the rest of the time. Through chef Oriol Rovira I learned to stop chasing a vision and create your own.
And then you had to come back.
José:
I helped JB [former Per Se chef Jonathan Benno] -- my biggest mentor -- open Lincoln, but Europe had fucked me up by opening doors I didn't know existed. I would say something like, 'How about we serve the pasta cold?' and he would look at me like I was crazy. So I went to Brooklyn Fare, then Isa, where we constantly asked ourselves, 'Why not?' If we were happy with it, it went on the menu.
So that independence inspired Chez José?
José:
I didn't want to go back to being a corporate sous chef. There are amazing restaurants out there, but none called to me. Chez José opened out of being stubborn.
Why did you decide to put vegetables front and center?
José:
We work with so many great farmers and foragers. There are many things you can do with sirloin, but there are also many things you can do with a carrot -- and it's more sustainable. When you build a menu around flowering time it forces you to stay in season, and it's a beautiful thing. I'm a compulsive vegetable buyer.
Pam:
We both get antsy these days in long, tedious 'tastings' and try our best to keep things moving and dynamic -- perhaps even surprising. Right now, NYC summers have definitely hit their stride, and so the only thing I'm thinking about is refreshment. I absolutely adore fresh herbs, so you'll see a lot of that in what I'm doing.
What other restaurants are you impressed by right now?
Pam:
I'm so happy to see my old boss, Sam Mason, crushing the ice cream scene with his new scoop shop, OddFellows Ice Cream in Williamsburg. His stuff is smart and delicious and he really gets geeked out by the science behind it all like I do. Brooks Headley at Del Posto, Robert Truitt of the Altamarea Group, Dominique Ansel and Malcolm Livingston at wd-50 are pals and doing some of the best work right now. I do enjoy a night out at Brooklyn Farmacy every now and again. Oh, and the panna cotta with saba at Franny's is perfection. No matter how full I am, I always have to get it.
José:
The Pines. Angelo's [chef Angelo Romano] food is so beautiful. No, not everything needs to be salted. And Franny's. Johnathan Adler is a fucking amazing chef. I've never had a bad meal there. Then there's El Gran Canario. It's Puerto Rican food. That's for Tuesday nights, when we're in the shit.
Is the goal to ultimately have your own place?
José:
I don't mind washing dishes, but fuck, that's half my day. Would I like to brick and mortar? Absolutely. After Isa, though, I learned that it's very important for the chefs and owner to see eye-to-eye. It has to be right.
Coming up with your own playlist is another perk of freedom. I was into the Biggie Smalls and Jay-Z that was cranking during my meal.
José:
The ones who come to Chez José are here for the experience. When you have the chef and the pastry chef cooking for you, pouring your water and opening your wine, it's so intimate and personal. We can do things like play Spanish hip-hop here. We're trying to keep it weird.
Photo by Larry Lee