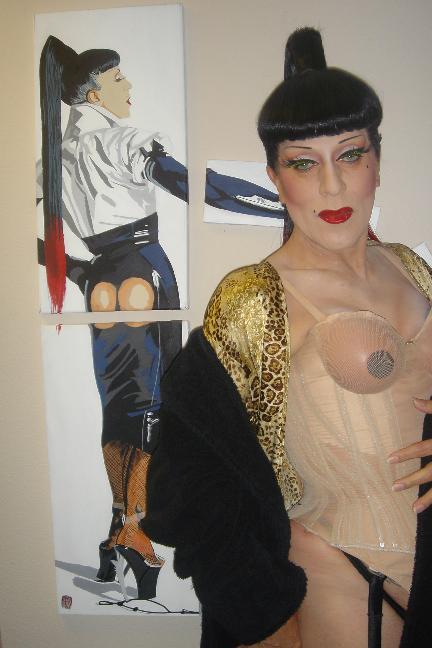 We went on a road trip to Las Vegas last weekend and caught one of Joey Arias's final performances in the sex-themed Cirque du Soleil show ZUMANITY! Joey (seen above in the green room after the show) was nothing less than fantastic... as were his fellow performers. The bodies on these gals and guys have to be seen to be believed! There were some amazing acrobatics and dizzyingly dynamic dancing. The cast is multi-national and every one of them is a star! Of course there was lots of sex, sex and more SEXXXXXXX! The lesbian waterdance in the giant cocktail glass is definitely one of the highlights! As is the devlish satyr (Simon Tinham), the mysteriously androgynous blue-haired cape twirler (Jacobo Espina), the contortionist/dislocation artist (Aslan Gusengadzhiev) and the wonderful pianist Eliot Douglas (who commutes down here to L.A. on his days off to keep his garden well-tended!)
There are also many awesome Russians in the cast including three uber-limber Mongolian lasses and the fantastic Anton Kumikeyev, formerly of the Bolshoi Ballet! And lets not forget the several delightfully comic folks who infiltrated the audience with their horny antics and the incredible Wassa Coulibaly from Sengal who left us breathless with her opening number! (My favorite performer of all, the diminutive and incredibly handsome Brazilian Alan Jones Silva (seen here after the show with Joan Collins!), wasn't in his usual number -- the incredible "ariel silk" dance -- because his partner suffered an injury during rehearsals. But I hear he and a new partner are now back stealing the show!)
I saw ZUMANITY at the opening five years ago (along with most of the PAPER staff) and while it was great fun, it's come a long way since. Now it runs like a well oiled (or should I say well LUBED?) machine. Thierry Mugler's costumes are beautifully and seductively phantasmagoric and Joey commands the massive theater like some gleefully twisted alien dominatrix! We were lucky to be in the audience with a group of very vocal cowboys who hooted and hollered while literally waving their Stetsons in the air.
Joey Arias gave those cowboys a lot to hoot and holler at. The diva was ON FIRE and gave us a spectacular show! Joey has been ZUMANITY's "Mistress of Seduction" for nearly five years now and he will be giving his farewell performance on Dec. 31 of this year. Then it's goodbye New York New York Hotel and Casino and hello New York New York Real F**kin' City! That gentrified mall of an island can use some of Joey's old school shenannigans and we've been talking about reviving some of the wacked-out shows we used to do back in the stinky, smelly glory days before Downtown New York was garroted by a red velvet rope.
Make sure you see Joey in Vegas before he's gone for good! He is without a doubt one of THE most unique and colorful characters in a town chock full of the unique and colorful. If you don't believe me then believe Dame Helen Mirren who saw ZUMANITY recently and gushed over Joey's performance, proclaiming "The Mistress of Seduction" to be a master at his (her?) craft! God Save the Queen!
photo by Ann Magnuson